I have been using a digital piano for about five years now, and I can tell you a lot has changed since I bought my first keyboard. Every other month, newer and fancier versions are put on the market—and many at rock-bottom prices—so it can be hard to single out the best value digital pianos.
With some diligence and foresight, you can find a good purchase, though. To help you out, I'll cover nine of the best digital pianos on the market in 2019 in terms of overall value. At the end, we will highlight the critical factors you should consider when buying one.
Don't rush your buying decision. Compare a few models then look at their selling points. That way, you'll find an excellent digital piano at the right price.
Top Pick
The Casio PX-870 Digital Piano is my top pick because of its tri-sensor hammer-action keyboard that makes it both sound and feel like an acoustic piano. On top of that, it contains a host of other fantastic tech features. You can explore 19 different instrumental tones, with the ability to layer and split them as needed. You can also adjust the touch sensitivity between three different levels for different playing styles. The audio is crystal clear coming from the instrument's powerful 40 watt 4 speaker system. Overall you get a ton of value for this pianos price, which is why it also ends up on our best digital grand piano list.
Last update on 2023-10-28 / Affiliate links / Images from Amazon Product Advertising API
Best Value Digital Pianos Reviews
Designed for students, the P45 digital piano with 88 keys is a low-cost model with basic features. It uses Advanced Wave Memory to record and reproduce deep and vibrant sounds of real acoustic pianos. With a single button, you can change the sounds, configure the metronome, and even play demo music.
Key Features
64-note polyphony
GHS weighted action
Dual mode that combines two voices
USB to host device connection
Variety of educational resources
What I like
I love the simple interface of this piano as well as its slim design, and of course, the fact it mimics an acoustic piano. It's a full-size 88-key with a compact design great for beginners on the go, and it has press-button pitch adjustment.
What I don't like
I wouldn't say I like the sustain pedal that comes as part of its package. The pedal keeps moving and requires duct tape to hold firm. It's also one of the least durable value digital pianos.
Pros
User-friendly model even for beginners
Compact
88 keys
Easy pitch control
Cons
Wiggly sustain pedal
Not very durable
The Yamaha P45 is suitable for aspiring musicians who are looking for a digital piano that doesn't take up too much space. The fact that it replicates a grand piano means you can enjoy an acoustic experience but at a fraction of the cost. It's also lightweight so you can move it around quickly.
Overall Rating: 4.4
With a stylish design, the Yamaha P71 is the answer to your secret wish to be a solo performer. It comes with piano-style keys (fully weighted) and ten different voices that originate from Yamaha's acoustic pianos. Your purchase includes a 30-days money-back guarantee meaning you can request if you're unhappy with your package.
Key Features
Full 88 weighted keys
Ten distinct voices
64 polyphony sounds
It has a split mode function
Sustain pedal and power adapter
Weighs 25 pounds
What I Like
The P71 from Yamaha is a modest design that takes little space, and both feels and sounds like a real acoustic piano. A split mode feature allows you to layer two voices, and its 88 weighted keys give you the same feel as an acoustic piano.
What I Don't Like
This model might not suit a pro player who wants to experiment with different keys and effects. It also lacks sufficient buttons for tuning. I found it difficult to keep in tune as a result.
Pros
Split mode
Acoustic piano feel
Ergonomic space-saving design
Cons
Since it lacks additional buttons, it's prone to out of tune incidents
The Yamaha P71B, with a full-sized keyboard, lets you explore a range of authentic sounds and voices from the real acoustic model while learning, rehearsing, or recording at home. It's also stylish and takes less space than other models.
Overall Rating: 4.4
The PX-870 keyboard is an absolute masterpiece that should make its way onto any list of best budget digital pianos. It runs on a powerful AiR engine that delivers precise grand piano sounds and impeccable dynamics. When you combine this with the included 40 watt 4 speaker system you receive a truly impressive sound. You have 19 built-in instrument sounds including bass, harpsichord, two strings, five organs, and various grand pianos at your disposal that can be split and layered to create endless tones. The Tri-Sensor Scaled Hammer Action II keyboard feels just like an acoustic piano, and does a great job of capturing finer dynamic details when playing. 
Key Features
AiR engine
256 note polyphony
Tri-sensor scaled hammer action II keyboard
Layer and split 19 included instrumental tones
40 watt 4 speaker output system
Weighs 75lbs
What I Like
In terms of overall audio quality it doesn't get much better than this (in the medium price range). The AiR engine, the 40 watt speakers, the volume sync EQ, and the ability to layer and split different instrumental tones all contribute to an incredibly powerful, clear, and versatile sound. The keyboard also feels amazing to play. I would put this instrument up against many $2,000 and even $3,000 digital pianos any day of the week.
What I don't Like
I had an issue with one of the keys on the piano, but support did little to help me. It took ages to resolve the issue.
Pros
High quality and highly versatile sound
Mimics an acoustic piano feel
Tons of included tech features and instrumental tones
Highly durable and professional looking instrument
Cons
Customer support isn't great
The Casio PX-870 piano will suit your needs if you are looking for an expert level instrument for an intermediate price.
Overall Rating: 4.9
The Coda Pro by Alesis is a full-size digital piano with professional parts. Students, bands, and theaters can use it. Because of its versatile nature, the Coda Pro is suitable for players who are looking for an inexpensive keyboard with the right number of features. The piano's package includes a sustain pedal and stand.
Key Features
60 preset songs
20 built-in voices
Split mode feature
USB to host device port
88-key hammer-action keyboard
What I Like
I found it easy to connect this piano to a computer through its USB-Midi connection port. My particular love story with this piano, though, ties back to how suitable it is for an expert who wants to experiment with several tones. You can layer two voices simultaneously, and it has a learning mode for beginners and trainers. The duet mode includes 50 accompaniment patterns.
What I don't Like
If you gave me this piano as an amateur, I'd struggle to get the hang of it. It's going likely to pose problems to a newbie who's just starting. You may want to avoid it as a starter.
Pros
Voice layering
Learning mode
Duet mode
Cons
Not suitable for amateurs.
The Alesis Coda Pro might come through for you if you want to experiment with different voices. Since it is inexpensive, this model is a decent choice for players who're looking for the best value digital keyboard.
Overall Rating: 4.2
With 76 non-weighted keys, the DGX230 by Yamaha is one of the best digital pianos on the market. Learners can use it for practice while experienced players can use it for their performances. It comes with a decent set of features and a variety of sounds too. A typical package includes a stand and headphones.
Key Features
489 fantastic tones
Full keyboard mode
XGlite and General MIDI compatibility
Convenient chord dictionary
Built-in multi-track recorder
What I Like
As well as being easy to play, the DGX230 lets me record my performances whenever I like. It has a six-track recorder for composing and recording music and an easy song arranger for categorizing your music by genre, such as hip hop, jazz, or rock and rock.
What I don't Like
Since this digital piano comes with 76 full-size keys, it might not suit a performer who plays acoustic pianos regularly.
Pros
Six-track recorder
Realistic-sounding panel/drum voices
Easy song
Cons
Some piano octaves sound out of tune
I would highly recommend this digital piano for beginners that aspire to later branch into the music production scene as it provides lessons at seven levels. It also gives users access to Yamaha's Education Suite and other learning resources online.
Overall Rating: 4.1
The Korg B1 is an innovative model that recreates the deep and rich tones of an acoustic piano. The magic behind this compact piano is the servo-assisted MFB technology. Its natural weighted hammer action ensures that the further you push the keys when playing the heavier they sound.
Key Features
NH technology
Full-range MFB speakers
120-note polyphony
88 natural weight hammer keys
One damper pedal
Weighs 26lbs
What I Like
I like the fact that this piano produces deep sounds that resemble those of an actual acoustic piano. It has eight expressive and precise instrument sounds along with powerful built-in speakers and push-button mode controls.
What I Don't Like
I find the Korg B1 digital piano a little heavy and thus not easily portable. Its weight is a disadvantage for someone who moves with his or her piano from time to time.
Pros
Built-in powerful speakers
The simple-push button lets you switch to the grand piano-like mode
Eight instrument sounds
Cons
Doesn't come with USB port
No recording/playback functions
The Korg B1 might be the right choice if you're looking for low cost digital pianos with internal speakers and an acoustic feel. As an accurate and reliable instrument, it can produce authentic and more expressive sounds than earlier versions.
Overall Rating: 4.0
Wrapping up this list for us is the Artesia PA-88W digital piano. It comes with a slim design and a few buttons on the user interface. It weighs 20lbs and sounds like a great grand piano. You can change the key sensitivity until you find a comfortable level and even enable effects such as chorus and reverb.
Key Features
Built-in speakers
Supports connection via a USB cable
Compatible with music apps and learning software
20-1280 tempo
Lightweight at 20lbs
12 demo songs
What I Like
Though the PA-88W from Artesia doesn't have many features, it offers many connectivity options. It is also simple to play and lightweight, so I can move it with ease.
What I don't Like
I wouldn't say its in-built speakers are good for me. From time to time, I have to use my headset to enjoy my performances.
Pros
Simple design eliminates too many buttons
Slim design and light weight
Connect with a PC or mobile via USB cable
Cons
The Artesia PA-88W piano is suitable for performers who are always on the move and need a lightweight and easy-to-use keyboard. The fact that it is compatible with music apps and learning software gives beginners a boost in their learning. 3D stereo samples give it a natural feel and realistic acoustic sound.
Overall Rating: 3.9
The Yamaha also takes the second spot in our review with another excellent digital piano. The Yamaha DGX-660B features some of Yamaha's best and latest technologies.
Key Features
Pure CF sound engine
88-keys GHS weighted keyboard
Audio recording and playback capability
Score display
Smart chord Technology
What I Like
I like the range of interactive features on this piano, such as the USB recording and playback feature. It taps the power of Yamaha's Pure CF sound engine and sounds like Yamaha's grand CFIIIS concert piano.
The Smart Chord technology helps you create professional-sounding tunes even with minimal skills and experience. You can sing along as you play your piano by connecting a microphone. You can also save your music thanks to the recording and playback feature.
Textured for comfort, its weighted keys re-create that feeling of playing a real acoustic piano. It even comes with an LCD screen display that lets you read the lyrics and score of your music.
What I don't Like
Even though the DGX-660B model is light and compact, I find it bulky and setup is time-consuming.
Pros
World-class tunes
Make your very own music
Easy-to-use keyboard
Keep track of your score and lyrics
Cons
The Yamaha DGX-660B is a multi-purpose electric piano. Beginners will especially appreciate its Smart Chord technology and easy-to-use keyboard. On the other hand, Pros will appreciate its power and music recording capability.
Overall Rating: 4
The Yamaha YDP143R looks, feels, and performs like an acoustic piano. To top it off, it uses Yamaha's best sound technologies.
Key Features
Pure CF sound engine
Sound samples from Yamaha's acclaimed CFIIIS grand acoustic piano
Graded Hammer 88-key keyboard with weighted keys
Stereophonic Optimizer headphone technology
iOS compatibility
Recording and playback capability
What I Like
I like the elegant look and feel of this piano. It sounds just like Yamaha's best acoustic piano: the Yamaha 9-foot CFIIIS grand concert piano. The Graded Hammer Action technology and weighted keys give this piano the feel and convenience of an acoustic piano, too.
You can also record your performance in addition to two tracks play them back simultaneously. It can be linked to your iOS smartphone or PC to access more diverse settings and capabilities. This piano is excellent for beginners as it is not only easy to use but also comes with a songbook and other learning resources.
What I don't Like
I think this piano could perform a bit better if it came with preset temperaments. Presets are by no means a necessity, but they are a common feature in digital pianos these days.
Pros
Beautiful tunes
Advanced recording and playback capability
Easy-to-use keyboard
iOS compatibility
Easy to learn
Cons
Lacks preset temperaments
Even though the Yamaha YDP143R isn't portable, it looks elegant and comes with excellent playback capability and learner resources.
Overall Rating: 4.2
Budget Digital Piano Buying Guide
Before you decide to buy a digital piano, you should determine the sort of features that you'd want to see in your ideal model. It could help make your search more fruitful. In this section, I will present seven things that you should keep in mind when buying a digital piano on a budget.
Number of Keys
Ask yourself how many keys you want in a keyboard piano. The reason is the number of keys influences the playing experience. Most digital pianos have 88 keys, but other models that have 76 keys and some have only 61 keys. You should go for a piano with more keys if you want a full experience (two-hand playing). For a one-hand experience, fewer keys will suffice.
Number of voices
Different makes of digital pianos have a different number of available voices. The number of sounds may be as small as two or as many as a hundred. The voices help to elevate the playing experience and allow you to explore different sounds. Determine what you need and then go for the piano that offers the number of voices that suits your playing needs best.
Pedals
Pedals help you alter the tone of the sound that your piano produces as you play. Modern pianos have three pedals. The soft pedal is on the left while the sostenuto pedal and the sustaining or damper pedal on the right. Determine which of these are most crucial to your playing experience and then go for a product that offers that.
Semi-weighted or Hammer Action
The concept of 'hammers' comes from acoustic pianos which produce hammer-like sounds. The semi-weighted versions feel more like a keyboard, and you can even alter the velocity depending on how hard you hit them.
Weight
Most performers prefer pianos that they can easily carry when moving from place to place. You will realize, however, not all of them will be portable and still pack amazing features in them. You, therefore, need to make a critical decision on whether you can compromise one for the other.
Accessories
Depending on the seller, you may find (or not find) various accessories in your digital piano package. The most common items include connecting cables, power cables, pedals, and headsets. Some even include a stand. When shopping for a digital piano online, you want to make sure that you find a retailer who gives you the most accessories.
Price
The price is also a critical aspect of a piano. The list above includes the best value digital pianos. Even with that, some will offer more or less value to you specifically based on your wants and needs. Evaluate the features that the piano is offering you before you buy one. Price isn't always a good indicator of quality. Want to see more fish finder options? View some other options on this post.
What are the advantages of a digital piano?
Silent practice
With a digital piano, you can practice in silence without causing disturbance to those around you. All you need to do is plug in your headphones and get to work and hit the keys to make the melody that you love.
No tuning
Acoustic pianos require that you know how to tune the instrument before you can start playing it. Many people avoid using acoustic pianos because of this. However, with a digital piano, you can start playing immediately without the need to tune it.
Software and hardware compatibility
You can pair digital pianos with other music hardware and software through wireless connectivity or cable connectivity. That way, you will be able to record and listen to yourself playing and so improve your skill in the long run. This compatibility also allows you to have access to other features that can enable you to run a one-person show.
Portability
Compared to acoustic pianos, the digital piano is, of course, much easier to carry around. Acoustic models are by nature, bulky and work best when stationed in one place from where a pianist can go and play the instrument. Digital pianos, on the contrary, are portable since they weigh much less.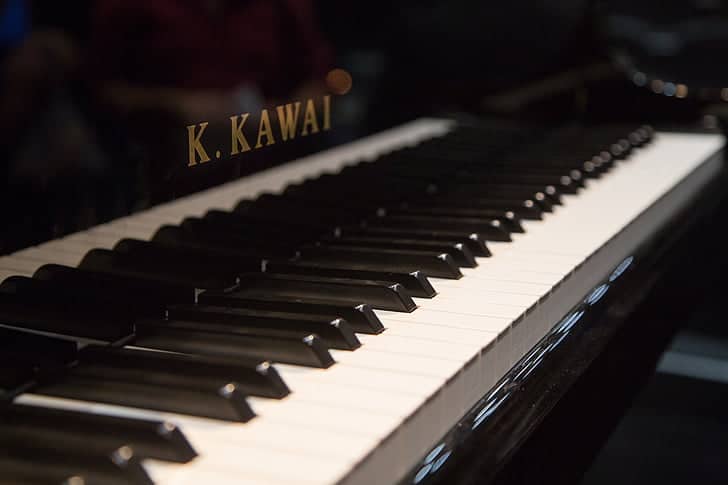 How to decide if you need a digital piano
The following will help you determine if you need a digital piano or not.
Movement – If you are a pianist who is always on the move, you'd better go for the lightweight digital piano instead of an acoustic one.
Location – Do you live in an urban area, where you can't freely practice because you fear you will disturb your neighbors, such as in a condo, apartment, or townhouse. If so, then get yourself a digital piano with audio jacks.
Learning – Digital pianos have a duet mode that allows a trainer to use one end and the learner to operate the other. If you are a beginner, get a digital piano as it enables you to practice with your trainer.
Space – If you live in an area where space is limited, you might want to buy a digital piano since it occupies minimal space.
Final Thoughts
Although the musical instrument market has a ton of digital pianos, many of them are not cheap or up to scratch. So you may risk burning your cash by not doing your due diligence and weighing the suitability of different models based on the factors I have shared.
We have looked at some of the best value digital pianos that you can buy. All nine are good, but if I had to pick just one, I'd recommend the Casio PX-870 Digital Piano because it runs on a powerful AiR engine and produces amazing sound quality.
I am confident, by following this guide, you will find an affordable digital piano that is right for you. Want to see more value digital piano options? Here are our thoughts about Williams Legato 88 Key Digital Piano.