A few years ago, I decided to teach myself how to play the piano. As a novice, I was clueless about all facets of the music world, but my most costly oversight was not knowing what to look for to find the best digital grand piano. After wasting thousands of dollars on disappointing instruments, I finally found my holy grail, a cost-effective beginner-friendly option that I'll elaborate on shortly.
I learned this lesson the hard way, but you don't have to. In this post, I've provided an extensive review of the best digital grand pianos on the market in 2019.
Title
Best Overall Value
Donner DEP-20
Best Beginner
Alesis Recital
Best home studio
Suzuki MDG 300
Best Performance
Casio PX-870
Preview
Keys
88 (Tri-Sensor Scaled Hammer Action II)
Best Overall Value
Preview
Best Beginner
Preview
Best home studio
Preview
Best Performance
Preview
Keys
88 (Tri-Sensor Scaled Hammer Action II)
Last update on 2023-11-17 / Affiliate links / Images from Amazon Product Advertising API
Top Pick – Donner DEP-20
If you're in a time crunch and just want to place an order today, look no further than the Donner DEP-20. This piano has a beautiful, sleek design, 88 fully weighted hammer action keys with adjustable touch response, 238 tones, a backlit LCD screen, and two 25W amplifiers. This beginner-friendly instrument is a great stepping stone for beginners but also offers experienced players versatile technology to play around with.
The Best Digital Grand Piano Reviews
The Donner DEP-20 offers (in our opinion) the best overall sound and value for it's price. It isn't the cheapest piano on our list, but it comes with high quality manufacturing and a long list of great features. It sounds fantastic right out of the box, and is also extremely versatile and customizable. More experienced players can really take this instrument and tweak the sound and feel to make it their own.
Key Features
Backlit LCD Screen
88 fully weighted hammer action keys with adjustable response
238 pre-programmed tones
Dual-tone mode allows for combining tones and voices
128-note polyphony
Recording mode-MIDI and MP3 player
Two 25W amplifiers
Pros & Cons
Full size, fully weighted keyboard

Highly customizable due to 238 programmed voices

Overall great value for it's price

The stand that it comes with isn't great

I personally don't love the aesthetic
What I like
When you consider the overall quality and amount of features that the Donner offers, it blows anything within it's price range out of the water.
For a digital piano of this price range the sound is great. Donner did a great job with the manufacturing and amp design, leading to some impressive speakers. The overall sound is decent for this price range, it's slightly artificial but this would only really matter if you're an advanced pianist looking to make professional sounding recordings. For beginner and intermediate players the DEP-20's sound quality should be more than enough.
The fully weighted keys are a step up from any non or semi-weighted keyboards in terms of feel. Additionally, the adjustable response feature allows you to change the volume you get depending on how hard you strike. Whether you prefer to really hammer the keys or are more of a light player, this piano can be customized to fit all play styles. Finally, this piano comes with a whopping 238 tones and a dual-tone mode which allows you to combine the voices for even more options.
Because the DEP-20 is full size (88 keys) and has fully weighted hammer action keys, it's a step in the right direction towards the feel of a real acoustic grand piano. This is important for intermediate musicians looking to eventually graduate on to play the acoustic piano at a more advanced level. Many music school exams and advanced piano pieces require a full size keyboard, so practicing on one early is beneficial to build a good foundation early.
What I don't like
While the piano itself is top notch, the stand it comes with isn't amazing. There are options to buy the piano with and without the stand, and honestly we feel that the added cost of the stand is a bit overpriced for the stand quality.
I don't love the square, more keyboard oriented look of the Donner DEP-20. While this is a fairly common aesthetic among cheaper digital grand pianos, I prefer some of the models that actually resemble an acoustic grand piano.
To summarize…
If you're looking for the best digital grand piano, this one should be at the top of your list. It's an all-inclusive instrument, suitable for various needs. Better yet, it's extremely affordable
Overall Rating: 4.9/ 5
The Alesis has a lot of the best parts of the Donner at a much lower price. It's sound isn't quite as good and it lacks some features, however it is a great choice for beginners looking for a solid instrument without spending a ton of money.
The semi-weighted key design style requires a much lighter touch than a full-weight keyboard. These keys, like the Donner, have adjustable touch response and can be customized based on your playstyle.
Key Features
60 Free virtual lessons included
88 semi-weighted keys with adjustable touch response
5 voices
USB MIDI Output
128-note polyphony
Two 20W speakers
Pros & Cons
60 free virtual lessons included

Great quality and customizability for it's price

Preset EQ modes (Rock, Jazz, Classic, Standard)

Great choice for beginners
What I like
This piano is perfect for beginners because it comes with 60 free virtual lessons. The customizability and features are more than enough for a beginning player looking to develop their skills.
The sound quality is decent. It isn't quite as good as the Donner, but for half the price you are getting more than half the sound quality. Overall the instrument sounds clear and bright. There are also some basic preset EQ modes (Rock, Jazz, Classic, Standard) that make customizing the sound easy for someone with very little experience.
What I don't like
The piano doesn't have a display, which isn't a huge deal but can be a minor inconvenience.
To summarize…
If you're looking for a great beginner digital piano, look no further than the Alesis Recital 88 key.
Overall Rating: 4.7/ 5
The Suzuki 88 Key is by far the sleekest and most visually appealing piano on this list. It comes with some amazing features, including high end sound sampling and track sequencing which help if you're looking to put together some impressive sounding combinations and tracks. However, this is one of the the most expensive digital grand piano on our list, and in terms of performance it doesn't offer the best value. There are piano's like the Casio AP270 that have better key action (how smooth and natural the keys move when you strike them) and tonal range (the degree of tonal property that can be expressed by striking the piano at different velocities), so if performance is your main concern I would move on to the next piano on this list. If you're putting together a home studio and don't mind spending extra for an instrument that looks great and has a lot of power when it comes to mixing and composing tracks, this might be for you.
Key Features
3 true color LCD screen
88 keys
128-note polyphony
24 MB grand piano voice
3D sound source sampling
Three-track music sequencer
Six-way stereo system
Comes with great sequencing, mixing and recording features

122 instrument samples included

Not the best in terms of price to performance ratio
What I like
The Suzuki MDG 300 comes with a lot of powerful mixing and sequencing technology, as well as features like transposition, reverb/chorus effects, tons of EQ customizations and 122 different instrument samples. Because of this, the Suzuki is great at creating complex tracks using different sounds and styles.
It has a great design, aesthetically it's one of the best looking piano's on our list. It has the overall look of an acoustic grand piano, but it's conveniently not as large which makes it easier to fit and transport.
This piano is also armed with some great technology. For example, you can connect it to your devices via Bluetooth as well as to recording studio software. This circumvents many of the tedious steps of music recording.
What I don't like
The performance of the MDG 300 isn't amazing given it's price. As stated before, there are pianos with better key action and tonal range (two very important properties for serious piano players).
Though the Suzuki is small and mighty, its size somewhat impedes the playing experience. Don't get me wrong, the sound quality is amazing, but some, including myself, may prefer to play on a larger instrument.
To summarize…
If you're looking for a great home studio digital piano to use for creating interesting tracks, this one should be at the top of your list. It's an all-inclusive instrument, suitable for various needs.
Overall Rating: 4.5/ 5
The PX-870 keyboard is an absolute masterpiece that should make its way onto any list of best budget digital pianos. In terms of pure performance, this is the best piano on our list. It runs on a powerful AiR engine that delivers precise grand piano sounds and impeccable dynamics. When you combine this with the included 40 watt 4 speaker system you receive a truly impressive sound. You have 19 built-in instrument sounds including bass, harpsichord, two strings, five organs, and various grand pianos at your disposal that can be split and layered to create endless tones. The Tri-Sensor Scaled Hammer Action II keyboard feels just like an acoustic piano, and does a great job of capturing finer dynamic details when playing. 
Key Features
AiR engine
256 note polyphony
Tri-sensor scaled hammer action II keyboard
Layer and split 19 included instrumental tones
40 watt 4 speaker output system
Weighs 75lbs
High quality sound and performance

Great overall feel and tonal range
What I Like
In terms of overall audio quality it doesn't get much better than this (in the medium price range). The AiR engine, the 40 watt speakers, the volume sync EQ, and the ability to layer and split different instrumental tones all contribute to an incredibly powerful, clear, and versatile sound. The keyboard also feels amazing to play. I would put this instrument up against many $2,000 and even $3,000 digital pianos any day of the week.
The key action is phenomenal for this price range, the key movement feels very smooth and natural as you would expect from higher end digital and acoustic grand pianos. The tonal response is also quite good, when striking the keys with higher or lower force you can hear subtle differences in the brightness of the piano's output.
What I don't Like
I had an issue with one of the keys on the piano, but support did little to help me. It took ages to resolve the issue.
To summarize…
The Casio PX-870 piano will suit your needs if you are looking for an expert level instrument for an intermediate price.
Overall Rating: 4.9/5
Suzuki's Touchscreen Baby Grand Digital Piano truly embraces the needs of the modern musicians. It's fully equipped to connect to your laptop, tablet, and phone, has a six toned speaker, and 672 selectable voices. This instrument is a must-have for composers and producers who work with digital mixing software.
Key Features
Pro-action grand piano keyboard
7-inch high-resolution touch screen
672 high-quality selectable voices
128-note polyphony
USB connectivity port
Six toned speakers
Lacquer cabinet with chrome hardware
What I like
The Suzuki Touchscreen can be easily connected to your laptop, tablet, and phone, creating a hassle-free recording studio. The grand digital piano features 256 GM voices and 17 professional styled drum kits. It also comes with a high-quality lacquer cabinet that you can use to store all the technical gears.
What I don't like
The only drawback of this piano is that it does not offer self-playing moving keys. For a lazy guy like me, this is a slight hitch. I found this to be particularly inconvenient whenever I was tweaking options in testing mode.
Pros
Intense clarity delivered, even in complex piano passages
Unique music stereo system
High-intensity speakers
High-resolution touch screen
Cons
The lack of self-playing keys
The Suzuki Touchscreen Baby Grand Digital Piano works wonderfully for experts who are looking for a high-tech and versatile instrument. The high-resolution touch screen is hard to find among competitors and makes this piano genuinely unique and compatible with the demands of our digital world.
Overall Rating: 4.5/5
The Suzuki MDG 400 Baby Grand Digital Piano is tailored to new players. It has a simple design but doesn't lack any of the necessary features. This 82-key piano offers a six-speaker stereo system, 24MB piano voice, and comes with some useful extras.
Key Features
24MB piano voice
82 keys
Six-speaker stereo system
What I like
It comes with extras such as a USB cable and a demo disk, which is a nice bonus. As a beginner myself, it wasn't hard for me to set up this piano and start playing. It's straight forward and non-intimidating, exactly what a novice needs.
What I don't like
It is created for beginners, so it only has basic functions. Once you graduate to an intermediate level, you'll probably find yourself looking for a different piano that offers you more versatility.
Pros
Tiny structure
Good quality sound
Free accessories
Cons
Only contains basic functions
If you are a beginner, you'll find the MDG 400 very easy to use. You also get everything you need to get started—no need to buy extra accessories separately.
Overall Rating: 4/5
If you're looking for an instrument that would last you a lifetime and your budget is ample, your eyes should be fixed on the Spyker. With a solid 128-note polyphony and 100 rhythm styles to choose from, this model is excellent for developing and advanced pianists.
Key Features
88-key weighted keyboard
24MB grand piano sounds
128-note polyphony
Japanese soundboard speaker system
100 rhythm styles
80 volts of power output
What I like
This is one of the best digital grand pianos I've encountered. It's incredibly versatile and has eight mixture voice pedals, which means that you can easily create different sounds using different pitches. It is smaller in size as well, so it can comfortably fit into most spaces.
The piano is painted with gorgeous lacquer, giving it a sleek and glossy look. To top that, it takes only 80W of power, an excellent output measure that won't waste any electricity.
What I don't like
There isn't much to dislike about the Spyker, though it's very expensive compared to the other options. When it comes to quality and long-term benefits, though, those who can shell out the money will be blown away by this instrument.
Pros
A complete package of good looks with multiple features
Ideal for professional concerts
Can plug in headphones for silent practice
Comfortably fits any décor
Cons
Pretty heavy on the pocket for a beginner
The Spyker offers good value thanks to its bundle of high-end features. If you are looking to make a one-time investment to get benefits for a lifetime, then this is the perfect choice for you.
Overall Rating: 4.3/5
The Medeli Digital Grand 1000 is a digital piano that has all the essential functions combined with a robust quality of sound. It has a polished exterior and includes a microphone, LED Screen, a supremely rich digital engine, and a bright touch screen.
Key Features
128-Note polyphony
Built-in speakers
Eight knobs
LED screen
600 sound options
What I like
Let's start with the obvious: the price is fantastic for what it offers. With numerous premium features that tend to come with heftier price tags, the Madeli allows your wallet to let out a sigh of relief. The Madeli doesn't disappoint in the aesthetic category either. With a beautiful high-gloss finish and a sturdy build, this instrument's 600 sound options and highly sensitive back-lit LED keys are bound to win you over.
What I don't like
It is continuously in high demand, which is to be expected of a product of its caliber. It's built like a $25,000 Yamaha but will cost you barely $2,000. That is if you can get your hands on one. Though there are third-party buying options as well, you'll likely have to wait a while before you can bring this baby home.
Pros
Variety of sound options
Impressive sound quality
Gorgeous baby grand cabinet
Huge LED Screen
Has a microphone to record and sing live
Cons
Quickly sold out, so you have to be on your game
With the quality and features that this piano provides, the Medeli is a fantastic purchase for beginners and piano masters alike. The built-in features will take a long time to exhaust, so you'll have plenty of reasons to spend some extra hours honing your skills.
Overall Rating: 4.2/5
The William Symphony Grand Piano features an 88-key, high-hammer-action keyboard. Designed with 128 general MIDI sounds and 174 high-resonance voices, it offers a plethora of musical customization. There are 120 music styles from various genres, and the ultra-glossy finish of the digital piano complements the grandeur of this fantastic digital piano.
Key Features
Six-speaker sound system
88-key graded-hammer action
Connected with an online library
Supports USB, Midi, and Bluetooth
USB host port
Two-track recorder
Headphone and stereo out jacks
What I like
This model offers real-time playback for multiple interactive performances and lessons. It also has three connectivity options: USB, MIDI, and Bluetooth, and includes a six-speaker stereo as well. On top of that, the bench that's included has a high-quality build and takes away the need to buy one elsewhere.
What I don't like
This piano is pretty heavy to lift—189 pounds to be exact. For a person like me, who plays gigs, this piano would likely become a source of frustration.
Pros
Micro-grand style
Best quality symphony digital piano
Impressive sound quality
An extensive directory of sounds
Various options for connectivity
Cons
If you are looking for a high-end option with impressive features and an impeccable aesthetic, the Williams Digital Piano won't disappoint—if you can afford it.
Overall Rating: 4.3/5
The Cameron and Sons Digital Grand Piano boasts many features that'll please professional pianists. The three pedals truly elevate the styles of music that can be mastered on this instrument. Its weighted keys with eight reverb options offer further top-of-the-line sound choice.
Key Features
64-note polyphony
88 Weighted touch keys
Three concert pedals: sustain, soft, sostenuto
Solo voices and sounds
Split keyboard
Voice layering capability
MIDI for connectivity
What I like
You can adjust and tweak the sound through the three concert pedals built into the piano. The weighted touch keys have a wonderful feel to them, too, and the voice layering capability is awesome for those composing multi-part pieces. It can also build momentum while playing in front of a large audience.
What I don't like
For people who don't wish to connect through MIDI, there is no separate USB or Bluetooth option. 64-note polyphony is also not enough to get the perfect sound quality—but since it has three pedals to balance the sound resonance, it doesn't matter as much as it would on other models.
Pros
Elegant and polished design
Advanced performance features
Touch weight hammer-style keyboard
Easy to use built-in recorder
Perfectly proportioned for offices and homes
Cons
Does not include a USB port to connect with iPads or Computers
With built-in recording and MIDI capabilities, the Cameron and Sons digital piano is an instrument designed for serious musicians. The three pedals allow for nuanced playing, particularly fit for classically trained pianists, but if you are a beginner loaded with cash, I'd say go for it.
Overall Rating: 4.1/5
Digital Grand Piano Buying Guide
As you might have figured by now, not every digital piano is worth buying. Making sure you're purchasing the best digital grand piano requires a bit of knowledge and research. These instruments are long term investments and shouldn't be bought on a whim. I did my due diligence so that you don't have to. If you want to see more digital pianos, view our latest updated list here.
As a beginner, it is very likely that you'll be puzzled by terms such as 'piano passage' and 'polyphony.' Relax and take a deep breath. These are just fancy ways of referring to the sound quality of the piano.
Chances are you already know that a digital piano needs to be plugged in to produce sound but consider the voltage necessary for your preferred model if you'll be using it a lot. Power hogs can quickly drive up your electric bill. A voltage requirement of around 80W to 120W is the sweet spot.
Size and Weight Matters
As I keep saying, size matters when it comes to the best digital grand piano. Of course, digital pianos are already far lighter than acoustic pianos, but there is a good deal of weight variance among models. Consider your needs. Does portability matter? If so, make sure to opt for a compact, light option. This may also factor in for those with less floor space.
Connectivity Is Necessary
Ideally, your grand digital piano should have a USB port to enable secure connectivity with your iPad, laptop, or mobile phones. If it isn't equipped with a USB port, make sure it has MIDI capability to connect recording equipment easily.
Some digital pianos also offer an additional memory card slot, which is a wonderful feature that allows you to store music.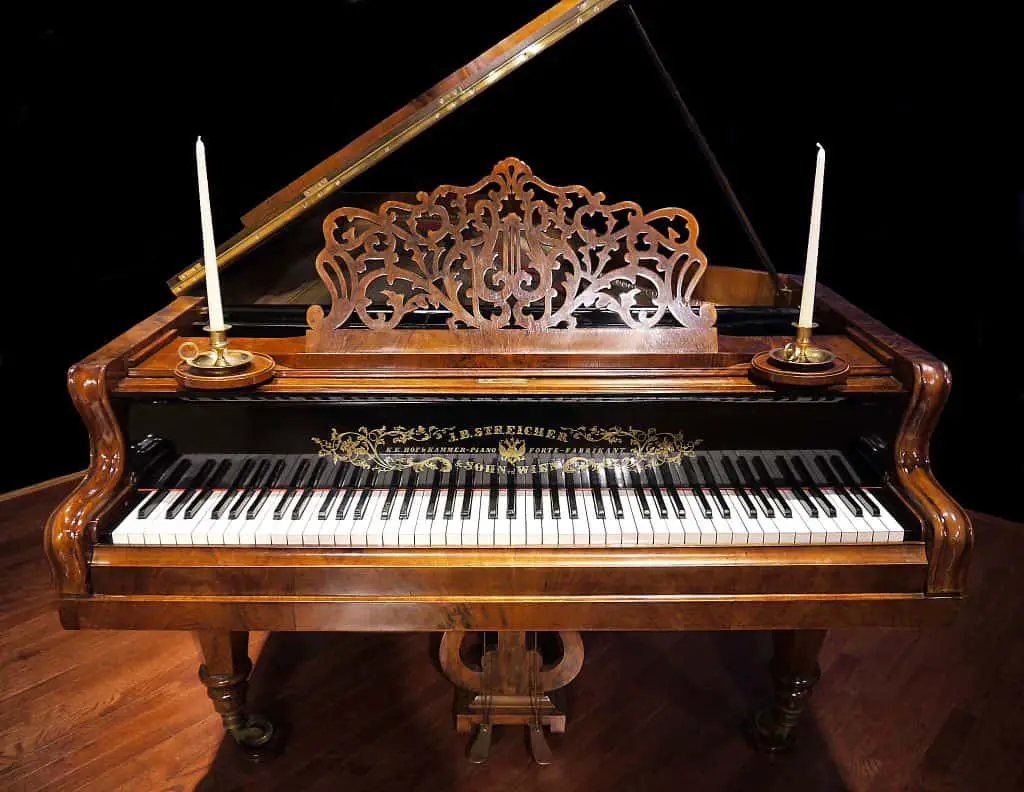 Keyboard Options Should Be Considered
Fully weighted keyboards are hands down the best option on the market. A weighted keyboard has the same feel as an acoustic piano. Get a digital piano that is sensitive to the differences in velocity of the keyboard hammer, as it impacts the outcome of the music quality to a great extent.
Polyphony Should Be Higher
Polyphony is a term that shows the number of tones that your piano can create at once. The greater the number of notes there are, the better it is. The best pianos have 128- to 260-note polyphony. Higher notes help you produce sounds that are high pitched or complex.
Built-In Speakers Are Always a Great Choice
It is a fact that your sound comes out better if you have good built-in speakers. Make sure that your selected digital piano has an option of recording consoles, external amplifiers, and an automated sound system if you're looking to integrate your instrument in a recording studio.
Final Thoughts
While the best digital grand piano is naturally going to vary by the user. If I had to choose one for you to try first the winner would be the Donner DEP-20. Offering the best price, an attractive design, and versatile features, it is certainly a stand-out option for piano players of all skill levels.
Ideally, this article helped you on your journey to find the best digital grand piano. As you can see, the market is rich with options that cater to any and all niches. Undoubtedly, you'll find one that you fall in love with.