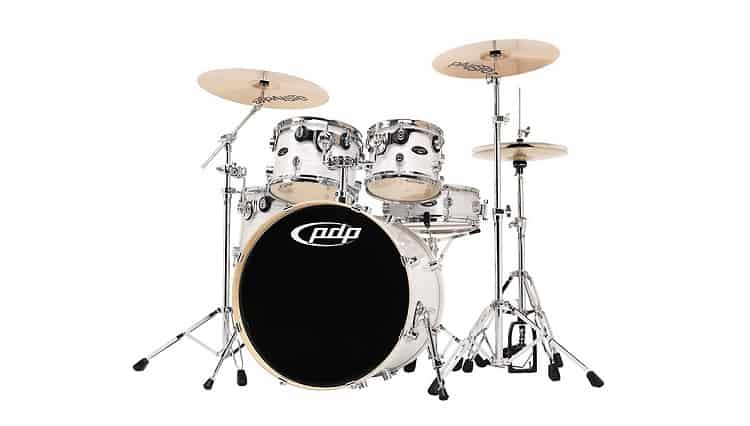 Finding a good mid range drum set is a lot harder than it seems. This is the segment of the market where you can find some good and some not so good models, all mixed together.
Just like it is the case with almost anything else, there are brands you can trust no matter what. If you have heard of Drum Workshop, you probably know that they own Pacific Drums. Now, Pacific Drums is to Drum Workshop what Squier is to Fender – a brand which they use to deliver entry level sets at affordable prices.

The pacific or PDP CX series is one of the higher quality models this manufacturer offers. On a grand scale of things, it's a decent drum set which can be used by both beginners and intermediate drummers alike.
The type of performance you can get from this specific set is good enough for stage use, that is for sure.
Intermediate Kit – Good enough for stage use
How good Pacific drums are in general is up for debate. There are those who will have positive things to say, and those who won't. The truth is that this company builds affordable kits mostly for the beginner drummers. With that said, they occasionally release a drum set which is high quality.
Pacific CX Series drum set is no longer in production, but it always had the reputation of a solid kit that offered a lot for the price you were asked to pay for it.

  Features
Pacific CX Series is a fusion drum kit first and foremost. It comes in a pretty standard configuration, consisting of three toms, a snare and a bass drum. The core of this drum set is the 8.155 series hardware. This is an upgrade which can be found in later versions of this kit. What they achieved by replacing the original hardware is much better support, and more reliable anchoring of the kit itself. Before the 8.155 was included, Pacific CX Series wasn't really reliable enough for serious stage work.
The shells you get with this kit are made of Maple. They are laminate design, but that is to be expected in this price range. The dimensions of the drums are as follows: 18″x22″ bass drum, 14″x12″/12″x9″/10″x8″ toms and a 5″x14″ snare. You also received three cymbal stands, including the hi-hat stand.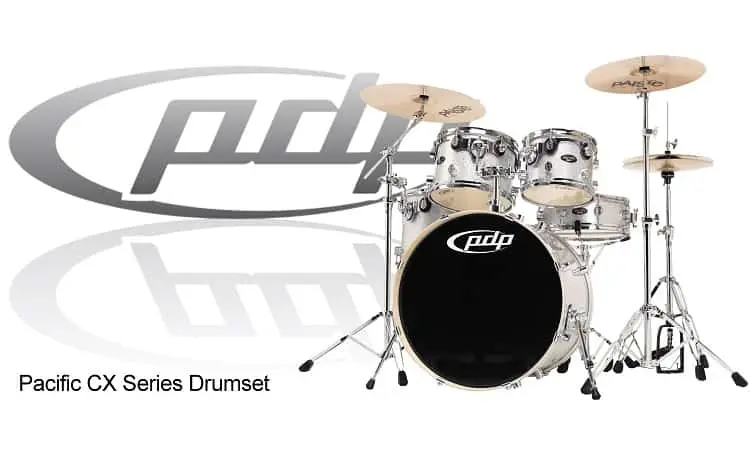 The dimensions of the toms is what Pacific labels as F.A.S.T. They are somewhat different, but this difference actually does improve their sound to an extent. Among other things, Pacific CX Series also features STM Pro mounts and True-Pitch tuning technology.

  Performance
In a lot of ways Pacific raised a lot of noise when they introduced the CX series to the market. It was the first reasonably priced drum kit that delivered a great performance. This later forced other large brands to produce similar kits. For a long time, Pacific CX was the gold standard in its class.
The sound you get from this set is great. The secret was in the Maple shells. Before Pacific CX came around, you simply couldn't see shells of that quality in this price range. Good shells mean good sound, which was the case with the CX.
There were some issues with the lugs on earlier versions, but that got sorted out fast. F.A.S.T sized toms had a very balanced sound that was a lot more controllable than you would expect. The bass drum was a tad too deep for most people's taste, but it definitely had a good range and volume. Once they introduced the 8.155 rack, this drum kit became a great mid level stage drum that was affordable as well.

  What we like
The bang for the buck Pacific CX series offered is hardly matched even today. This kit is no longer in production, but it's in high demand on the used market. That's a testament to its quality and performance.

  What we don't like
The wraps they used on the shells were sub par to say the least. They would fall off really easy, which completely ruined the aesthetics of the kit.
Taking everything into account..
Pacific CX series is the type of kit you would want to have if you're tight on money, but still need a good quality set. They are getting harder and harder to find, but they are well worth the money even today.
CX series had a huge impact on the drum industry. Without it we wouldn't have half of the mid-range entry level sets which are available today.