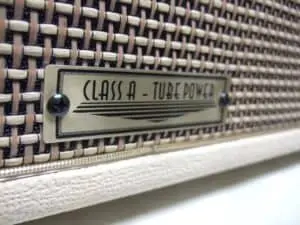 It's definitely no secret that Crate has received a lot of bad rep in the past years. Honestly, that didn't come as a surprise at all.
Their solid state amps leave a lot to be wished for, and are generally the bottom feeders of that part of the market.
Today, this shaky reputation has cast a huge shadow over the range of Crate amps that aren't all that bad. In a way, the commotion created a type of hidden-gem situation many are looking to leverage.
Crate's solid state amps may be bad, but their tube amps are definitely decent. The one we are going to talk about today is the Crate Palomino V32.
This little combo tube amp has a lot to offer to those who can see past the Crate logo. Inside the case you will find a really capable amplifier that has one of the best clean channels in its price range, and that's probably an understatement.
Amp Overview
Crate's policy was, and still is to deliver the best bang for the buck performance. How successful they are at achieving this goal is up for discussion. So far, what we can see in practice doesn't really align with their claims.
[su_youtube url="https://www.youtube.com/watch?v=-XjFB_auUu4″][su_youtube][/su_youtube]
However, when you talk about Crate amps, you need to make a distinction between their solid states and their tube amps. It's easy to sharpen a pitchfork and join the lynch mob, but once you turn one the Palomino V32, things change rather quickly.

  Features
Let's take it from the beginning. The amp sports a somewhat vintage design. Color scheme they chose for this model is a creamy white finish with a brownish speaker mesh and chrome corner guards.
The general appearance is on point, that's a fact. Honestly, this amp looks a lot better than most tube amps that sell at prices way above Palomino V32. Since appearances are not really that important when it comes to guitar amps, let's move on to what really matters – the innards.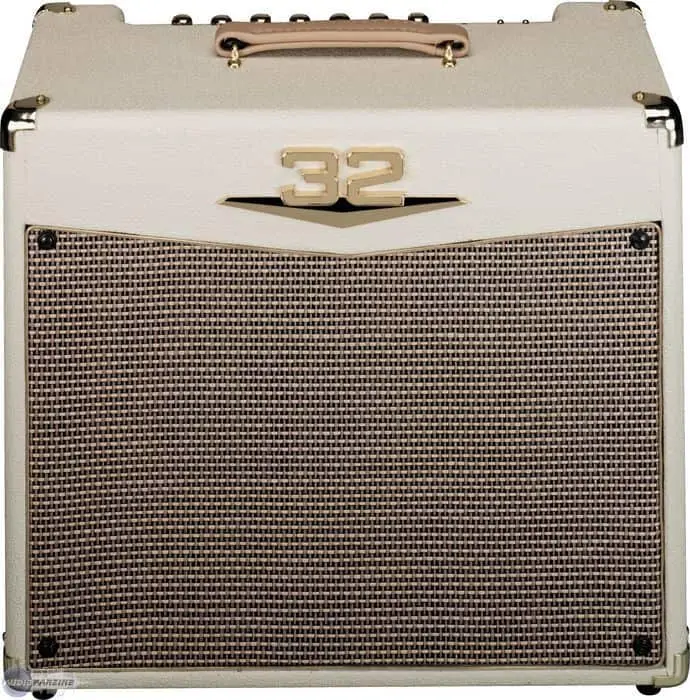 In terms of features, Crate Palomino V32 is a pretty simple amp. There are four EL84 power tubes and three 12AX7A preamp tubes that deliver some 30 Watts of power through a single 12 inch speaker at the front. All of this is packed tightly and securely.
The build quality seems to be great and inspires confidence, no matter how hard that is to accept for the fiercest Crate critics. Controls found on Palomino V32 are basic and straight forward. Starting from left to right you will see the clean volume knob, channel switch button, overdrive gain, standard three-band EQ with a boost button in between, a presence button, overdrive level knob and finally spring reverb knob. Nothing crazy, but very functional.
  Sound
Even though both the appearance of the amp, and its features are great, it's the sound that really seals the deal. What if we told you that a Crate amp has such a good tone that it's up there with the big guys? No matter how hard it is to believe that, it's true. The clean channel on this amp is pure bliss. It is crisp, clear and has that glassy vibe. If nothing else, this amp is worth the price just for its clean channel.
Once you start playing with the EQ a bit, you will notice that Crate clearly went for that vintage tone. This is even more apparent when you jump over to overdrive channel. Even though you can push quite a bit of gain, the overdrive on this amp is somewhat tame.
However, this is definitely not a flaw. You can get an impressive rock/blues tone that will have all the qualities you could ever need. Hook it to a vintage Strat and you'll see just how capable Crate Palomino V32 is.

Spring reverb that comes with the amp is decent to say the least. It doesn't have that artificial feel, while it offers quite a bit of warmth. With that said, should you decide to add a distortion pedal to your signal chain, you can turn this amp into a classy little beast. Still, the best tone and performance remains in the vintage rock/blues range. Think ZZ Top or Led Zeppelin.

  What we like
Crate Palomino V32 redeemed a huge chunk of Crate's reputation alone. The amp has a killer clean channel, great overdrive, and stunning looks. For the price that is being asked for one these days, it's a bargain.

  What we don't like
What Crate still has to work on is the quality of minor things. Even though V32 is packed tight and feels solid, the knobs and buttons could have been made better. They just don't give you the same kind of feedback you would find on Marshalls or Vox amps. Some will argue that comparing these two to Crate is not fair, however these minor details don't require half a century of experience.
To summarize..
In all honestly, Crate Palomino V32 really is a hidden gem. Crate's reputation has somewhat killed the price to a point where you can find one for at a fairly decent price. Why Crate dropped the ball on their solid state amps is yet unknown, but their tube amps definitely need more recognition.
If the badge on the front of the Palomino V32 was a different one, the price would probably be at least 50% higher. Most people have an issue with trusting Crate, but in case of this amp, that risk is more than worth it. You don't often find great tube amps in more affordable price brackets, and Palomino V32 is probably among the better ones.
The clean channel is so good that it dwarfs any flaw this amp could possibly have. If you do a bit more research, you will find a very dedicated community that revolves around these tube amps alone. Unfortunately, Palomino V32 was discontinued, so the only way to find one is to look at the used market. If you do come across one that is close, we strongly suggest you go and take it for a test drive. You won't regret it.