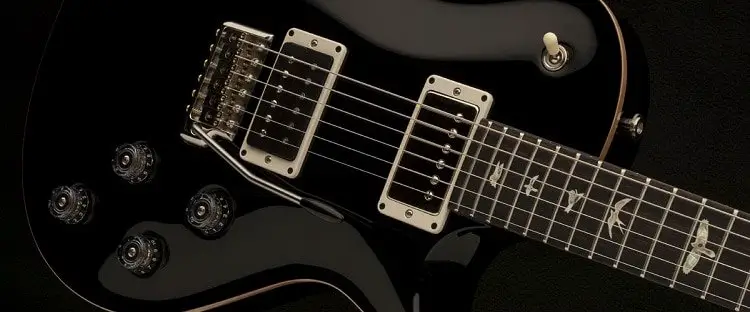 PRS guitars are the third flavor of what is usually regarded as a bipolar world. We have Fenders, and then we got Gibsons. However, PRS is there to offer a third option that is often times exactly what is necessary, and what we are missing.
Compared to the two brands we have just mentioned, PRS doesn't have that many signature model guitars. However, the ones they do have are pretty impressive to say the least. One that is particularly interesting is the PRS Mark Tremonti Signature model.

>> View Current Price On Amazon <<

You can count on Paul Reed Smith to go above and beyond in designing and manufacturing an electric guitar. Not only does this guarantee a great sound, but the overall appearance of the guitar is pushed to a completely different level of excellence.
Today we are going to take a closer look at this beauty, and talk about some features it has to offer.
A signature model guitar
For most people, Mark Tremonti will always be that guy from Creed. His style and energy is what put him on radar in the world of music. PRS decided to pay a tribute to this artist by capturing a good portion of that energy in a signature model guitar. What they ended up creating surpassed all expectations, and became one of the most impressive PRS guitars in recent history.
Everything on this ax was designed and crafted with care. Every detail is just right. PRS guitars are usually known for their excellent craftsmanship, but PRS Mark Tremonti Signature takes that to a whole new level.

Features
The body of this guitar features a slightly modified Les Paul shape. The tonewood of choice is mahogany with a carved flame maple top that is finished with a nice layer of glossy lacquer. As a matter of fact, PRS offers this guitar in a number of different finish options, all of which are beautiful in their own way.
The neck is a pretty unique pattern thin mahogany design that is complemented by a Brazilian rosewood fretboard. There are 22 frets, and the inlays come in form of standard Artist Bird design.

Hardware of choice for PRS Mark Tremonti Signature model is a PRS tremolo bridge and a set of PRS Phase III locking tuners. The bridge is routed for both upward use and downward use, which introduces a bit of variety that is rarely seen on PRS guitars.
Electronics come in form of custom made Tremonti bridge and neck pickups. These are controlled by dedicated volume and tone knobs, as well as a three way pickup selector switch.

Performance
The type of tone PRS Mark Tremonti Signature offers is top tier stuff. The combination of a single cut mahogany body and hot rodded humbuckers is a recipe for heavy hitting sound. There is width everywhere, and the tone is simply powerful. With that said, Tremonti custom pickups don't lack any definition or accuracy. You can play a wide range of genres on this thing, and you will get great results. It's a versatile guitar, that is for sure.
Playability wise, this thing is a dream. The level of build quality PRS offers in this guitar is impressive. The neck is thinner than we are used to seeing on Les Paul style guitars, but that makes it so much faster and more comfortable to play.

What we like
PRS Mark Tremonti Signature model is one of the most refined and simply luxurious guitars PRS has to offer. Everything on it is high quality, and the whole package looks incredibly good.

What we don't like
There is nothing we can find on this beast that can be even remotely seen as a fault. The design, build quality and finish are all on point. The same can be said about the performance as well.
Conclusion
If you want excellence, PRS Mark Tremonti Signature is one guitar that will meet your requirements and most likely exceed them. No matter what kind of guitar collection you have, you will rarely see a more refined electric guitar than this one.
>> View Current Price On Amazon <<
Naturally, that type of quality comes at a very steep price. However, this is one of those rare cases where the investment is quite worth it.