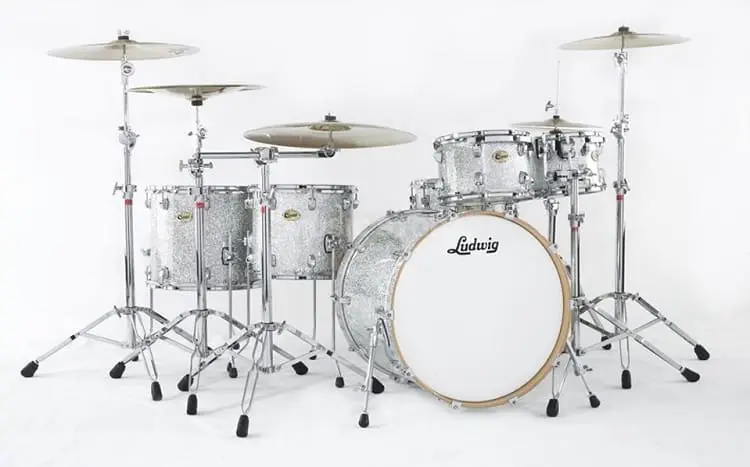 Ludwig drums have been around for a while. Long enough to establish and solidify their presence on the market.
One of the things this company knows how to do well is make great kits that won't break your bank account.
Considering how much your average drum set costs, and how much work actually goes into making one, this is quite a feat. If you are a drummer with an unlimited budget or a drummer with a very tight budget, you won't have a problem finding a decent set.
>> Check Out Current Price & Customer Reviews On Amazon <<
However, if you are somewhere in between, on a border that separates mid tier and high tier sets, that's where things get tricky.
Ludwig Silver Sparkle Centennial drum set is designed with this group of drummers in mind. They have configured a set to offer the best of the both worlds, all while keeping it in that sweet spot in terms of price.
Today we are going to take a closer look at this kit and see what it can do.
Kit Overview
A lot of people will tell you that shells are what dictates the quality of a drum set. In most cases this is true, but things are not always black and white. A drum is a lot more than just the wood it sits in.
Hardware also plays a huge part in its performance. Standard practice in the industry is to choose the quality of the hardware based on the quality of wood. The question is, what happens when you step away from this unwritten rule? Let's find out.

  Features
Ludwig Silver Sparkle Centennial was created to celebrate the 100th anniversary of this brand. In all honesty, they chose a very strange segment of the market for what should be a very special drum kit.
Centennial comes in a very basic configuration, consisting of a bass drum, a snare, and three toms. There are no cymbals, and no hardware. Wood of choice is American maple, and all of the shells are made of a 9 ply laminate.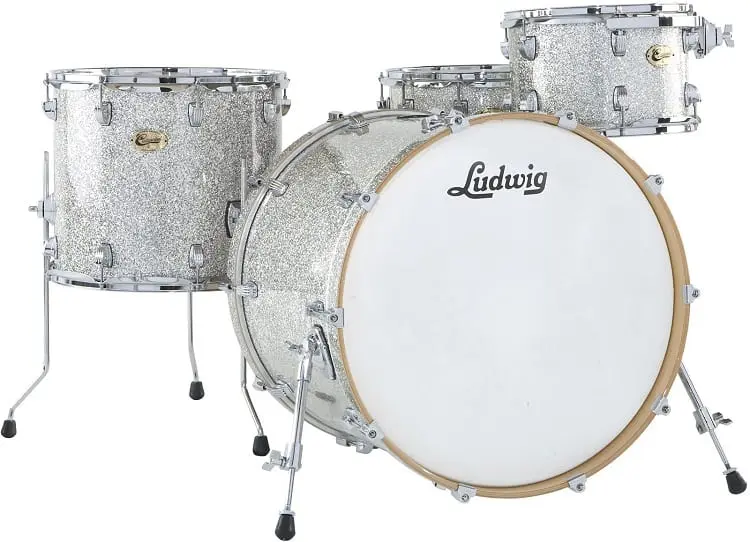 Dimensions of the drums are as follows: 22″x18″ for the bass drum, 16″x14″ – 14″x14″ – 12″x9″ for toms and a 14″x6.5″ snare. The finish on this particular version is Ludwig's Silver Sparkle, although natural Maple is available as well.
Lugs that come with this kit are not your standard Ludwig design, but rather a variation of their Mini Classic series. Overall it's alright in terms of drums and hardware, but it's a pretty stripped down kit.

  Performance
Where Ludwig Silver Sparkle Centennial really comes to light is the sound. Arguably, the bass drum is a bit too deep, but the toms and snare are on point. The choice of American maple was perfect for this kit, and you ca feel it in the sound as you play. With that said, this kit doesn't look ironed out at all.
[su_youtube url="https://www.youtube.com/watch?v=B-B-URiZYR8″][su_youtube][/su_youtube]
On the contrary, it looks like something Ludwig was trying to get out on the market as soon as possible. You can see this in most subtle details. The sound great, though. For a mid to high tier kit, the price is as good as its going to get.
High quality of sound is not the only thing this kit does great. The amount of volume you can get from it is impressive as well

  What we like
One of the most capable drum kits in its class. Combination of great wood and decent build quality really paid off through performance.

  What we don't like
The only flaw on this drum are its rough edges. We don't mean that in the literal sense of the word, but this kit could use some work.
To summarize
Ludwig Silver Sparkle Centennial is among those kits which you won't regret getting. It's right on the edge of being considered a true professional's drum set. The price is definitely great considering what it offers, but all in all Ludwig could have done a better job at putting it all together.
>> Check Out Current Price & Customer Reviews On Amazon <<
To company with that type of reputation, it is hard to believe how essentially sloppy their quality control was when this drum set hit mass production. Things like that shouldn't happen.