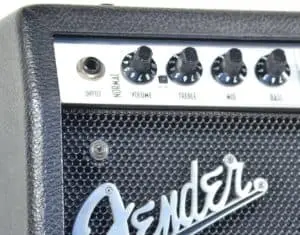 Fender's amps are not as popular as their guitars, but this giant of music industry definitely has some great models to offer.
These days, you'll find their small solid state amps in most guitar shops, and they are in high demand. However, the market for bigger and more serious amps is dominated by your usual suspects.
What we are going to talk about today is a Fender amp that hasn't been in production for a while now.
The reason why we are reviewing such an old amp is because it can be a great tool for a beginner who needs more power on a tight budget.
Fender Roc Pro 1000 was one of Fender's hybrid amps which came in several different formats. The one we are looking at today is the combo, which was probably the most popular version of this model.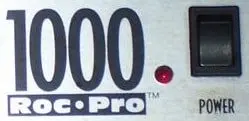 With its 100 Watts of power, Fender Roc Pro 1000 had enough punch to satisfy both the needs of those looking for a practice amp, as well as those who wanted a decent gig amp.
A Great Tool For Beginners
Last update on 2023-05-22 / Affiliate links / Images from Amazon Product Advertising API
Hybrid amps are not often seen these days. That is mostly due to the fact that modeling amps have become better, and simply because users who want tubes will most likely go and get an all tube amp.
Fender Roc Pro 1000 is interesting because the tube it came with didn't power all of the three channels this amp has. It was used selectively.

Features
All things considered, Fender Roc Pro 1000 is not much to look at. It has that somewhat standard appearance which most of the amps from its time period share. The case is all black, with a black mesh that covers the single 12-inch Fender speaker.
Only thing that is breaking the monotony of the front face is a large Fender logo. As we have mentioned before, this is a 100 Watt amp. There was also a 50 Watt unit offered, but its weaker performance resulted in most users choosing the Fender Roc Pro 1000.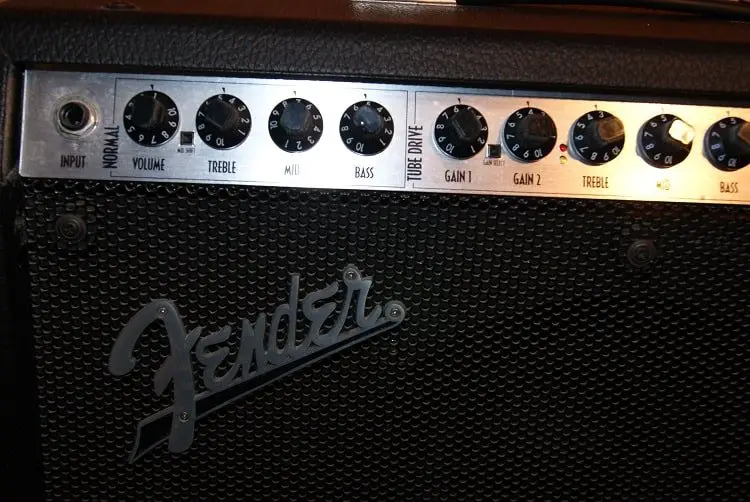 This Fender amp came with two channels – one clean and one overdrive channel. Interestingly enough, the clean channel is actually solid state, while the overdrive is tube powered. Speaking of which, there is a single 12AX7 preamp tube that does all the work.
Controls are divided between channels, with each having separate volume control and a three-band EQ. Overdrive channel also had two gain modes, which essentially gave you different types of distortion. Finally, there are reverb and effects mix knobs.

Performance
Once you turn this bad boy on, the first thing you will notice is just how loud it actually is. If you are in a regular sized room, going over 4 or maybe 5 will be painful. On a similar note, you definitely want to be gentle with the volume knob as it's very sensitive. Fender Roc Pro 1000 just has an incredible output.
The clean channel is more than decent, especially for early solid state design. There's enough definition and warmth to compare it some tube cleans. On top of that, it gives you a lot of range to work with. Just by manipulating the three-band EQ, you can dial in a lot of great clean tones. If you thought a solid state amp can't have a good clean channel, you need to check out the Fender Roc Pro 1000. It will change your mind.
Overdrive channel is where things get interesting. Default gain setting will give you a fat, meaty overdrive that can be used for all kinds of blues and rock music. Once you switch to the second gain setting, you get a lot more saturation and naturally, more gain. Overall, the overdrive channel is very flexible. You can push it as far as metal, and it will keep up with you just fine.
If you're meticulous with the EQ, and spend some time dialing a perfect tone, you can get a lot of great results from that single 12AX7 tube.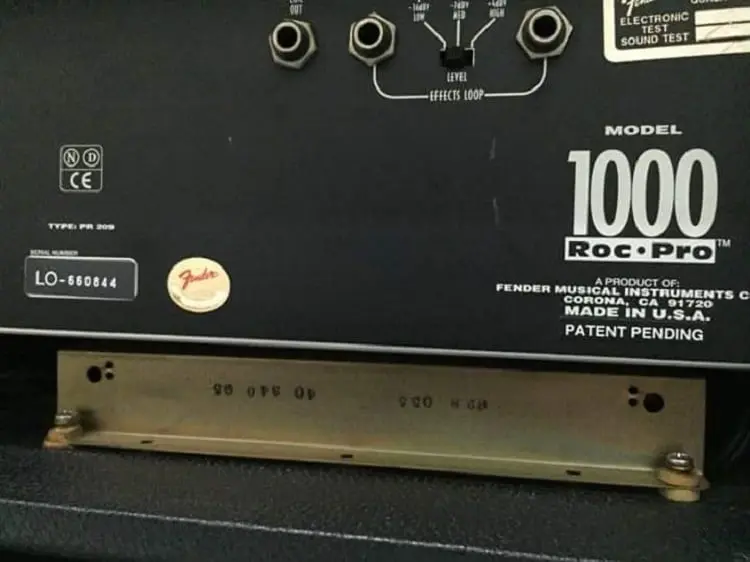 Reverb effect that is included with the amp is nothing to write home about. Some say it's a spring reverb type, but we can't really stand behind that statement. In our opinion, the reverb is average at best and will serve you fine if nothing else is available.

What we like
One thing that we have fallen in love with is just how amazing the clean channel on this amp sounds. We are talking pure Fender tube sound. How they managed to pull this off is not known, but the results are impressive. With that in mind, the volume range Fender Roc Pro 1000 offers is impressive.
You can easily use this combo in a small to medium venue without any additional amplification. This makes it perfect for a working musician who needs a good clean channel, on top of a decent power output.

What we don't like
There is really not much we can say is bad about this amp. Being that it's no longer in production, and that you can get one for rather cheap, it's the perfect home practice amp. Seriously, Fender Roc Pro 1000 is what you'd want to have if you need good quality sound but your budget is tight.
Conclusion
All things considered, Fender Roc Pro 1000 still has a lot to offer, even after all these years. The build quality, and more importantly, the sound quality is impressive for an early solid state amp.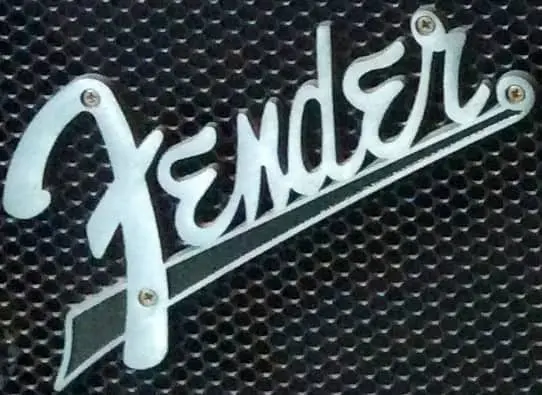 Tube drive overdrives bring you a bit of that vintage sound, although they are definitely more oriented for heavier genres of music. From what we can see, Fender Roc Pro 1000 amp head is no different from the combo.
It offers the same performance that is probably even more attractive when you plug-in a decent 4×12 cab into it. If you're in the market for a used amp and one of these crosses your path, we strongly suggest you take the time out of your day and check it out. You might just fall in love with it.