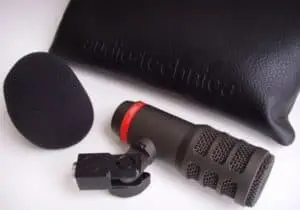 When people usually talk about microphones, the first thing that comes to mind is the tool being used by a singer to amplify their voice.
However, microphones are also used in a variety of different applications related to live performance and music recording. These microphones are a built with a slightly different goal, and can be seen standing in front of various amps, drums and other instruments which can use some help to boost the signal.
Microphones which fall within this category are often rather expensive compared to standard condenser or dynamic microphones.
>> Check Out Current Price & Customer Reviews On Amazon <<
A great example of what a good quality microphone can do for an instrument is the Audio-Technica ATM 25. This is one of their older models which has been discontinued, but it's also one of the most memorable products Audio-Technica has released in this segment. As a testament of how good the ATM 25 is, you will see a high demand for this units on the used market.
The quality of Audio-Technica's products is well known at this point. This is especially true when we talk about microphones. In short, Audio-Technica has all the potential needed to deliver a good microphone at a reasonable price. ATM 25 is the perfect example of that.
Good microphone at a reasonable price !

Getting the drums miced up involves a lot of finesse. You need to be very careful with your choice of microphones, and the way you position them. Additionally, that microphone you choose, needs to have the frequency range necessary to properly amplify the tonal properties of an acoustic drum. Usually, a specific model of a microphone used for this purpose needs to pass the test of time.
After a year or so of use, people will start delivering reviews which will make or break the reputation of the microphone in question. Needless to say, Audio-Technica ATM 25 passed this practical test with flying colors.

  Features
Audio-Technica ATM 25 is a hypercardioid dynamic microphone that comes in a very sturdy body made of metal. The membrane itself is protected by a solid metal cage which is additionally supported by a good quality black mesh wire. The design itself is pretty simple compared to some of the microphones which we can find on the market today.
There are no excessive buttons or other controls to work with. The mount is installed perpendicular to the microphone from the side. This pretty much positions the microphone at an angle from the moment you install the stand.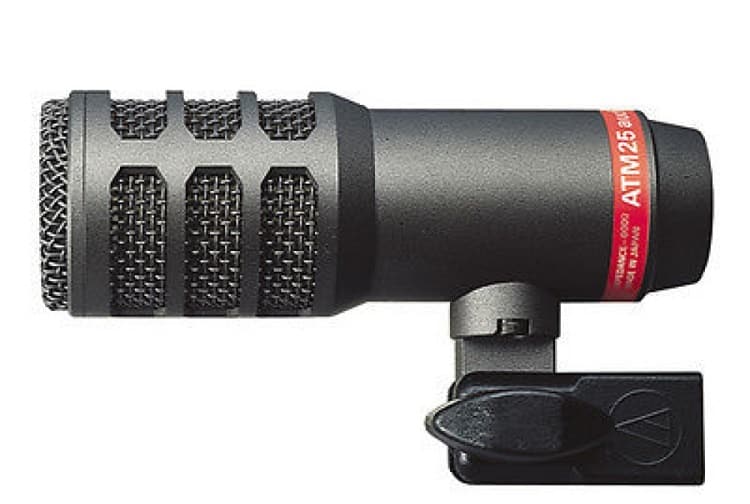 In terms of some performance parameters, you are looking at an impedance of 600 Ohms, a frequency response ranging from 30 to 15,000 Hz. The output type for this microphone is the standard XLRM 3-pin unit. The sensitivity of open circuit for Audio-Technica ATM 25 is -54dB (1.9 mV) re 1V at 1 Pa.
As you can see, the capabilities of this microphone are set pretty wide in terms of application. With that said, let us move on to the type of performance you can expect from the Audio-Technica ATM 25.

  Performance
One of the best things about this specific microphone is its double bass capability. Audio-Technica ATM 25 is a perfect choice for live performance. It was originally intended to be used for use by vocalists, mainly on stage. However, it was quickly discovered that this specific microphone has a lot more to offer.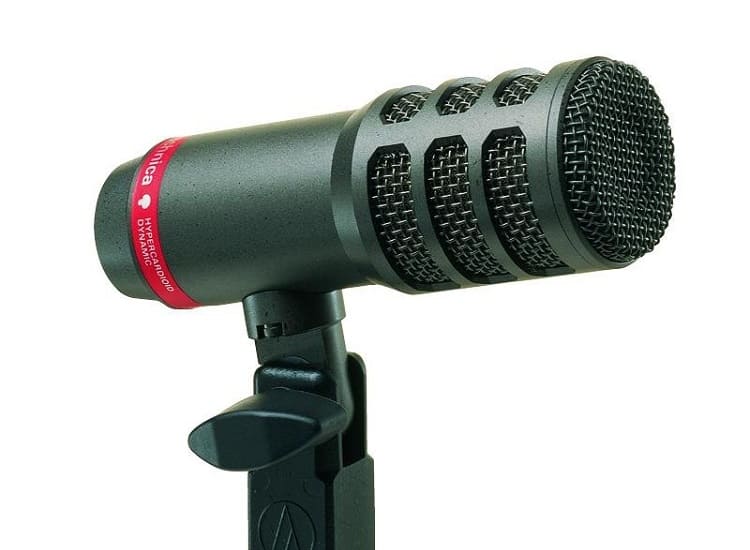 Once you take into consideration its frequency range and other performance specifics, it becomes apparent that Audio-Technica ATM 25 could possibly be quite effective for micing up the drums.
As it turns out, this assessment is completely correct. It's not really something you would want to have in front of your bass drum, however it is particularly good at amplifying toms and snares. Reason for this is its ability to deal with high SPL all while being in close proximity to the sound source. The build quality also adds towards this type of application.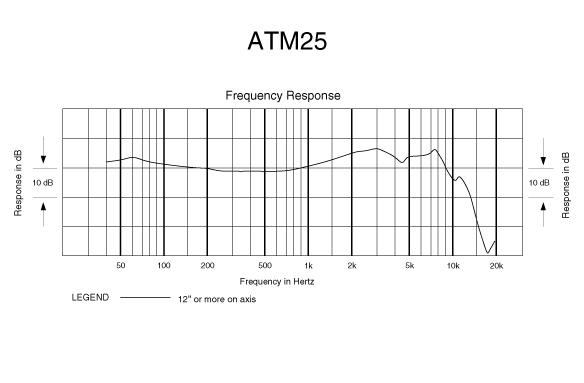 As a matter of fact, it has become one of the most popular dynamic microphones for this specific use. You could see ATM 25 sitting above the drums of some pretty popular drummers. In a way, this proven performance has kept the price of this model fairly high in terms of used microphones.

  What we like
The pure simplicity of Audio-Technica ATM 25 and the way it [su_highlight background="#e8ff99″]lends itself to drum amplification[/su_highlight], makes it a solid microphone in our book. It's not a cheap unit by all means, but it's the type of microphone which will give you the kind of performance you would definitely want to have at your disposal during a live show.

  What we don't like
One of the biggest flaws of this model is its current price. In some cases, you will see the Audio-Technica ATM 25 being priced close to its successor, the Audio-Technica ATM 250 which is currently available. Performance wise, this microphone has very defined range of application which was determined by years of use. As long as you stay withing this range, you won't be disappointed.
Conclusion
At the end of the day, Audio-Technica ATM 25 is a very peculiar microphone. It belongs to Audio-Technica's high tier line of products, and hence came at a price which was high but reasonable. Just how good this microphone is was seen in practice many time over. Whether or not it is something you should go for depends on what kind of budget you are working for, and what kind of use you have in mind for it.
>> Check Out Current Price & Customer Reviews On Amazon <<
If you need a great dynamic microphone to use for your drums, finding a used Audio-Technica ATM 25 in a decent condition can be a great solution. However, if you need something more versatile, it's probably better to check out the newer models offered by Audio-Technica. Bottom line is that Audio-Technica ATM 25 an excellent microphone which is suitable for professional use.
You can count on this model to give you the performance necessary under serious working conditions. If that is something you value, we absolutely recommend you put Audio-Technica ATM 25 on your shortlist.