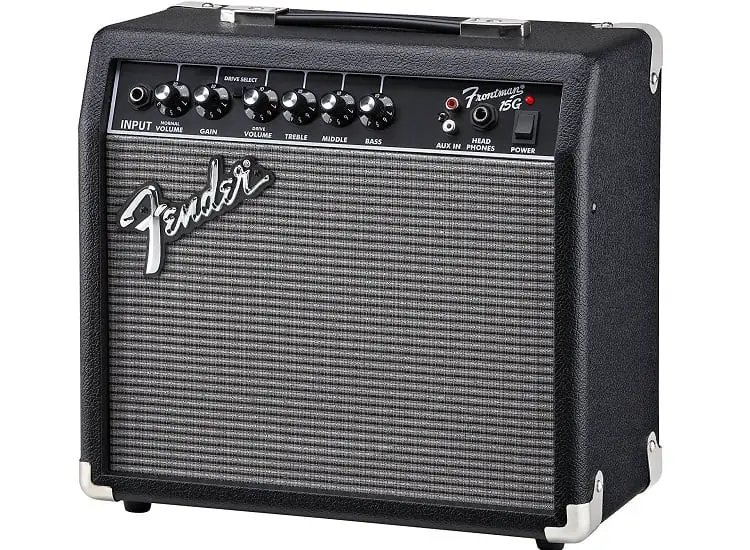 At a Glance…
| | | | |
| --- | --- | --- | --- |
| | | | |
| Dual-channel clean/distorted selection | average/below average tone | | |
Unfortunately the 15G is out of stock, Check out the 10G which is pretty much the same amp
A Bit of Background
The rise of Fender is largely attributed to Leo Fender's original guitar designs and their dedication to quality.
With that said, there is a different side of fender that is not often talked about, at least not as often as their guitars. Fender makes some of the best amps in the world. They may not be as popular as some other brands, but the quality is definitely there.
Today we are going to take a look at one of their affordable combo amps that brings a decent sound on a budget. Say hello to the Fender frontman 15G.
Having an affordable amp like this means a lot to those players who can't shell out the money necessary for more expensive models. Since electric guitars don't work all that well without an amp of some sorts, this Fender is a perfect solution for a lot of people all over the world. Being so cheap, it quickly became popular.
How far can this little box take you?
Solid state technology completely turned the world of guitar amplifiers upside down. Prior to its invention, you would have to get a large tube amp if you wanted to play your electric guitar with some sonic feedback.
Naturally, the price of tube amps made this experience exclusive to those who could pay the price. Solid state changed all of that.
Now we have small and affordable amps that offer a decent quality of sound that is more than enough for beginners or those who need a practice amp while playing guitar at home. That type of functionality is partially why the Fender Frontman 15G is a great piece of equipment that comes at a great value.

Features
Like we said earlier, this is a tiny amp. You are looking at a compact cabinet that sports a single 8 inch speaker, and is capable of delivering 15 Watts of power. The controls are rudimentary as you would expect them to be. Sporting skirted knobs and silver grille cloth, this amp comes with dual selectable channels – Normal and Drive. Normal channel is your clean channel, and drive is a distortion channel.
Starting from left to right, we see Normal channel volume knob and a gain knob. Next in line is the channel select switch, followed by Drive volume and then a three band EQ.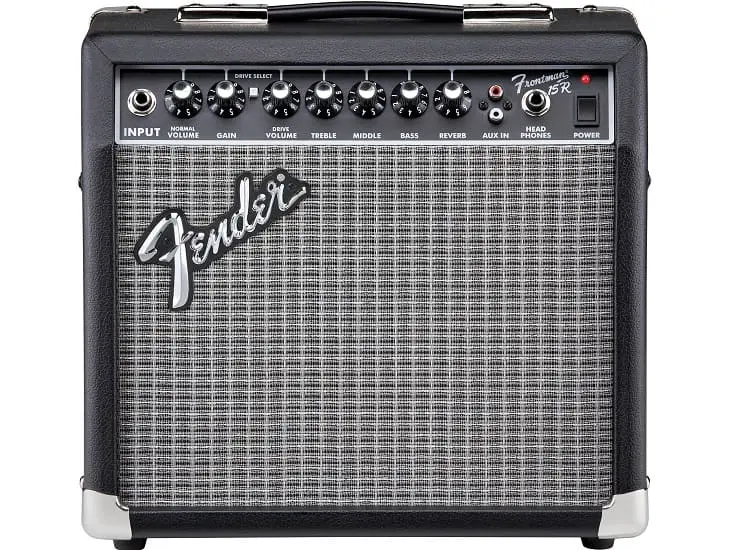 One interesting thing about the Fender Frontman 15G is the fact that you have RCA/auxiliary input besides your regular 1/4 inch TRS. This allows you to plug in a music streaming device of some kind, and play along with your favorite tunes. Additionally, you can also plug in a drum machine or anything else that uses this type of connector. There is a headphone jack, but you will need a 3.5mm to 6.5mm converter. This is essential for practicing without getting unwanted attention from your neighbors.

Performance
When you discuss performance of amps in this price range, your standards need to be lowered a bit. The Fender Frontman 15G gives you a nice combination of solid cleans and sufficiently saturated distortion.
You can definitely hear its solid state nature in the sound, but that is not to much of an issue in most cases. Three band EQ that is found on the amp works well and allows you to shape the tone to a certain extent.
For 15 Watts of output, this isn't an overly loud amp. However, considering it was designed to be used in your bedroom, the volume is quite fine. Overall, it sounds good, especially for what you're paying.
Compared to an average guitar amp, the Fender Frontman 15G is a bit behind the curve when it comes to tone quality. On the other hand, when you look at it through the prism of price to performance ratio, this small amp is a bargain. It's a great way to get classic fender tone at a great price.

What we like
Small form factor, decent sound and a price that is hard to resist, are the main reasons why this amp rocks.
Unfortunately the 15G is out of stock, Check out the 10G which is pretty much the same amp

What we don't like
In all seriousness, this amp is full of minor flaws that would matter if it was twice the price. Since it is not, we can't complain.
Everything considered..
When you are on a tight budget, having any kind of amp for your guitar is an awesome feeling. Fender Frontman 15g is the solution everyone who can't spend any reasonable amount of money on amplification needs.
This little amp is a decent practice amp that will serve any beginner's needs.