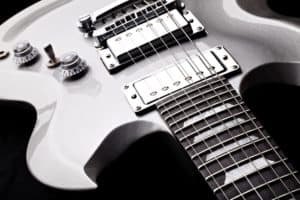 Every big guitar brand has been around long enough to have one or more of their models reach a legendary status.
For Fender it is the Stratocaster and Telecaster while Dean has the ML. Gibson however, has a whole lot of models that belong to this category. You have Les Paul, Explorer, and of course the SG.
The last on that short list has seen a lot of action in hands of guitar players who demanded a cutaway and a serious tone. It has since grown to be one of the best selling Gibson guitars.
There are many different versions of Gibson SG. Some are noteworthy, others are not. However, one of the most unusual ones to date is the SG Diablo. This version completely changed some of the elements of the original design which weren't touched before.
Mixing things up a bit definitely gave this old model a brand new look, or a face lift if you will. Today we are going to take a closer look at it, and see what is it that makes it different from the standard SG.
Is it just an aesthetic upgrade, or is there some substance to it?
For the most part, Gibson SG remained unchanged ever since it was first released in early '60s. There was a quality to it which made it very popular in a relatively short amount of time. It looked progressive compared to the Les Paul, and the cutaways made it more practical for those guitar players who wanted to reach the higher notes.
Gibson SG Diablo was a limited production model which aimed to give this old design a refreshment of sorts. Needless to say, Gibson achieved its goal. The guitar was part of Gibsons Guitar of The Week series, and is still considered to be one of the best results of this effort.

  Features
First thing you will notice that is different on the Diablo SG compared to the standard one is the body. The shape is the same old SG, but the topography of the body was altered. SG Diablo features an arched top that dips inside the body before it levels out towards the edges. This gave this particular model a more 3D look.
The finish is a nitrocellulose metallic red one, which improves the overall appearance of the guitar although its easier to scratch.
Neck is somewhat standard with the only major change being the addition of two extra frets. Unlike the standard version, this neck has 24 full frets giving you two complete octaves to work with.
In terms of hardware you are looking at standard Nashville tune-o-matic bridge on one end, and a set of Grover locking tuners on the other. Not only do these two components keep the strings in tune, but they also react well to bending. The action is very low and fast, which is actually the way many metal players prefer to have it.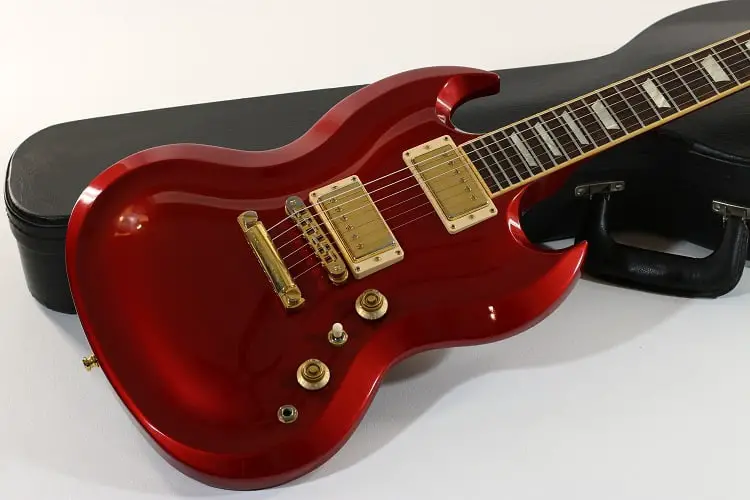 The pickups come in form of two humbuckers, namely the Burstbucker Pro 1 and Burstbucker Pro 2. These are controlled by one volume knob and one tone knob. If you know Gibson SGs, you will notice that two knobs are missing.
Gibson decided to simplify the electronics a little, giving as a more rugged tone to work with. In the end, this configuration turned out to be very practical.

  Performance
Great tone all around is what you can expect from this guitar. It can do anything from heavy metal to blues with ease. Pickups are very dynamic and have more range than we are used to seeing on a standard version.
[su_youtube url="https://www.youtube.com/watch?v=03sgkTMK_5w"][/su_youtube]
SG Diablo is very playable and comfortable. Those two extra frets make a lot of difference, especially when you want to complete some scales that far up the neck.

  What we like
Innovative take on a classic model turned out great for Gibson. SG Diablo is one of the meanest version of this guitar.

  What we don't like
Aside from the fact that only 1000 were made, there is nothing we can complain about.
In summary
Gibson is known to release some wicked designs from time to time. SG Diablo isn't all that strange as much as it's awesome.
The fact that it's probably the meanest looking SG that was ever built makes us wonder why Gibson wouldn't include it into their active line of products.