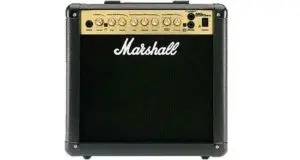 Marshall is the type of amplifier brand which you turn to if you need a proven tone that won't fail you. They are mostly known for their high end tube amps that played a significant role in shaping most modern genres of music.
However, they also have a great line of practice amps aimed at those who need a setup at home. One of the most popular models at the moment is the Marshall Amp MG15DFX.
>> Check out Prices & Reviews on Amazon<<
Our mission today is to scratch the surface and see what this amp really has to offer. Is it a great choice for beginners only, or is it something even the more advanced guitar players could benefit from?
Overview
Solid state amps are definitely not the first choice of any guitarists who can do better. Most people are dreaming about legendary tube amps, and are striving towards purchasing one. With that said, solid state amps made by Marshall are among the best on the market.
What they've managed to do is bottle their legendary tone into a whole range of amps which include the small practice ones, and huge stage performance ones. Marshall Amp MG15DFX definitely belongs to the former.

Features
What you're looking at here is the most basic solid state combo amp Marshall has to offer. It comes in a small format, and uses a single 8 inch custom voiced speaker to deliver the sound. From its name you can assert that it pushes out 15 Watts RMS, which puts it right in the practice amp range.
The controls on the front panel are more or less standard. You basically have two channels, clean and overdrive. Clean channel has a dedicated volume knob, while the overdrive channel has gain and volume knobs. Both channels share a single three-band EQ cluster which is followed by an FX section. All in all, a simple and easy to use layout.

Performance
Considering the price of this unit, and what it was made to do, the tone is quite remarkable. Marshall purists will discard almost anything solid state this company has to offer.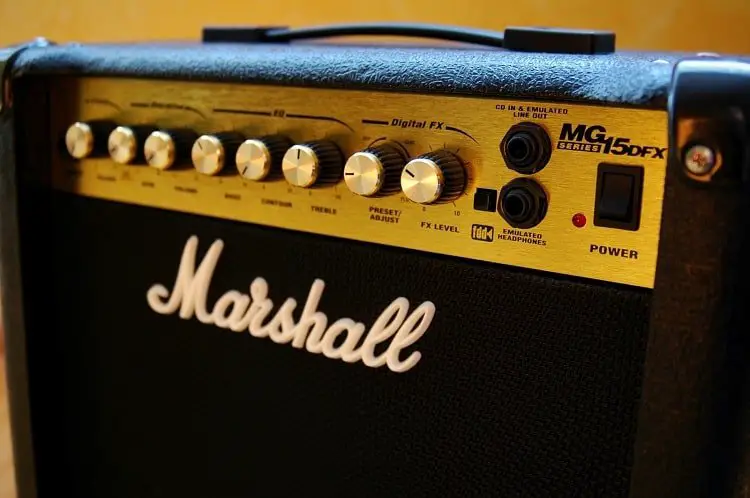 The rest of us who are not constricted by the same standards will find the tone of Marshall Amp MG15DFX to be quite pleasant. In all honest, the essence of that famous Marshall overdrive is there, just in a somewhat reduced form. If you're looking for great cleans and punchy overdrives for use in your bedroom, this Marshall has you covered.

What we like
Simple design, ease of use, and most importantly, great tone are what makes Marshall Amp MG15DFX a serious contender in the practice amp section of the market. The price is very reasonable compared to what you get, and it just delivers on all fronts.

What we don't like
There isn't much to criticize about Marshall Amp MG15DFX. The amp works as expected, and brings a good portion of the tone Marshall is known for. Maybe the build quality could be a tiny bit better, but that is definitely not a deal breaker.
By and large
Finding a great practice tube amp comes down to knowing what kind of tone you want, and being realistic with your expectations. If you are capable of upholding these two concepts, Marshall Amp MG15DFX is going to be a great choice.
It's pretty versatile, mobile, and just keeps on delivering the performance which is reliable. Not everyone is capable of dishing hundreds of dollars for a nice practice tube amp. For that crowd, Marshall Amp MG15DFX is definitely the way to go. No matter which genre of music you generally play, this Marshall will give you the sound you need.