You spent a lot of time developing your playing technique—and you'll spend a lot more over the course of your career. When shopping around for equipment, you don't only require the best in terms of quality, but you also want a product that will enhance your sound.
A pedal compressor plays a significant role when it comes to finding the perfect tone. In this review guide, we will be taking an in-depth look at the best compressor pedals for guitar players. We will also discuss the role of a pedal compressor, crucial buying considerations like parameter controls, and the different types of compression.
Our Top Pick
If you'd prefer just skip to the answer, if we had to a label just one of the pedals we reviewed as the best guitar compressor pedal, it would be the TC Electronic HQ Hypergravity. This is a versatile pedal with exemplary performance. You can find out a bit more in our review below—we've put it at the top for your convenience.
Last update on 2023-05-13 / Affiliate links / Images from Amazon Product Advertising API
Best Compressor Pedals Reviewed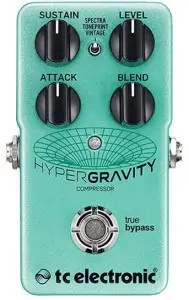 The EQ Hypergravity compressor from TC Electronic is a digital pedal that features three-band compressors to provide you with a wide range of effects and balance to your tone.
Key Features
Multi-band compression
True Bypass
Parameter controls for sustain, voicing switch, attack, level, and blend
Selection between 9-volt batteries or 9-volt adapter
Tone Print Technology
What I like
Like most other pedals from TC Electronics, this model features Tone Print technology, which is software that you can use to edit a wide range of parameters. As a result, you can achieve any compression response you need.
While this compressor pedal is digital throughout, it features a vintage control positioning that mimics that of early analog compressor pedals. The EQ Hypergravity also has blend control that you can use to combine the uncompressed signals with the compressed signals, so you can optimize the authentic tone of your guitar while compressing the signal sufficiently for your needs.
What I don't like
Getting the desired tone with this pedal may require some experimentation, and it may not be suitable for plug and play settings. If you need a pedal for your solid-state gear, however, this model may be a viable option.
Pros
Vintage parameter positioning
Tone print technology to achieve any compression response
Blend control to retain your guitar's tone
Pairs well with brightly-toned instruments
Fully digital
Features multi-band compression
Cons
Most parameters are only editable through the Tone Print Software
The TC Electronic Hypergravity provides complete compressor response editability with multi-band compression and blend control.
Overall Rating – 4.9 of 5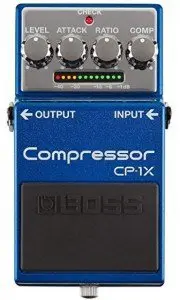 The CP-1X is a digital multi-band compressor that is easy to use, especially in live settings. It has a wide range of features that render it a viable option for the casual player and professional guitarist.
Key Features
Controls for level, ratio, comp, and attack
Input, power, and output sockets
Buffered bypass
9-volt power supply or 9-volt battery
Multi-band compression
Visual indicator
What I like
Like most other high-end models from this brand, the CP-1X features Boss's Multi-Dimensional Processing to provide you with adequate control over your sound. The pedal also features an internal charge pump to 18 volts.
This pedal is user-friendly with its intuitive layout, and it provides you with a wide range of sounds. The gain-reduction indicator shows you the current compression levels at a glance. Since the pedal has a buffered bypass, it is suitable for use with long cables and multiple pedals.
What I don't like
One drawback of the CP-1X is that it has a relatively short battery life which can be a hassle if you don't have easy access to an electrical outlet.
Pros
Excellent value for money
Intuitive layout and easy to use
Visual gain-reduction indicator
Transparent multi-band compression technology
Complete parameter control
Versatile and suitable for a wide range of settings
Cons
Short battery life
The pedal doesn't feature tone control
If you need top-of-the-line digital multi-band control, but at an affordable price, the CP-1X from Boss is worth considering.
Overall Rating – 4.7 of 5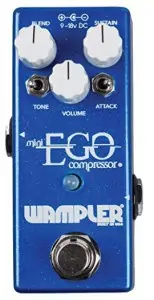 The Mini Ego from Wampler is a simple compressor that steps things up a notch in terms of versatility, compression control, and usability.
Key Features
Controls for sustain tone, blend, attack, and volume
Sockets for input, output, and power
True bypass
9-volt power supply with a 9-volt battery
A variation of classic Ross/MXR Dyna Comp compressor circuitry
What I like
Like most other compressor pedals, the Mini Ego is based on Ross/MXR Dyna Comp circuitry. Additionally, the compressor pedal features blend and tone knobs to provide you with added versatility.
The blend knob makes it possible to achieve an authentic, yet compressed sound, as it allows natural tones through with compressed signals. With the sustain control, you can increase your compression levels at will, and, with attack control, you can choose when the compression should kick in.
The compressor pedal is durable and features a solid build. The Mini Ego is also suitable for a wide range of applications.
What I don't like
To save battery live, you will have to unplug the pedal from your guitar or amp when not in use.
Pros
Versatile compressor pedal
Complete compression and tone control
High-quality pedal with a durable construction
Features blend, sustain and attack controls
Allows for natural tones with compressed signals
Simple and user-friendly
Cons
Short battery life
A relatively high price tag
The Wampler Mini Ego is the compressor pedal for guitarists who need quality, tone control, and natural tones with compression.
Overall Rating – 4.3 of 5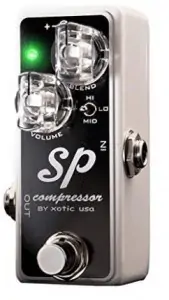 The Xotic SP is a mini compressor pedal with three controls, and Operational Transconductance Amplifying (OTA) technology.
 Key Features
Volume, blend, and three-way hi/mid/low compression strength
Sockets for input, output, and power
True Bypass
9-volt power supply and 9-volt battery
OTA technology for added squash
What I like
The Xotic SP features three controls, namely: volume, blend, and three-way compression strength. The volume knob can boost your output level by up to +15db and the blend knob offers the benefit of mixing your natural tones with compressed signals. The combination of blend and volume provides you with a wide range of settings for your performance.
The compressor pedal also has internal DIP switches that offer a selection of four different attack and release options, which is ideal for guitarists who want to add snap to the start of their notes. Additionally, the hi-cut filter and input pad accommodate high-powered humbuckers.
What I don't like
One drawback of this pedal is that it is susceptible to humming, especially if you are using it with long cables or multiple pedals. For live performances, a pedal with a buffered bypass may be more suitable.
Pros
Mini-pedal design
Provides a high sound quality
Three compression strengths
Blend control offers authentic tones compression
Four attack and release options
Suitable for use with high-powered humbuckers
Cons
The pedal may be susceptible to interference
Lacking versatility
If you are looking for a high-quality mini-pedal compressor that offers complete blend and volume control, consider the Xotic SP.
Overall Rating – 4.4 of 5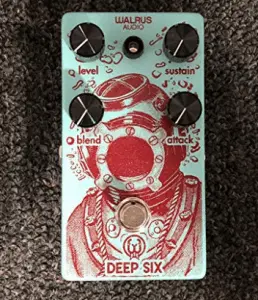 The Deep Six V2 Compressor from Walrus audio is a compact pedal with FET compression and high-end sound and build quality.
Key Features
 FET compression
Parameter controls for level, sustain, attack, and blend
Sockets for input, output, and power
True Bypass
9-volt battery or 9-volt adapter
What I like
Despite its compact size, the Deep Six V2 has four parameter controls that include volume and sustain to control the compression level of the signal. For adding snap to your sound, the pedal has attack control that you can use to determine when the compression should take effect.
The pedal also has blend control so you can mix compressed and uncompressed signals and retain your guitar's dry tones. Since the internal voltage is doubled to 18 volts, you have ample headroom for your sound while maintaining a current draw of 9mA. The result is longer-lasting battery life.
The Deep Six V2 doesn't only have a quality build, but it can improve your sound quality as well.
What I don't like
Since it features a true bypass, you can expect to lose some high-end frequencies when using it with long cables.
Pros
Boutique appearance with artwork
Compact size
Four parameter knobs for unlimited control
High-end sound and build quality
Offers sonic versatility
Studio-grade FET compression
Cons
Susceptible to background noise levels
High-frequency loss with live setups
This compressor pedal is the ideal addition to your gear if you want to improve your sound without spending too much.
Overall Rating – 4.6 of 5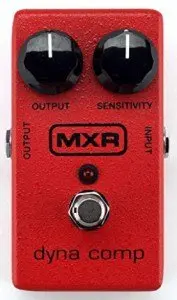 The Dyna Comp Mini from MXR is a contemporary and compact version of the Dyna Comp that was released in 1995 and that we all know and love.
Key Features
An in-line compressor
Controls for output and sensitivity
Sockets for input, output, and power
True Bypass
Mini-pedal design
Attack toggle switch
What I like
One prominent feature of the Dyna Comp Mini is the in-line compressor to even out the amp's input signal completely. The output knob controls the volume, and the sensitivity knob controls the compression level.
In addition to the output and sensitivity parameter controls, the pedal also features an attack toggle switch that you can use to delay compression and add snap to the beginning of your notes.
Even though the pedal doesn't feature blend control, its effects won't eliminate your sound. Instead, it will enhance it while maintaining authenticity and natural tones.
What I don't like
The pedal doesn't allow for precision adjustment, and the output control is rather sensitive. Despite this minor drawback, the pedal offers excellent sound quality.
Pros
Based on a classic pedal
Compact design
In-line compressor evens out the signal to the amplifier
Easy to use
Classic Dyna Comp squash
Features an attack toggle switch
Cons
No blend control
Sensitive volume
If you are looking to blow life into your guitar's tones and achieve a classic sound, consider the Dyna Comp Mini with its quality build and high-end sustain control.
Overall Rating – 4.5 of 5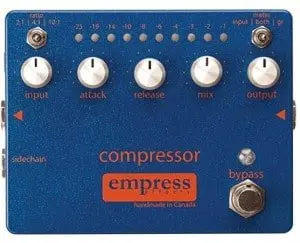 This compressor pedal from Empress Effects provides you with adequate control in terms of compression levels and attack, and it comes with a wide range of features that you would not expect to find with standard compression pedals.
Key Features
Control parameters for input, output, attack, release, and mix
Ratio and meter switch
Sockets for input, output, sidechain, and power
True bypass
9 – 18-volt power supply
LED meter
What I like
The compressor pedal has a wide-format design and features standard controls that include output, attack, and release. The mix control is similar to blend features you typically find on higher-end pedals. This feature allows you to mix unaffected signals with compressed ones to retain dry or natural tones with compression.
This pedal also allows you to adjust input and output levels separately, and the LED graphic display makes it possible to gauge compression activity at a glance. Other features of this compressor pedal include 2:1, 4:1, and 10:1 switchable compression ratios and a side-chain TRS loop input for compressing only a part of the input.
What I don't like
One minor drawback of this compressor pedal is that the control legends are somewhat obscured and difficult to see.
Pros
Separate control over input and output levels
Three switchable compression ratios for enhanced control
Attack and release control to add snap to your tone
Sidechain makes compression in part possible
Mix control allows for mixing compressed and uncompressed signals
Cons
High price tag
Control legends are difficult to see
If you are looking to add studio-grade compression to your tone, this compression pedal may be the right one for you.
Overall Rating – 4.7 of 5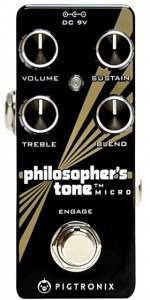 The compression effects pedal from Pigtronix is a mini-compressor pedal that offers a wide range of tones and high-end features.
Key Features
Mini-design
Controls for volume, sustain, treble, and blend
Sockets for inputs, output, and power
True Bypass
Features a 9-volt power supply
What I like
The Philosopher's Tone from Pigtronix offers several features to provide you with complete compression control.
The two standard parameter controls include volume and sustain to adjust the level of compression. The pedal also has a blend feature that you can use to mix compressional signals with dry signals to retain your natural tones.
The Pigtronix features a treble control for cutting or boosting at 2kHz. This feature is handy if you want to dial in an altered tone with compression or if you need an EQ shift with no compression.
This compressor is not as squashy as other models in this category, but the output level provides you with ample headroom if you need more boost.
What I don't like
Since this pedal features true bypass, it may not be ideal for use with long cables. However, when turned off, the signal is unaffected by the pedal's circuitry.
Pros
Blend control adding compression in parallel with dry signals
Mini-pedal format
Useful EQ option
Complete compression control
Great for achieving natural tones
High build and sound quality
Cons
High-frequency loss with long cables
The Pigtronix compression pedal offers clean sustain, a blend control to retain your original tone, and it pairs well with overdrives.
Overall Rating – 4.2 of 5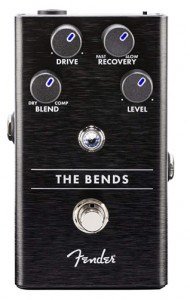 This pedal compressor from Fender is a sizable alternative to the Xotic SP with its quiet compression and high-value features.
Key Features
Controls for blend, drive, recovery, and level
Sockets for input, power, and output
True bypass
9-volt power supply or 9-volt battery
Operational transconductance amplifier (OTA)
What I like
The Bends is a high-end compressor pedal that features a parameter control for volume as well as a blend control that allows you only to compress part of the signal and retain your guitar's pure tone. The parameter control for drive will enable you to adjust the compression level and, with the recovery knob, you can adjust the release time for the compression.
The operational transconductance amplification technology is widely trusted, and the dual audio paths allow for quiet compression. The knobs are illuminated with LED's so you can see your control settings at a glance.
What I don't like
This pedal tends to drain battery life quickly, but since this model features a magnetic battery door, changing out batteries is easy and quick. In some settings, the on/off LED may be too bright and can make it difficult to see your adjustment settings.
Pros
High-quality pedal compressor
Complete adjustability
Dual audio paths for quiet compression
Excellent value for money
Features a blend control to retain dry tones
Cons
Power LED may be too bright
Short battery life
The Bends is a high-value, true bypass pedal compressor that provides you with complete adjustability and reliable compression and amplification technology.
Overall Rating – 4.4 of 5
Compressor Pedal Buying Guide
A Compressor Pedal's Function
The primary function of a guitar compression pedal is to enhance your existing sound and compressor performance.
A compressor pedal evens out all the sounds you produce to the same aptitude by increasing the volume and richness of quiet sounds and toning down louder sounds. The result is an even and balanced sound, which is especially helpful when playing arpeggios.
How to Use a Compressor Pedal
The best approach is to use your compressor pedal as a tool to eliminate imperfections like spikes and dips in your tone. You can place the distortion pedal anywhere in your signal chain. Most guitarists prefer to put the compressor pedal before the overdrive and distortion effects to achieve a smooth, low-gain tone.
Knowing how to adjust parameter controls is crucial to achieving the perfect tone for your playing. When shopping for a compressor pedal, keep in mind that the number of controls is not necessarily an indication of a higher-end model. Many top-of-the-range models only have two parameter controls.
The parameters that a compression pedal controls include:
Volume/Level
Sustain/Sensitivity
Attack and Release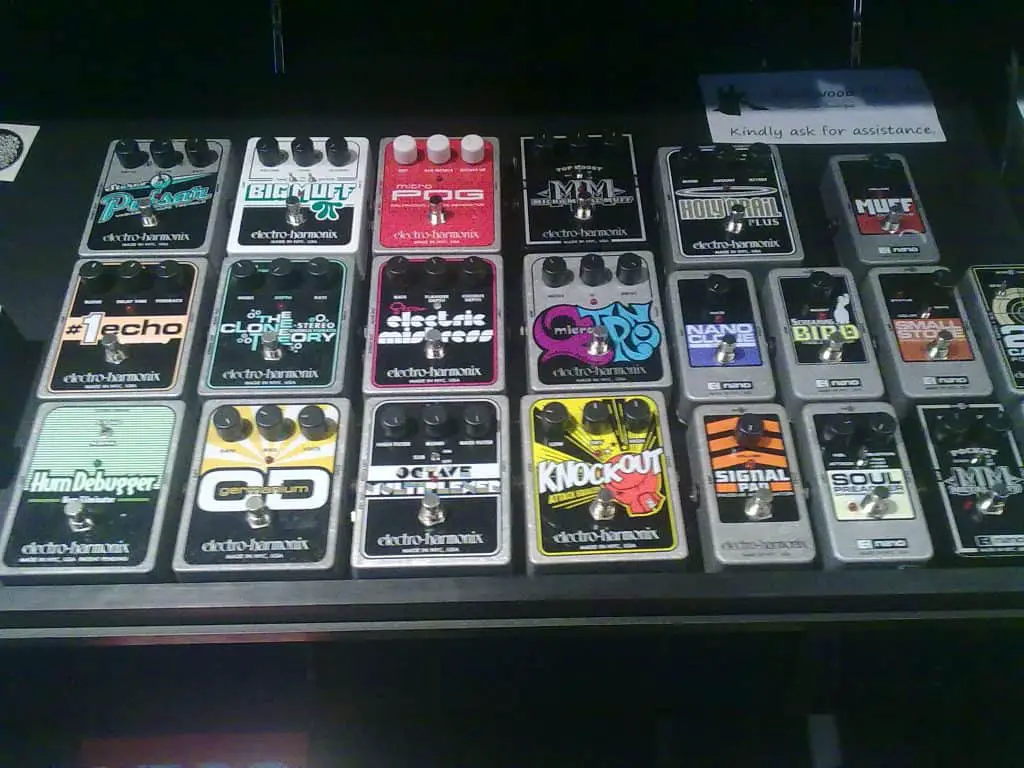 Volume / Level
The knob allows you to boost the baseline level of the signal volume. The higher the setting of the knob, the higher the volume. You can use the volume/level parameter control to boost the input signal to the level of distortion, or you can use it to limit gain and prevent distortion.
Sustain / Sensitivity
This knob controls the compression level of a signal. At low settings, the signal is dynamic, which means the low-volume tones are quieter, and the high-volume parts are louder. At high sensitivity/sustain levels, the signal is more compressed, and the low and high signals are closer together in terms of volume.
Attack and Release
With the attack control, you can determine how long the compression will take to take effect. The release control gives you control over how fast the signal is decompressed when it falls below the baseline volume as set by the volume/level control.
At a low attack control setting, the compression will kick in faster and, at high settings, the effect will take longer to compress the signal. Many guitarists prefer the high settings as the delayed effect adds brightness and dramatic peaks to the tone. Short release setting will result in distortion of low frequencies.
To find the optimal attack and release levels for your playing, you may have to experiment with different settings. In most cases, using these levels in moderation will provide you with the best effects.
Types of Compression
There are several different types of compression. With large rack-mounted compression units, you will be able to clearly notice the effect that these types of compression have on the tone. If you use a pedal-type compressor, however, the difference between the types of compression may be too subtle to notice.
It is worth your while, however, to understand the most common types of compression and the effect they have on tone.
Multi-Band
Multi-band is the compression type that has the most significant impact on your tone, primarily because it only affects a specific frequency range. With this type of compression, you can choose to compress, say, the treble frequency range, keeping your mid and bass frequencies unaffected.
Valve
A valve compressor features a vacuum tube in the path of the signal instead of a transistor. The result is a warmer tone that pedals without a vacuum tube don't produce.
Optical
Optical compressors are popular because of the organic sounding attack and release that they have. This type of compressor features an LED that grows brighter as the volume level increases. The compressor is also fitted with a photocell that reads the brightness of the LED and adjusts the gain in accordance with your settings.
VCA
A VCA compressor has a circuit that exercises precision control over a signal's compression, attack, and release. Many guitarists don't like VCA compressors because of their rigidity and lack of natural tones.
FET
A FET compressor features a specific transistor type to mimic the response of tube compressors. This type of compressor is a viable option if you like the warm tone of a valve compressor but need the reliability that FET compressors have to offer.
A drawback of FET compressors is that they are more expensive than other compressor types because of their added circuitry. If you need a compressor that doesn't affect your tone, a FET compressor may also not be a suitable option for you.
True Bypass and Buffered
With a true bypass pedal, if it is turned off, the signal will travel through the pedal without being affected by its circuitry. This pedal type is suitable if:
You want to get the true and unaffected tone of your amp
If your cables are short
If you are not using many pedals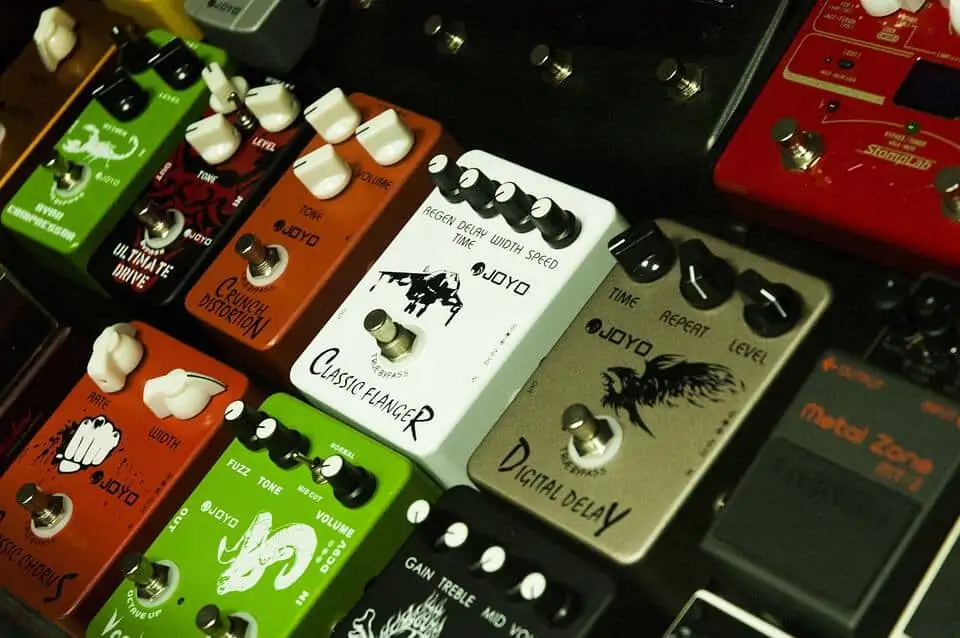 However, if you are using several pedals or long cables, it can compromise your frequency response in the high end, and you may need a pedal with a buffered bypass.
With a buffered bypass, the signal travels through the circuitry which gives tone coloration. Since a buffered bypass boosts the signal, this type is ideal for live performances where you may typically use long cables.
When you use a buffered bypass pedal, the tone will be altered a lot less through long cables, as long as you use high-quality buffers on your pedals. If you are using multiple pedals, the quality of the buffers on all of them should be the same.
Do You Need a Compressor Pedal?
Whether you need a compressor pedal depends on your preferences and playing style. Some guitarists depend heavily on their compression pedal to even out their playing sounds. Other guitarists prefer not to use a compression pedal as it can reduce authenticity and compromise the control they have over their sound.
How you set up your compressor pedal and configure its effects can have a significant impact on your sound. The brand and model you choose also has an effect, so you may want to try them out for yourself at a music shop.
Final Thoughts
There are many high-end pedals and bass compressors to to choose from if you are looking to even out your signal while achieving an authentic tone. The TC Electronic HQ Hypergravity is a sustainable option to most guitarists with its Tone Print technology.
This compressor pedal also stands out above the rest with its parameter controls for sustain, voicing switch, and attack. Also, this pedal features a blend function for adjustable compression without losing dry tones.
This HQ Hypergravity also features multi-band compression to ensure noticeable effects and to enhance your sound when performing. All the above made it an easy pick for the best guitar compressor pedal.