Chances are you're tired of your bass sound sounding off all the time. A bass compressor pedal is just what you need to smoothen the sound. Unlike other effects, bass compressor pedals generally clean the sound of your bass by toning the peaks for a more harmonic almost studio-like sound.
We have compiled reviews of some of the best compressor pedals and the ultimate buying guide to help you find the best bass compressor pedal for you.
The Best Bass Compressor Pedal
If you don't have time to read all our reviews, our top pick was the Xotic SP compressor pedal because it is reasonably priced and has an array of full-range compressor tones. It is also quite popular among beginners and advanced users.
Last update on 2023-05-27 / Affiliate links / Images from Amazon Product Advertising API
Top Bass Compressor Pedals Reviews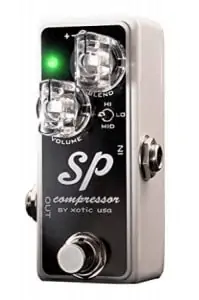 The Xotic SP compressor pedal is based on the OTA technology. The OTA (Operational Transconductance Amplifier) leverages on input current instead of voltage to control the amplifier transconductance. It is a highly rated technology used in the best compressors.
Key Features
Mini compressor pedal
Based on the famous Ross compression circuit
Has blend control
Contain internal dip switches
Has settings for hi, mid, and lo compression settings
Supports true bypass switching
What I like
The SP Compressor has several tones ranging from vintage to modern that will enrich any audio. It allows you to boost your signal by more than 15db. With its dry blend and internal dip switch attack control, you can determine when the compressor kicks in.
What I don't like
Some players have complained this model is susceptible to feedback or produces an odd hum at times. This issue doesn't seem to be a wide-spread but is worth noting.
Pros
Has a refined tone that enriches any audio
A fantastic price considering the features and performance
Compact size
One-year warranty on parts and labor
Cons
Price is slightly higher than other models
The Xotic Sp compressor is a mean little compressor that works wonderfully for the price. It is versatile and compact, allowing for easy transport and set up on the fly. It gives you an option to use an AC or a 9V battery when you are on the go.
Overall Score: 4.8/5
If you're looking for a quality effect pedal, the JOYO JF-10 Dynamic Compressor might deliver the remarkable full sound you've desired for so long. It has excellent compression and sustain, but its attack is unbelievable.
Key Features
A low-noise recreation of a Ross compressor
Adjustable sustain, level and attack knobs to fine tune your tone
True bypass design minimizes tone loss
Has an aluminum alloy body
The attack is specially designed for Bass or high-output active pickup
What I like
Its compression and sustain are reasonable; however, it is the attack that stands out. With its sustain, attack, and level knobs, you can create custom sounds. It doesn't change the original but makes it rich and full.
What I don't like
On certain settings, this pedal can let off a little bit of noise, which especially during recording, is a big downside. Some users also complain this unit isn't very durable.
Pros
Has an impressive attack made for bass and high-output active pickup
Usually runs silently
Minimal tone loss because of true bypass
Fair-priced
Cons
Can be noisy at high settings
Moderately priced, this compressor pedal seems to do precisely what it promises. All the controls work as they should produce a rich, well-balanced tone. The compressor works hard to unify all the notes so that none overpowers the other.
Overall Score: 4.6/5
The MXR M102 Dyna Comp has a small compact design with a simple and well laid-out button structure. Without stretching the truth, this model has become a darling for many musicians around the world. It is one of the few compressors that does exactly what it was intended to by delivering a high-quality sound with the right amount of boost.
Key Features
An in-line compressor balances signal to your amplifier
Supports Nashville studio standard
Power: Dunlop ECB003 AC Adapter or single 9v battery
Uninterrupted output signal
Compression circuit
Great sensitivity control
Excellent tone
What I like
The MXR M102 Dyna Comp compressor pedal has one of the most straightforward layouts making it very easy to use. It only has three knobs. The footswitch turns on the compression, the sensitivity knob sets the compression ratio, and output knob that regulates the volume.
As a Nashville Input Standard in-line compressor, the MXR M102 Dyna Comp will balance your signal while at the same time boosting your signal.
What I don't like
While simple is great and all, more experienced users might find this model a little too simple or even boring. None the less, it's a great beginner's pedal.
Pros
Extremely easy to use
Has a simple design with clear easy-to-read knobs
Silent
Uses both battery and power adapter
Cons
This model is among the best compressor pedals out there if you want a no-frills solution. It is quite popular around the world and revered for its rich sustain and percussive and clicky sound. If you want the same percussions or a pedal that is trusted by pop stars around the world, this is it for you. It is quite simple and easy to use.
Overall Score: 4.6/5
Sneaking its way into fourth place is the Wampler Pedals Mini Ego Pedal, which has a more vibrant and fuller sound than other compressors. It sports a clean design engineered to withstand all manner of punishment.
Key Features
Superior parts designed for the perfect sound and response
Supports true bypass
9v power jack (no battery connector inside)
Power draw: between 9v -18v
Has only five controls – volume, tone, sustain, blend, and attack
Adjustable switch control for fast/slow attack
Tone switch control for regular and bright
What I like
The one thing that separates Wampler Pedals Mini Ego Compressor Effects Pedals from other compressor pedals is the richness of its sound. It balances your signal and boosts it without altering the original sound.
Also, this model offers a lot of versatility with its five controls. You can use the tone and attack knobs to control how high or low the tone becomes while the attack knob gives you the ability to control the intensity of the effect.
With the blend knob, you can mash up the original sound with the compressed one for a smoother sound. The sustain knob does exactly that, it sustains the signal for long as you want, and with the volume knob, you can set how high you want your volume to be.
What I don't like
This model is one the most expensive in our roundup, and while it is a quality compression pedal, I'm not sure that its packs enough extra punch to justify its price in comparison to its competition.
Pros
Simple and sturdy design
Great controls; sensitive and responsive
Five-year warranty
Cons
Wampler Pedals Mini Ego Compressor Effects Pedals is a rich bass compressor that comes in a compact design. It has very smooth tones that can be customized to many styles. It is one of the most highly customizable compressor pedals with its five knobs giving you more versatility and adjustability.
Overall Score: 4.5/5
Designed for the harshest environment, Donner Yellow Fall Analog Delay Pedal has a compact, sturdy build. It does a fantastic job of cleaning your sound while giving you some long delays.
Key Features
100-percent analog whole circuit with clear, delay, smooth, and plump effect
Has stable and durable aluminum-alloy classic
LED indicator to signal on/off
True bypass for a clear tone
Three knobs with ECHO mix and time delays
9v power adapter
What I like
The Donner Yellow Fall Analog Delay Pedal is a fully analog circuit delay pedal that gives between 25ms and 600ms delay time made possible by the onboard PT2399 IC circuit. The long delays dramatically reduce the digital noise that would be unbearable without them.
With its true bypass, your signal gets a transparent tone when it gets to the amplifier allowing you to maintain the original sound. It has a handy LED indicator that lets you know whether the compressor is turned on or off.
What I don't like
At this price point, it's hard to find any complaints with this pedal. You do have to set the resolution to 1K or reset each time the pedal is powered on due to the digital chip, but that's a small price to pay for such a bargain.
Pros
Analog-level decay
Low noise level
Little tone distortion
True bass bypass
Cons
The resolution has to be 1k or reset when the pedal is powered on because of digital chip
Donner Yellow Fall Analog Delay Pedal is an analog compressor bass pedal that features a bright yellow color and chunky control knobs. It has a compact, rugged design that can withstand all conditions without breaking a sweat.
Overall Score: 4.3/5
Mooer MCS2 Yellow delivers a smoother and less distorted compression as a result of its optical compressors. It is light and compact, allowing it to fit even in a crowded pedal board.
Key Features
Classic optical compression
Preserves the uncompressed signal transients
Hardy full metal shell
Very small and elegant
What I like
The Mooer MCS2 Yellow Compression Effects Pedal shines when you want to preserve the original tone or smoothen the tone of your audio without altering it. It has a rather smooth decay and attack that is uncommon in other bass compressor pedals.
With its true bypass technology, you can always rest assured that the sound passing through your amplifier is unadulterated. It gives transparent tones that are unaffected, sounding the same as the original.
What I don't like
While the results are smooth, the compression and attack are a little weaker than what can be achieved with other pedals on our list.
Pros
Great design
A smooth effect for keeping the original signal
Compact design that takes up minimal pedalboard space
Cons
Has a weak compression and attack compared to other compressors
Despite being small, the Mooer MCS2 Yellow Compression Effects Pedal has a lot of tones to offers. Whatever sound passes into it, it enhances the output without altering the sound. It is among the finest bass compressor pedals with a small form factor.
Overall Score:4.3/5
The CS400 features reliable components designed to serve both beginners and enthusiast that like experimenting. It has a quality finish and a shocking price tag.
Key Features
Features very smooth compression and extended sustain
Properly built and designed to match other premium products
Compresses and boosts loud and low signals maintaining the original sound
Has a dedicated level, tone, attack and sustain
Status LED to indicate battery status and on/off state
What I like
The Behringer compressor/sustainer CS400 has a solid performance that can easily rival standard bass compressors and sustainers. It gives a balanced sound with an option to boost or sustain the signal.
It sports a colored LED indicator that helps you determine whether the device is on or off. It has a chunky foot pedal with four easy to read settings. It has a rich sound and many customization options.
What I don't like
This model is the cheapest in our reviews, and it shows in the build quality of this pedal. It is plastic and not the most durable thing in the world, but, being it comes in at around a third of the price of most other pedals, that's a small complaint.
Pros
Great value for money
Great design with lots of features
LED Indicators
Low cost
Cons
Has some distortions
Made with plastic; prone to damage
Unlike other compressors, the Behringer compressor/sustainer CS400 does not have an aluminum or aluminum alloy housing. Instead, it relies on its plastic covers to protect its internal components. It has a fantastic sustain function that outdoes many other compressors in its category. If you are looking for a quick and cheap solution for your compression problems, this is the best bass compression pedal for the job.
Overall Score: 4.1/5
Bass Compressor Buying Guide
Other than price, there are a lot of factors to consider before settling the best bass compressor pedal. Let's take a look at some of the essential ones.
Onboard Controls
Every compressor you look at will have some manner of buttons or knobs at the top. It doesn't mean that the more a compressor has knobs on it, the better it is. However, some essential controls are great to have. These include:
Level (Makeup Gain)
Level, sometimes called volume or output, is the volume size that your pedal boosts the signal. The more you increase the level, the higher your sound is going to be. If you decrease the level, your sound will be quieter.
The level is useful when you want to maintain the volume of your clean and compressed sound. Most compressors will have some form of level to them.
Attack / Release
The attack control is what determines the stage at which the compression takes over once you start playing. On the other hand, the release is the stage at which the signal decompresses after it meets the required threshold.
These controls determine what your sound is going to be like.
Ratio
If you want to control the amount of compression that a signal gets when it gets over the threshold limit, you use a ratio control. They are mostly found in rack-mounted studio compressors. Some companies like MXR use them on their compressors for better control. The ratio is usually represented by numbers such as 4:1 or 10:1.
Compression Type
There are several compression types in use today. It is important to know the kind of compression the pedal you want to buy uses and the effects
Optical
This type of compression uses a light source to adjust the volume of a signal and is by far the smoothest. It produces a very natural sound and will be loved by those that want a subtle compression.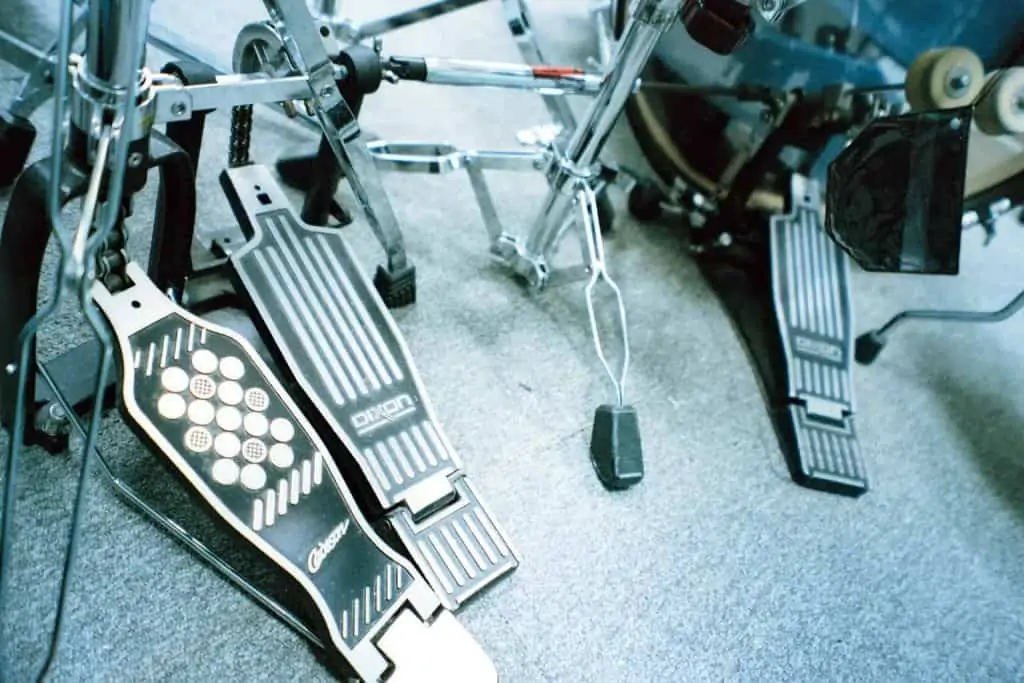 FET
FET compressors are mostly used in major studios. Some bass compressor pedal manufacturers mimic the vacuum tubes used in standard FET compressors using transistors. They are great for producing concise sounds. They can be used to add other types of sounds as well.
VCA
This type is one of the most popular and low-priced bass pedal compressors. It converts an AC signal into a DV voltage that is used to regulate the volume of the VCA. It has a specific range of attack compared to other compressors.
Valve (Tube)
These are the priciest and hardest to maintain compressors as they are made with real vacuum tubes rather than transistors. They, however, have a beautiful vintage sound.
True Bypass or Buffered Output
A true bypass compressor does not affect your sound when turned off while a buffered output compressor changes your signal whether it is on or off.
Buffered Output compressors are great when you have a lot of pedals and cables running through your rig. It boosts your signal before it even reaches the amp. If you want a pure signal, a true bypass is the right one for you.
Final Thoughts
There is no art of picking the best compressor bass pedal. What works for you might not even be second best to someone else. However, what helps is understanding your needs and the style you are after.
It is also important to note that the experience you have playing determines the kind of processor you need. If you are a beginner, go for the standard ones.
Our guide includes bass compressors pedals with different prices, compression types, and onboard. We have also included a guide that will help you identify the kind of compressor that works within your specifications. We hope all the above proves useful to you, and thanks for reading!