Nobody is perfect—that is a fact— but it is one's willingness to do what is necessary to be better every day that separates the greats from the mediocre. For performance artists, such as vocalists, Imperfections and flaws in your voice are natural and that's alright, but that doesn't mean you can't do anything about it, this is where technology comes in, in the form of a vocal effects pedal.
With the multitude of products out in the market, you can spend weeks deciding which one is the right fit for you. Instead of doing that, let me help you with my review of the best vocal effect pedals out there so that you can focus on the right thing—your music!
Our Top Pick
If you'd prefer cut to the chase, while we feel that no one pedal is going to be best for everyone, our top pick would be the Boss VE-2 detailed below. It offers impressive sound in a durable package that's going to work well for the majority of singers.
Last update on 2023-11-04 / Affiliate links / Images from Amazon Product Advertising API
Best Vocal Effects Pedal Reviews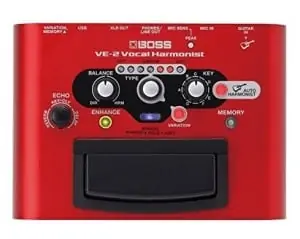 Let's kick this review of best vocal effects pedals off with the boss of all pedals—the Boss VE-2 Vocal Harmonist. Finding a compact, easy-to-use pedal that provides high-quality results at such a low price point is the dream. Not to mention that it is battery-operated, allowing you to perform anywhere.
Key Features
Real-time vocal harmonies and high-quality effects
Hybrid mode allows you to create harmonies using both manual key settings and guitar chord input
Can run on a PSA-series AC adapter or batteries
What I Like About This Product
What I love about this product is its ease-of-use and the fact that it can run on batteries allowing me to perform anywhere. It integrates well with instruments; I've only used it with a guitar, but it sounds great!
What I Don't Like About This Product
It's a bit difficult to read in low-light settings, and while I appreciate using knobs, it is subject to wear and tear. It also doesn't have as many features as other pedals out there.
Pros
Sounds great
Allows integration with an instrument (XLR, ¼ jack)
Can be powered with batteries
Relatively cheap
Cons
A bit difficult to read in low-light situations
Not as many features as other vocal pedals
Boss lives up to their name with the VE-2 Vocal Harmonist Stompbox, it's easy to use, compact, and has all the main features you'll need to give a knock-out performance night in and night out. While it doesn't have as many features as other stompboxes out there, I'd still recommend it over others as it just sounds great and pairs well with a guitar.
Overall Rating – 5 of 5
Check out the BOSS VE-2 in action here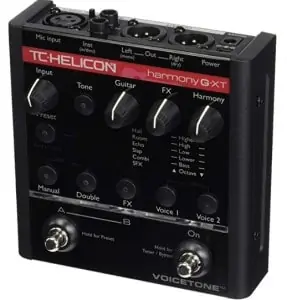 If you're a musician that's traveled from one gig to another for some time, you'd know that lugging equipment around can be backbreaking—this makes finding an all-in-one vocal effect pedal a top-priority. Lucky for us, TC Helicon did just that with the VoiceTone Harmony-G XT.
Key Features
All-in-one vocal effect pedal (voice tone, harmony, pitch correction)
Multiple presets (ten) each with an A/B option
Real-time vocal pitch correction
What I Like About This Product
I love this product as it is an all-in-one vocal solution that has multiple presets that you can re-program to fit your specific needs.
What I Don't Like About This Product
It's heavier than other pedals at two pounds. The foot buttons are also a bit small, and it is quite sensitive to external noise.
Pros
Has all the vocal effects you'll ever need
Multiple presets to switch between during live performances easily
Works well with different instruments (guitar and keyboard)
Cons
Sensitive to outside noise
Small foot buttons
The TC Helicon VoiceTone Harmony-G XT is an excellent fit for you if you sing a wide range of songs and want to have all your vocal effects features on one pedal. It's heavier than other harmonizers, but with all its different functions all is forgiven.
This product works best in a smaller musical setting, such as an acoustic guitar solo or duo, but it might not be ideal for a full-band scenario as it seems to have a difficult time locking into harmonies when too much sound comes through the mic.
Overall Rating – 4 of 5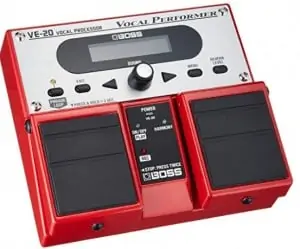 The Boss VE-2 was excellent, that means the VE-20 is ten-times better, right? Unfortunately, that isn't exactly the case as the VE-20 was released around five years earlier than the VE-2, but that doesn't mean it's completely inferior. It has more features than the VE-2 and can still stand on its own merits despite being roughly ten years old.
Key Features
The complete vocal solution that covers creative effects, delay, double-track, reverb, harmony and more
Can create up to three-part harmonies and layers
Real-time pitch-correction with special effects such as radio and strobe
Powered with batteries
What I Like About This Product
The number of special and creative effects on the VE-20 is impressive, making it more of an all-in-one vocal effects stompbox instead of a pure vocal harmonizer. Being able to set up to three-part harmonies and layers allows for even more creativity during live performances.
What I Don't Like About This Product
Packing all these features into a stompbox means it is bulkier than other pedals out there not to mention that it has been around for some time and thus the hardware is outdated compared to more recent models.
Pros
Complete creative effects and multiple special effects
Battery-powered
Real-time pitch correction
Cons
Heavier than modern models
Hardware is outdated
Doesn't come with an adapter
The Boss VE-20 Vocal Harmonizer Pedal may be outdated in terms of equipment, but the features built into this product ensured that it stays relevant to this day. I would still place it above other modern products in the market because of just how creative you can be with all the special effects it has. If you're looking to play innovative music and make use of effects such as strobe or distortion, this product is the right choice for you.
Overall Rating – 4.5 of 5
Watch a demo video of the VE-20 Harmonizer Pedal here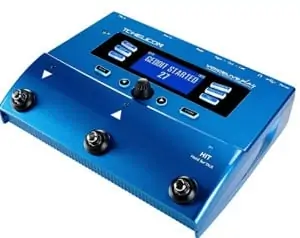 Imagine having 200+ artist-inspired songs and presets to choose from and having a function that allows you to get statistics and real-time pitch display to help you gain valuable feedback on your singing. TC Helicon brought this to reality with their VoiceLive Play.
Key Features
Three-button multi-effect pedal that creates studio-quality vocals
RoomSense mics listen to the room for chord information to automatically control harmony
200+ Song and artist-presets with a practice function for singing feedback
Adaptive tone allows for perfect compression, gating, EQ and de-essing
What I Like About This Product
The song and artist-presets and the practice function on the VoiceLive Play are amazing. If you have an artist you wish to emulate or have that song you love and want to nail it; this product will help you do it.
What I Don't Like About This Product
Creating professional studio-quality audio is fantastic, but it does come with a lot of reading. VoiceLive can be complicated and frustrating for a beginner, and you'll have to read through the manual to get the settings right.
Pros
Excellent studio-quality audio
Hundreds of artists and song preset available with practice feature
Does not need an instrument (you can plug in an MP3 player with your chosen music)
Cons
Can be overwhelming to use
If you don't play an instrument and you want to push your singing to the next level, the VoiceLive Play is an excellent choice. The voice cancel feature lets you plug in an MP3 player and work with your favorite song without using an instrument, and the artist settings help you emulate your idols. The practice feature provides vital feedback to help push you to be better.
Overall Rating – 4.5 of 5
Curious to learn more about the Voice LivePlay? Watch their demo here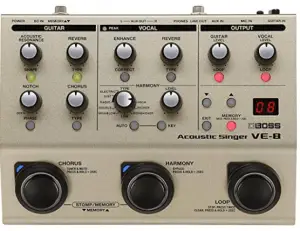 There's nothing like kicking back to relax while being serenaded with an acoustic guitar, so I'm dedicating one product that is arguably the best vocal effects pedal for singer/songwriters who play acoustic guitars. The Boss VE-8 Acoustic Singer delivers that studio-quality voice and guitar processing to give the best performance each night.
Key Features
All-in-one pre-amp and effects pedal for artists that use acoustic guitars
Simple and intuitive controls with a compact design
Powered with batteries and comes with an AC adapter
Dedicated channels for guitar and vocals allowing for separate settings
What I Like About This Product
This product was specially designed for the acoustic guitar and having dedicated pre-amps for the mic and guitar will enable you to set independent effects for the two.
What I Don't Like About This Product
You'll have to keep the manual with you at all times as changing some of its settings can be quite cumbersome.
Pros
High-quality sound and amazing reverb sound for vocals
Built specifically for use with acoustic guitars
Battery-powered and can be used anywhere
Cons
Keep the manual in your back pocket at all times
Takes some time to get used to the settings'
The Boss VE-8 provides studio-quality voice and guitar processing with multiple features that you can use to experiment and innovate your music. The dedicated channels the guitar and mic allow you to go to town with the settings create some innovative music. If you use an acoustic guitar, this is one to look into, but you'll need either a lot of patience or a great memory to get used to its settings.
Overall Rating – 4 of 5
Watch Boss VE-8 Singer Instruction video by Laura Davidson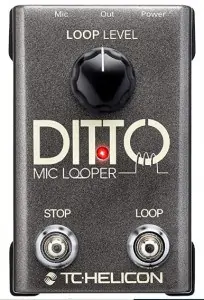 If you've gone through these products, and you think that they all look too complicated or that you're just a beginner and want something simple to use for vocals, then I present the TC Helicon Ditto Mic Looper, a versatile yet straightforward looper that should get you on your way. It's also compatible with other TC Helicon vocal processors so that if you want to take that next creative step, you can do so easily.
Key Features
Simple two-button pedal for vocals and acoustic instrument looping
Built to last for years
Provides high-quality and low-noise mic pre-amp for excellent vocals
Compatible with other TC Helicon vocal processors to allow for more features and creativity
What I Like About This Product
It's simple and easy to use, and it's built to endure years of use. It's a great starter voice effect pedal for a budding artist, and you can link this to other TC Helicon products if you want to make that creative leap forward in the future.
What I Don't Like About This Product
The best thing about it is also its problem, it's simple and one dimensional, but that's precisely why you would choose this product.
Pros
Simple design, easy to use and master
Can be chained to other TC Helicon Products like the Harmony-G XT for more creative options
Built to last for years
Cons
One-dimensional on its own
Compared to all the other products here, the TC Helicon Ditto Mic Looper might seem underwhelming, but if you're only starting and want to try vocal mic looping, you should consider it. Its simplicity is what is attractive about it. Efficient and straightforward, even veteran loopers can appreciate this product.
Overall Rating – 3.5 of 5
Learn how the Ditto Mic Looper Works with this tutorial by TC Helicon
Buying Guide
Why do I need a vocal effects pedal? Shouldn't people hear my all-natural voice? Isn't using this similar to lying or cheating my audience? These questions are probably racing through your mind as you read through the reviews and consider purchasing a vocal effects pedal. First off, let me allay your fears by saying that even the best singers in the industry digitally alter their voices, and some have made a career out of using vocal effects to make their music unique.
What most people don't understand is that the use of vocal processors is often controlled and minimal as subtle changes can have a dramatic impact on vocal performance. It is mostly used for corrections and enhancements to improve on talent and skills that are already there.
Moreover, as we said before, no one is perfect; there will be times where your voice changes or fluctuates in a performance. Even veteran singers experience this, hence a vocal effects processor provides you with a safety net that any minor issues you may have won't impact your performance. A vocal processor is especially useful during live performances—knowing that it is there will help you focus on providing your audience with a fantastic show.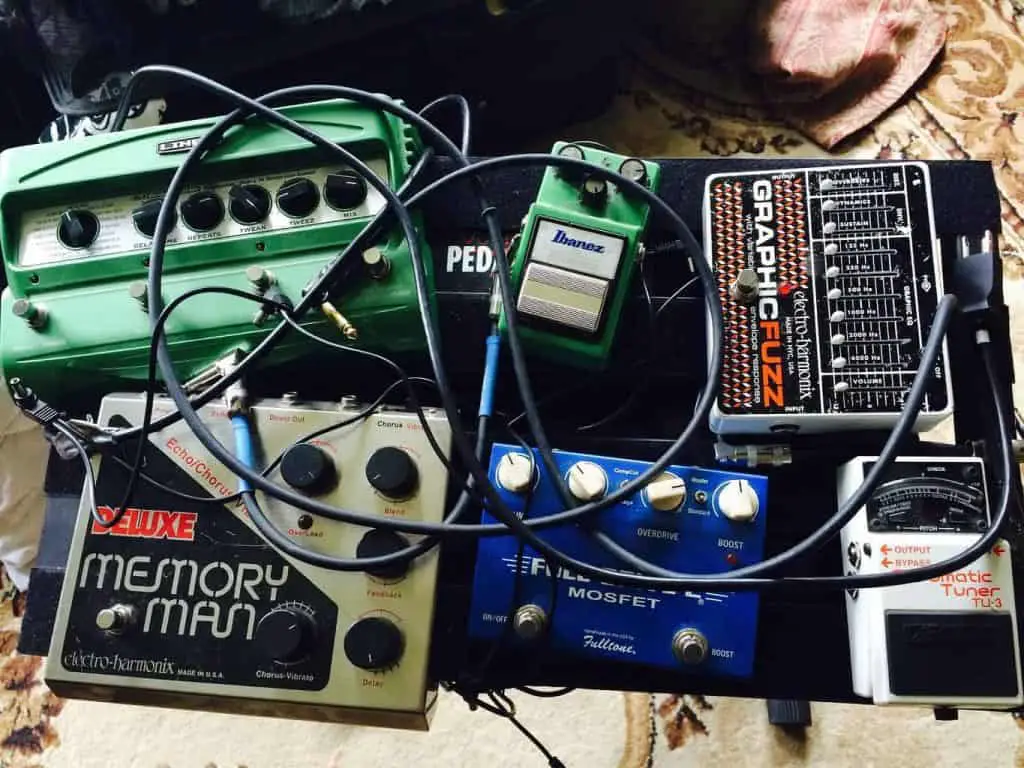 Now, what do you look for when searching for the best vocal effects pedal? Well, unless you're willing to spend a small fortune on different pedals and switching them around in the middle of a live performance, then your eyes should be set on multiple effects processors, which combine several features such as pitch correction, reverb, looping, and so on. If you're multi-talented and play an instrument while singing, then you'll need a harmonizer that supports it as well.
Another factor you have to consider is the setting you'll be playing in. Will you be playing solo, duo, or in a full band? Will you be playing in the park, the street or in bars? The answers to these questions are essential because some harmonizers work best in a solo or duo setting and are just atrocious when used with a full band. You could also have outlet issues when playing outside and thus you might opt in for vocal pedals that are battery-powered so that you're free to play anywhere.
Regardless, of your specific needs, a high-quality vocal effects pedal should at least have most of the following:
Auto/Smart Harmony – your processor should be able to automatically detect chords that you're playing on your connected instrument to generate matching harmonies to enhance your vocals.
Pitch Correction/AutoTune – Probably the most necessary feature as this ensures that your voice is tuned properly before your vocal processor adds any additional effects to the mix
Various effects – Make sure that your selected stompbox has the basics such as echo, reverb, and looping. Any other effects such as radio, strobe, and distortion would be the icing on the cake.
Size and Durability – Unless you will be strictly performing in a studio or recording at home, durability and compactness are essential features as you will have to move from one venue to another often.
Final Thoughts
Choosing the right vocal effects pedal can be tricky as you want to have that balance between having the most features and effects with ease of use and portability. Selecting the processor that is compatible with the instrument you play, the features that you need, and your performance venue has to be your first considerations any additional features are just secondary.
Believe me when I say that a vocal processor is a small investment to help you squeeze the best out of your performance. Now that you've seen the comparison between the best pedals go out there and get yourself a vocal processor to take your music to the next level and give your followers your best performance yet!