The banjo is widely regarded as a traditional instrument for specific genres. However, thanks to artists like Mumford and Sons and Taylor Swift, the banjo's popularity has resurfaced in recent years.
If you want to buy a new banjo and improve your playing skills, the good news is that you don't have to pay an arm and a leg for decent sound quality and high-end construction. Let's review some of the best beginner banjos available online.
We will also discuss the essential features of the best starter banjos to improve your playing and ensure that you don't have to upgrade when your skills advance.
OUR TOP PICK
If you don't have time to read all the reviews below, our top pick would be the
Jameson 5-String Banjo
. This model features exceptional quality at a fair price and will work well for most skill levels. If you'd like some more details, we've reviewed this model first below for your convenience.
Last update on 2023-11-13 / Affiliate links / Images from Amazon Product Advertising API
Best Beginner Banjos Reviewed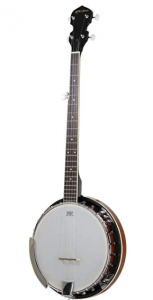 The five-string banjo from Jameson is an affordable option for beginners who require high-end features.
Key Features
Closed-back with a mahogany resonator
Adjustable Tailpiece
Geared 5th string tuner
Three-ply maple rim
Maple bridge
Mahogany neck
What I like
One look at the Jameson five-string banjo's features is enough to know that this is a high-value instrument. The mahogany resonator with seven-ply maple and mahogany shell, geared 5th tuner, and adjustable hinged tailpiece are all features you can expect to find on expensive banjos.
This bluegrass banjo is highly versatile as well. If you want to play clawhammer style, you can easily remove the resonator and change your tone and volume.
If you are looking for a durable entry-level banjo that delivers high-quality sound and that you can play for many years, this five-string from Jameson is a viable option. Most banjos with these features and specifications are at the higher end of the price spectrum.
The banjo is 38 inches long with 24 brackets, and it has a mahogany neck to provide a warm sound. The nut has a comfortable width of 1.25 inches.
What I don't like
Due to its design, the banjo is only suitable for right-handed players. The quality of the tuning machine can also be improved.
Pros
Durable construction
High sound quality
The resonator is removable for different styles
Suitable for beginners
Excellent value for money
Cons
Tuning machine quality is somewhat lacking
Only for right-handed players
Overall Rating – 4.6 of 5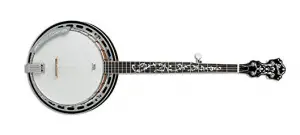 The Ibanez B200 five-string is banjo for beginners with ample visual appeal and a wide range of high-value features.
Key Features
Closed-back
Mahogany resonator
Mahogany neck
Rolled-brass tone ring
Remo Weatherking head with a natural color
Five strings
What I like
The Ibanez B-200 is ideal for beginners as it is easy to play and durable. With this banjo, you don't have to spend a lot of time practicing to achieve the perfect intonation, as the fretboard is constructed with precision and the strings are the ideal distance from the instrument.
The neck is made of mahogany to produce a warm sound, and it features thorny inlays to enhance the instrument's aesthetic appeal. Since this banjo has a closed back, it creates a bright and loud sound to accommodate for a wide range of playing styles.
What I don't like
The Ibanez B200 has a relatively high price tag for an entry-level banjo, mainly because it has a durable construction from high-quality materials.
Pros
Thorny inlays add visual interest to the banjo's appearance
Resonator contributes to a bright, loud sound
Durable construction for added longevity
Easy to play for beginners
Suitable for players of all skill levels
Cons
Not the best value for money
The tone is not as refined as banjos with maple necks
Relatively heavyweight
The Ibanez B200 may be the banjo for you if you like its striking appearance, the sound of a closed back, and the slower response that mahogany neck offers.
Overall Rating – 4.2 of 5
The CC-100R from Gold Tone is a beautiful banjo that provides the beginner with easy playability and ample adjustability.
Key Features
Five strings
Maple Neck
Maple resonator
Two-way adjustable tailpiece
Maple Tone ring
Truss rod
Geared tuning machine
What I like
The CC-100R is a five-string banjo with a closed back and a maple neck. The resonator is made of maple wood to provide a loud, bright sound. Since the neck is also maple, the banjo produces crisp tones that are suitable for a wide range of playing styles.
Like most other banjos from Gold Tone, the CC-100R has a one-piece armrest that is modeled after the old Gibson instruments from the 1920s. The banjo also has a solid tailpiece and a tone ring that gives more clarity to your sound.
Other features include diamond inlays for visual interest, a 5th string tuner, and solid headstock with a curly maple overlay. The CC-100R also has planet pegs, which are the best tuning machines that Gold Tone has to offer.
What I don't like
The CC-100R may be expensive for an entry-level banjo, but this is because this instrument was not specifically developed for beginners. However, it is easy to play and the perfect banjo to build your skills.
Pros
Durable construction and materials
Produces a rich, bright tone
Suitable for banjo players of all skill levels
Lightweight
Banjo stays in tune for a long time
Diamond inlays for aesthetics
Cons
Might be too pricy for a beginner
The CC-100R from Gold Tone is worth considering if you want a banjo, you can play for the rest of your life without need an upgrade.
Overall Rating – 4.6 of 5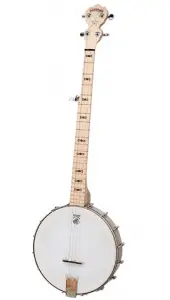 The Goodtime banjo from Deering is a high-end open-back banjo that is enjoyed by beginners as well as seasoned players.
Key Features
Three-ply, 11-inch maple rim
Adjustable tailpiece
Geared tuning machine
Lightweight -only four pounds
22-fret rock maple neck
Five strings
What I like
The Goodtime banjo has a crisp and sharp sound that is typically associated with maple necks. The frets are constructed to help the beginner quickly achieve the correct intonation. Beginners with small hands will be able to hold the 22-fret neck with its low profile comfortably.
This banjo has a durable, American construction, so you will be able to play this banjo for years without it losing its sound quality or structural integrity.
What I don't like
While the Goodtime is easy for beginners to play, it is suitable for professional players as well. As a result, it is relatively expensive. The good news is that you won't have to buy a new banjo when your skills improve.
Another drawback of this instrument is that it doesn't feature a truss rod and, consequently, the neck is not adjustable.
Pros
High-quality maple rim and neck
Lightweight-only four pounds
Wooden inlays add to the instrument's visual appeal
Durable maple and ebony bridge for enhanced longevity
Durable construction
Cons
Expensive for an entry-level
Doesn't feature a truss rod for neck adjustment
The Deering Goodtime is one of the best starter banjos available and a sound investment to improve your skills and enjoy a lifetime of playing.
Overall Rating- 4.3 of 5
Buying Guide
As a beginner banjo player, there are several things you have to consider to ensure that you derive optimal value from your instrument. You not only want a banjo that is easy to play, but that also produces a sound you prefer. Quality is another crucial consideration, as you ideally want the longest possible life expectancy. You can also check out this post if f you'd like to read about other great banjo brands.
Considerations for Beginners
Open vs. Closed Back
The first thing you have to consider when looking for the best starter banjo is whether you want an openor closed-back banjo. Open-back banjos have open sound chambers, they are lightweight, and they are ideal for playing clawhammer style. Open-back banjos typically don't require finger picks, and they have a softer sound than closed-backs banjos.
A closed-back banjo is sometimes referred to as resonator banjos as they have a bowl resonator that covers the sound chamber. This type is heavier than open-back banjos, and they typically produce a bright or "twangy" sound. A resonator banjo's strings are usually closer to the fretboard and may require the use of a fingerpick.
Number of Strings
A banjo can have anything from four to twelve strings. To an extent, the number of strings is significant when it comes to the music styles a banjo can play.
Since five-string banjos are the most common and the preferred choice of most professional players, this number of strings may also be the most suitable for beginners.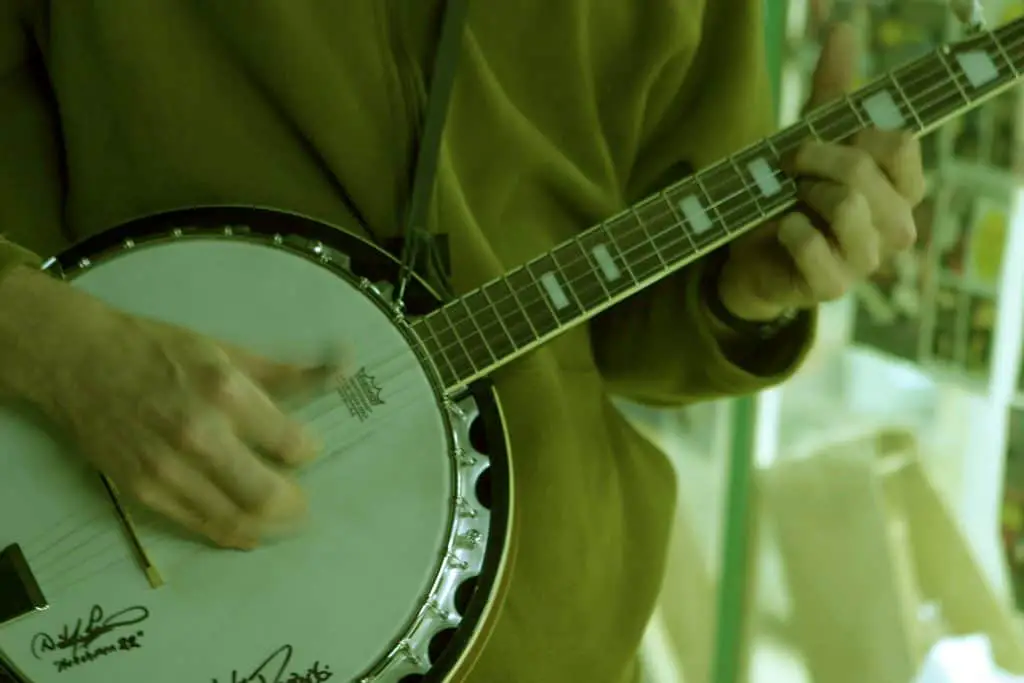 Type of Wood
Banjo necks are typically made of three types of wood, namely:
Mahogany – provides a slower response and a warm sound
Maple – gives you enhanced control over volume and a crisp sound
Walnut – a less common wood choice that results in a warmer sound than maple
Price
Several factors influence a banjo's price, including material quality and construction methods. The price range for entry-level banjos ranges from around $100 to $1,000. If you are committed to the instrument, consider a high-quality banjo so you won't have to upgrade in the future.
Final Thoughts
When shopping for an entry-level banjo, you don't have to forgo sound quality and high-end construction for the sake of affordability. The Goodtime banjo from Deering offers you everything you need in a banjo, including a maple rim and neck, a geared tuning machine, and light weight of only four pounds.
This banjo has five strings and 22 frets that are specifically designed to make intonation easier for beginners. The best thing about this banjo is that you can play it for a long time to come. Even as a professional, your skill level will never outgrow the performance and sound that this banjo offers. It's easy to see why it took the top spot in our reviews as the best beginner banjo.