Ashthorpe is a relatively new instrument manufacturing & distribution company that focuses mainly on budget entry level gear. They offer a wide variety of instruments (strings, brass, percussion, keyboards) but don't seem to dive too deep into any one area. They only currently offer one line of drum sets with four different variations. This is what we will be reviewing today.
When considering beginner level drum kits, I think it makes the most sense to find a kit that sounds ok and focus more on costs and convenience. It doesn't seem like a great idea to invest in a super high quality kit for someone that is just learning the ropes and won't get much out of the subtle nuances higher quality kits offer in terms of sound and playability. Sure, you want your kit to sound good, but a beginner practice kit does not need to sound like a professional recording studio/gig ready drum set. I think Ashthorpe understands and does a really good job of making drum sets that only offer what beginners need, and therefore come at a great price. Most beginner drummers will only spend a year or two on a beginner drum set before they grow out of it. Another option is to buy a beginner/intermediate drum set, which is slightly more expensive, and spend a longer time before moving on to the next kit.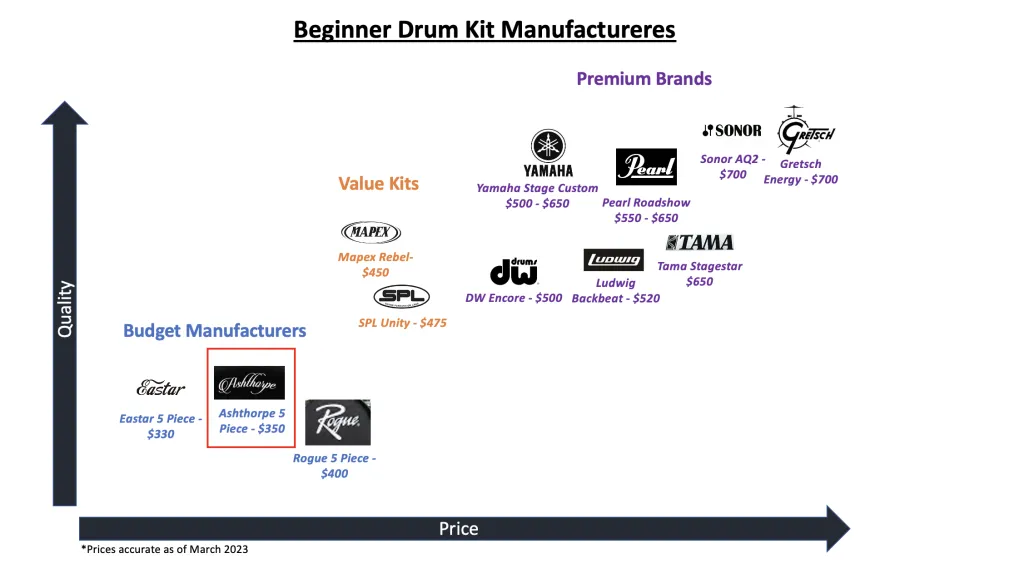 As you can see, there are tons of options when it comes to beginner drum kits. The graphic above definitely does not have every beginner drum kit, but it hopefully gives you a picture of the different groups that exist. If you're a beginner but want a kit that you'll keep for awhile, I'd go with one of the big name drum makers. If you want a lower investment in something you just want to practice on, budget may be for you. If you want to try and get the best of both worlds, I'd look into some of the value kits.
Please note that the budget kits by no means sound bad. While their quality is objectively going to be lower than the premium manufacturers due to the materials used and expertise these big names have developed over the years, the budget options are still decent drum kits that you can absolutely get a good sound out of with the right tuning and care. With that, let's get into some of Ashthorpe's kits:
Ashthorpe 5 Piece Beginner Drum Set with Brass Cymbals
The Ashthorpe 5 piece beginner is actually a really good option for an entry level drum set for kids. The kit is all inclusive, so you won't have to buy accessories like cymbals, hardware, a drum throne, or even a drum key and drum sticks. It comes ready to play right out of the box (although you'll have to assemble the kit of course). The drums themselves are made from poplar, which is a cheap but very common material for entry level drum kits. As with most beginner kits, the drums themselves are much smaller than typical acoustic kits (since it's designed for children), meaning they will sound higher and thinner. The kit is less expensive than most beginner drum kits around the same quality level, and it's quite compact so space shouldn't be an issue. The kit comes in tons of color variations, including black, blue, red, silver, green, purple, and white. Aesthetically, the kit looks good for it's price. Definitely not a bad choice for your child's first drum kit.
What's Included
The Ashthorpe 5 Piece Beginner Drum Set includes:
16X11″ Bass Drum
12X10″ Floor Tom
10X6″ & 8X6″ Mounted Toms
10X5″ Snare
8″ Hi-Hat Cymbals
10″ Crash/Ride Cymbal
All Hardware Included
Padded Drum Throne
Drum Sticks
Drum Tuning Key
Hi-Hat & Snare Pedals
Ashthorpe 3 Piece Beginner Drum Set
For about $100 cheaper, Ashthorpe offers a budget version of their already budget beginner drum kit. Essentially they removed the Hi-Hats and a mounted tom, slightly reduced the size of the rest of the drums, and reduced the price. In my opinion this really isn't worth it, while the mounted tom and slightly smaller drums are no big deal, hi-hats are really important to have when learning the drums. The hi-hat is commonly used as the backbone and timekeeper for most drum beats, so not having one is pretty detrimental to developing a good foundation for playing the drums.
What's Included
The Ashthorpe 3 Piece Beginner Drum Set includes:
14X9″ Bass Drum
10X5″ Mounted Tom
8X5″ Snare
8″ Crash Cymbal
All Hardware Included
Padded Drum Throne
Drum Sticks
Drum Tuning Key
Bass Pedal
Ashthorpe Adult 5 Piece Drum Set
| | |
| --- | --- |
| | |
| | Lower quality than some more expensive beginner kits |
The Ashthorpe Adult 5 piece is still a beginner level kit, it just features normal sized drums. They also went ahead and replaced the stock heads with remo drum heads (UT series). This a great upgrade that I recommend doing with any drum kit. The kit is made from poplar and features triple flanged hoops and decent quality hardware. There is a version that is ~$50 more expensive and includes brass cymbals. The cymbals aren't that much better so I don't think it's worth it, but if you want it go for it. Overall the kit is decent but definitely a step behind the big names in terms of manufacturing. The Ashthorpe 5 piece beginner a good option if you are looking for a cheap yet viable adult drum kit that you plan to practice on for a few years before moving on to a mid tier kit. I don't think this kit sounds good enough to gig or record with, but certainly can be a good practice kit. The kit comes in blue, red, silver, and black wrapped finishes and looks quite nice for a budget kit. The only downside is Ashthorpe is going to be a tier below some of the more established, "premium" drum manufacturers like Pearl, Gretsch, Tama, etc. This might mean that the kit is slightly lower quality and durability (but also cheaper) than something like the Pearl Roadshow.
What's Included
The Ashthorpe 5 Piece Adult Drum Set includes
22X16″ Bass Drum
16X16″ Floor Tom
13X10″ & 12X9″ Mounted Toms
14X6″ Snare
14″ Hi-Hats
16″ Crash/Ride Cymbal
All Hardware Included
Padded Drum Throne
Drum Sticks
Drum Tuning Key
Bass Pedal
Comparable Brands
In terms of other budget brands, Eastar has some good budget kids for kids and adults alike. They are priced almost the same and both companies have the same value proposition – cheap yet decent quality all inclusive beginner drum kits. The Eastar kits sounded a little bit more warm and balanced to me, whereas Ashthorpe was a bit punchier. It's really preference between these two brands, I don't think one is objectively better than the other one.
Rogue is another budget brand. They are slightly pricier than Ashthorpe/Eastar and honestly I don't think they are better quality. I'd avoid these drums but that is just me. 
Conclusion
Ashthorpe is a great budget brand for drum sets, what they lack in quality they make up for in price. Definitely consider these kits as a starter practice kit, I wouldn't use them for much beyond that. If you're looking for some higher quality beginner kits, check out this list. Hopefully this was helpful and good luck finding your perfect drum kit!