The Tama true touch training kit is a well made 5 piece practice drum kit designed to mimic the feel of an acoustic kit at extremely low volume so that you can practice anywhere. The kit comes with a snare pad, 3 tom pads, a kick pad, and the hardware to support these pads (note that cymbals, cymbal stands, and kick pedal are not included). Tama is one of the most well known manufacturers, so it's no surprise that the true touch is durable and high quality. In this review we will discuss the pro's and con's of the true touch, the pro's and con's of using a practice kit in the first place, and hopefully help you determine if the true touch is right for you.
High Quality Drum Pad Design

Compact, Durable & Portable

5 piece kit that resembles an acoustic setup

Does not come with Cymbals, cymbal hardware, kick pedal or drum throne

More expensive than most other practice pad sets
Do I need a Practice Kit?
I think practice kits are very situational in their use. On one hand, it's super helpful to have a low volume kit so you can practice in any setting without worrying about disturbing others. I also think that the tension control most practice kits offer can help develop your wrist, finger & forearm muscles to increase speed and drumming precision arguably faster than training on an acoustic kit.

On the other hand, I think practice kits are much worse for training things like dynamic control and feel. You can't really develop your signature sound if you're not actually playing with drums that produce drum sounds. These skills are much more important to becoming a good drummer.

To summarize, I would advise against depending only on a practice kit, but there are definitely situational uses where it makes sense. Mainly, these are if you have noise restrictions and have to play extremely quietly, or if you're looking to develop speed and are using the practice kit in combination with an acoustic kit. All in all, I think electronic drum kits are a better alternative; they offer all of the perks of the practice kit but also produce drum sounds. For this reason they're much more fun to play and help develop skills like dynamic control that you can't really focus on with a practice pad.
Should I Just Get Electronic Drums Instead? What's the Difference?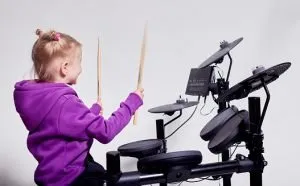 Areas where practice kits beat electronic drums:
The only thing practice pad kits do better than electronic drums is they feel more like an acoustic set, and even then it's pretty close. Electronic drum manufacturers have come a long way with the popularization of mesh heads, which make the snare, tom, and bass drum pads feel surprisingly close to acoustic drums. Electronic cymbals still feel like rubber pads, whereas you can buy practice cymbals to go with the true touch that feel identical to actual cymbals.
Areas where electronic drums beat practice kits.
Price – You can get the Alesis Nitro, a great starter edrum kit, for less than the Tama True Touch
Sounds – Edrums produce actual drum sounds
Convenience – Electronic drums come ready to play, you don't have to buy cymbals and other parts separately
Areas where electronic drums are the same practice kits.
Noise restrictions. Both of these drum solutions are designed for people who want to practice but can't make a bunch of noise.
Is the True Touch Training Kit a Good Practice Kit?
As far as practice kits go, the true touch is a revolutionary practice kit that offers plenty of great features and overall is definitely a solid choice.
Compact & Durable – For starters, the kit is compact and durable, you'll easily be able to transport the set with you wherever you go. Also, as long as you take decent care of it this set will last awhile. As usual, Tama delivered high quality manufacturing with the design of this practice drum set.
Good Tension Control – One of the most important aspects of a practice drum kit is how the pads feel and how well they allow your drumsticks to rebound off of them when hit. This is important because so much of drumming technique relies on rebound control, so you need pads that rebound similar to actual drums in order to practice effectively. The True Touch has a very realistic pad rebound response out of the box, but also allows for adjustments if you're looking for more or less tension to control stick response.
Elevated Snare Rim – A small thing, but the fact that they designed the snare pad to allow for rim shot practice really stood out to me and shows that the folks at Tama wanted to design a practice kit with as many similarities to actual acoustic drums as possible. This in particular is what helps set the Tama True Touch training kit apart from other conventional practice kits.
Cymbals not included – The largest downside to the true touch training kit is that it doesn't include cymbals. Putting together a full kit can get a bit pricey if you're buying a lot of the parts individually, and the Tama true touch is no different.
What does the True Touch Come With?
Solid Kick Bass drum Pad
AAD Snare drum Pad
8″ high tom pad w/ mounting clamp
8.5″ low tom pad w/ mounting clamp
9″ floor tom pad w/ clamp & boom arm & L-rod
Tom stand
NOT INCLUDED: Cymbals & Hardware, kick drum pedal, throne
Does the True Touch Produce Real Drum Sounds?
Not really. The kit is designed to produce extremely low volume acoustic drum tones. What this actually sounds like in practice is VERY muffled and dead drum sounds, they sound more like hitting rubber pads than actual drums. This isn't a flaw, they're designed to be like this, but again this type of setup doesn't allow you to train dynamic control. One of the most essential skills a drummer can have is knowing how hard to strike certain drums and when to accent important notes. To develop this skill you really need a kit that produces a wide range of volumes. No matter how hard you hit the Tama True Touch, you're always going to get muffled practice pad kit sounds. This is why I would almost always recommend an electronic drum kit over a practice kit. Both kits allow you to play without causing excess noise to those around you, but the electronic kit will help develop dynamics.
How does the True Touch Training Kit Stack Up Against Other Training Kits?
Remo 5 Piece Practice Kit
Slint Practice Pad & Stand
DW Go Anywhere Practice Set
Remo 5 Piece Practice Kit
Slint Practice Pad & Stand
DW Go Anywhere Practice Set
Last update on 2023-11-18 / Affiliate links / Images from Amazon Product Advertising API
If your mind is set on a training kit, the True Touch is definitely top of the line compared to any other practice pad kit. The main benefits the True Tough offers over other practice pad kits are:
It is organized like an actual drum kit
The pads themselves are higher quality
The dynamic sound range is slightly better than the typical pure rubber pads most practice kits use
DW Go Anywhere Practice Kit
A good option if you want a practice kit but are a bit more budget conscious. This set is less than half of what the True Touch training kit costs. It's very portable and a great option for someone who travels frequently and doesn't want to miss out on practice time.
Slint practice pad & stand
This isn't even a full kit, just a "snare" pad with a stand. This is a good option if you're only looking to develop your fundamental skills like speed and precision. Good to take on the road and practice rudiments, won't do much good for anything beyond that.
Remo 5 piece practice pad kit
The Remo 5 piece is similar to the True Touch in a lot of ways. The feel of the pads is comparable. It's compact, portable and adjustable, and extremely durable. The biggest difference is the Remo snare pad doesn't have the rubber rim to simulate rim shots like the Tama true touch. It's much cheaper, but also the overall quality is justifiably lower.
Another Low Cost Low Noise Option: Mute Packs
If you already have an acoustic drum set, a mute pack might be a great option for you. These are just rubber covers you place over each drum to heavily muffle the sound. You can usually get a full set for less than $100 and they work decently well. They still feel (mostly) like regular drums, so something to look into if you suddenly aren't able to play your drum set as loud but don't want to buy a complete new kit.
Conclusion
Practice pad kits are situational at best, and I think in 90% of cases there is a better option out there whether its an electronic drum set or a low cost noise reducing solution that you can apply to your acoustic kit. They can be good to improve subtle technical control and speed at a quiet acoustic volume, but by no means can replace playing acoustic drums. If you do decide you want a practice kit, the Tama True Touch training kit is probably your best option, but it's also one of the most expensive practice kits.