So your child has started developing an interest in music and asked for a new drum set for Christmas. Problem is, you don't even know where to start. What price should you be paying, how many drums should the kit have, which manufacturers are the best or even what questions you should be asking. Fear not, in this article we will give you an overview of what is and what isn't important when buying your first beginner drum kit. We will also provide some great options for beginner drum sets for kids (click here to skip directly to the drum kits).
Do Children's Drum Sets Exist?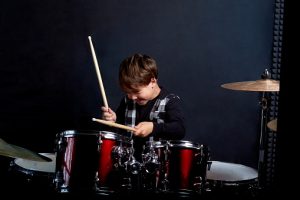 Yes, there are plenty of drum sets made for children. In general, children's or junior drum sets are smaller than adult sets, have an overall higher pitched sound, and are cheaper. They aren't meant to have the highest quality manufacturing, as this stage of drumming is mostly about learning basic rhythm and limb movement. You don't need super precise sound to accomplish this, so most junior drum sets instead focus on size and cutting costs. In the next section, we will talk about the different "tiers" of junior drums and hopefully give you an idea of which makes the most sense for your child.
What Should a Beginner Drum Set Cost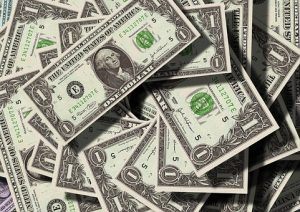 To answer this question, I first want to talk about 3 different types of beginning drummers:
Quickly loses interest – first, we have someone who thinks they want to get into drumming, plays for about a month, and quickly loses interest. While I don't have any children of my own, I know that young kids are notorious for quickly jumping from one fad to the next. There are drum sets that can cost below $200, sometimes even below $100 if they're on sale. Now I'm using the term drum set loosely here, these are designed to be as cost effective as possible, and while they certainly look and feel relatively close to normal drums, the sound quality and durability is quite poor. They're also considerably smaller than a true acoustic drum set. I would ONLY recommend these kits if you are quite certain your child isn't going to be interested in drumming for a longer period of time.
Could be interested long term – Next, we have those who might be in it for the long haul. This is where most new drummers would fit, and I think it makes sense to go with the next highest drum kit tier for someone who might be playing for years instead of months. Most highly renowned drum manufacturers have "junior" versions of some of their most popular entry level kits. These drum sets will sound much more like a true acoustic drum kit vs a toy drum set, and will also have a decent manufacturing quality and durability. These will typically be around $300, and I would recommend these kits for the majority of children looking to get into drumming.
Definitely interested in the long term – If you are 100% sure your child is going to be the next Buddy Rich, then I would skip the junior kits and just buy a true entry level drum kit. These will be around $500-600, and are larger, more robust, better quality versions of the junior level kits.
Other Questions To Ask When Buying A Beginner Drum Set
Electronic vs Acoustic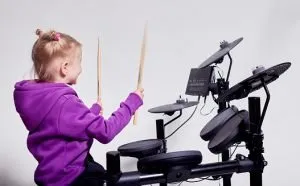 A great option to consider (especially if you're worried about the noise of your 7 year old pounding away on their new drum set) is an electronic drum kit. Edrums offer a huge noise reduction (because you can play them with headphones), they take up less space, and they come with tons of pre-programmed kits, so you're essentially getting multiple drum kit sounds for the price of one kit. The main downside of Edrums is they don't look or feel like an acoustic drum kit. A lot of the allure of getting into drumming is sitting behind a large kit and the feeling of playing actual drums.
All Inclusive vs Shell Pack Only

Most beginner drum sets are all inclusive, but just something to verify before you purchase. Most higher-end kits are sold in shell packs, meaning you only get the drums themselves; cymbals and the hardware that holds the kit together isn't included. This is because many pro drummers want to customize what cymbals they are using and the overall feel of their kit. So just make sure the kit you're buying is all inclusive or else you'll end up paying a bunch more money to complete the set.
Sound
You may have noticed I didn't really go into detail regarding sound type. If you're done any reading about drum kits, you've no doubt encountered articles that go into detail about the wood used to construct the drums, the specific hardware, and the sound type that all of these factors will ultimately produce. Maybe it's a high and tight sound from a birch kit, or a warm and even sound from a maple set. If you're truly interested, check out our drum kit buying guide, but honestly I wouldn't pay much attention to this at the beginner level. These differences are subtle, and won't make any difference to a seven year old who is just learning to play.
Our Top Drum Kits for Seven Year Olds
The Music Alley 3 Piece is the cheapest drum kit on this list for a reason. While it was the highest quality ~$100 kit we found, all kits in this range are essentially toy drum sets. Sure, they'll make noise if you hit them, but due to the small size and manufacturing quality of the drums they're never going to sound like a real acoustic drum set. I would only recommend kits like this if you think your child's interest in drumming will fade quickly and you want to avoid spending more.
Below average sound quality

New drummers will quickly outgrow this kit
Size:
The Music Alley 3 piece is super compact, it will fit in a 2 by 3 foot area and is just over 2 feet high.
The Music Alley 3 Piece includes:
14″ bass drum
8″ Snare Drum
8″ Tom
10″ Crash Cymbal
Bass Drum Pedal
Drum Throne
Drum Sticks
Junior kits offer the best bang for your buck when it comes to true beginner drum kits. They're smaller and cheaper than adult sized drums, but are close enough in terms of the manufacturing and quality to where you don't notice a huge difference in sound, especially if you're a 7 year old beginning drummer. You can develop a good foundation on a junior kit and seamlessly transition to higher end drum sets when the time is right.
| | |
| --- | --- |
| | |
| Great value for it's price | Drums are slightly smaller than a true adult drum kit |
Size:
Similar to the music alley 3 piece, the Roadshow Jr. is extremely compact, and will fit in a 2 by 3 foot space
The Pearl Roadshow Jr is essentially a mini version of the normal roadshow. The quality is more then enough for a beginning drummer, and you get a full all inclusive kit:
16″ Bass Drum
12″ Snare Drum
8″ & 10″ Rack Toms
13″ Floor Tom
13″ Crash-Ride Cymbal
10″ hi-hats
Cymbal stands
Snare stand
Bass Drum Pedal
Jr Drum Throne
Drum Sticks
The Pearl Roadshow is a great entry level drum kit. For a relatively low price you get a full all inclusive set made by a top tier manufacturer. This kit offers more value than most beginner drum kits because of the number and quality of drums you get. This set is perfect for beginner jazz and rock drummers, as well as anyone looking for great value and convenience. Our only complaint about the roadshow is that the stock heads and cymbals it comes with aren't superb (although this is true of any kit below the ~$800 or so price range). However, because this is a full size kit, you can easily swap out the drum heads and buy new cymbals to continually upgrade your sound as you progress to the next level of drumming.
Great value for it's price

Can be easily upgraded as you get better and better

Comes with stock heads and cymbals
Size:
As this is a more adult size drum kit, you'll need about a 3 by 4 foot area
The set comes in both a rock and jazz setup, the jazz setup is smaller and sounds higher and tighter than the more booming rock setup:
Rock Setup:
22×16 bass drum
14X6.5 snare
12×9 rack tom
14×14 floor tom
16×16 floor tom
Jazz Setup:
18×12 bass drum
13×5 snare
10×7 rack tom
14×10 floor tom.
Cymbals & Hardware (Both Setups):
16″ brass crash cymbal
14″ brass hi-hat cymbals
Hi-Hat stand
Bass drum pedal
Straight cymbal stand
Drum throne
Snare drum stand
Tom mounts (Only needed for the jazz setup)
There are plenty of reasons to pick up an electronic drum kit. If you're worried about the noise your child will make (and trust me, it's a lot), edrums are a great options because you can just have them use headphones. They're also great for recording and come with tons of pre-set kits which can help keep beginning drummers engaged.
The Alesis Nitro is certainly one of the best (if not the best) edrum kits in the under $500 price range. It comes with mesh heads that emulate the feel of real drums, 385 different drum sounds packed into 40 different kits, an above average module for the price you pay, decent durability, and to top everything off the package includes practically everything you need to start playing right out of the box (you'll just need a drum throne).
Great value for the price you pay

Good sound and dynamic response

40 different kits, 60 play along tracks, 385 sounds, and USB/MIDI connections

Includes everything needed to play right out of the box

Dum pads smaller than acoustic drums
Size:
Electronic drum kits are usually more compact than similar acoustic drums. The Alesis Nitro will fit in a 2 by 4 foot area and is 3 feet high.
The set includes:
6″ rubber kick pad
8″ dual zone mesh snare drum pad (dual zone allows rimshot sounds to be played on the snare)
three 8″ mesh tom drum pads
10″ crash cymbal pad w/choke
10″ ride cymbal pad
10″ hi-hat cymbal pad
Kick and hi-hat pedals
Alesis drum module
60 play-along tracks
USB & MIDI connections
Drum sticks
Headphones (optional, can be added but will cost more)
Conclusion
Hopefully this guide helped you find a drum set for your seven year old. Our top choice is the Pearl Roadshow, but it really comes down to what you're looking for and how long you think your child's interest will last in drumming.