The Pearl Roadshow is a fantastic beginner level drum set. You get a 4 or 5 piece kit with cymbals, hardware and extras included, a deep & smooth sound, and a guarantee of Pearl quality all for a relatively low price. If you're a beginner rock or jazz drummer looking for great value from your first kit, the Roadshow could be a good starting point.
This drum kit is perfect for beginning drummers, value hunters, and convenience shoppers who want to buy everything at once. The drums sound great for what you pay, and can be easily upgraded further with new drum heads to boost the sound even further for relatively cheap.
Includes all components of a complete drum kit

Decent quality at a very affordable price

Comes with stock cymbals and drum heads
Last update on 2023-12-03 / Affiliate links / Images from Amazon Product Advertising API
Shells, Cymbals & Hardware
Shells
The kit is well crafted with 6 ply 7mm Asian White Poplar wood and hand cut 45-degree bearing edges. Poplar is one of the cheaper woods (which is one of the reasons why the kit has a lower price tag), but is still known to produce a nice warm sound with boosted low end frequencies. According to Pearl, the drum shells create a single air resonance chamber through a specialized molding process to increase note projection. The kit comes with stock heads, which you could consider replacing with some nice Remo or Evans heads to increase the sound quality. In terms of shells, the kit includes different drums based off different versions, for example:
Rock Setup:
22×16 bass drum
14X6.5 snare
12×9 rack tom
14×14 floor tom
16×16 floor tom
Jazz Setup:
18×12 bass drum
13×5 snare
10×7 rack tom
14×10 floor tom.
Hardware
The roadshow comes equipped with steel hardware, including traditional mounts, standard lugs and triple-flanged hoops. The rock set doesn't have any of the toms mounted on the snare drum, but the jazz and fusion sets come with adjustable locking tom arms. All stands are adjustable and dual reinforced. I wouldn't say hardware is the most important aspect of a drum kit, but durable hardware will ensure your kit lasts longer and holds it's tune better. The roadshow's hardware is adequate, it won't turn any heads but certainly does the job especially for a beginner level kit. In terms of what is actually included you get:
Hi-Hat stand
Bass drum pedal
Straight cymbal stand
Drum throne
Snare drum stand
Tom mounts (Jazz & Fusion only)
Cymbals
The set comes with a 16″ crash and 14″ hi-hat brass pearl cymbals. Brass can sometimes sound a bit harsh, but the bite on these cymbals isn't too bad. Overall these are similar to the hardware, nothing special but they get the job done for a starter kit.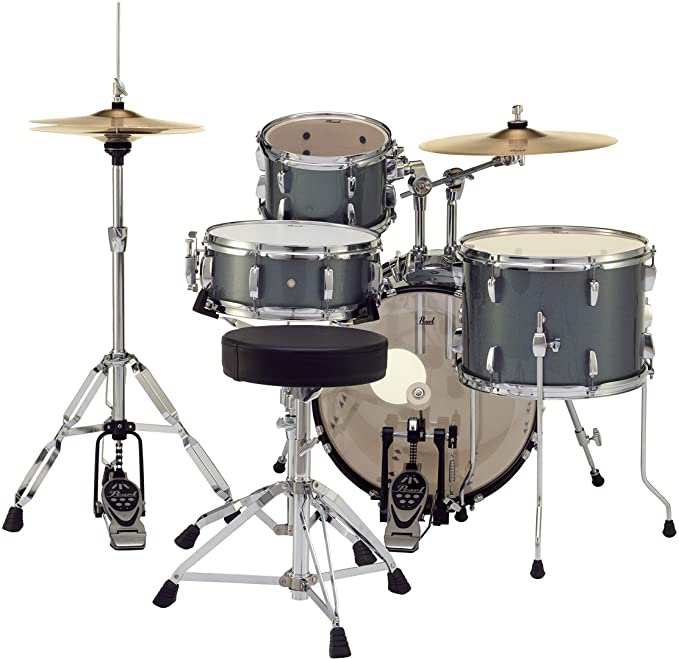 Sound
The bass drum is deep and clear with a concentration in the low and mid frequencies (as a good bass drum should). The snare drum is pretty balanced, warm tone and has some good depth so that it cracks but doesn't sound thin. The toms are bright and punchy, with enough attack so that they don't sound dull. The cymbals have decent sustain and "get the job done", but you are never going to get the same sound from stock cymbals as you would from custom high end names. The jazz kit has smaller drums, so it's going to sound punchier, higher and have less sustain than the rock and fusion kits.
What We Liked
Everything is included, and you get good quality for the price you pay, so this really is a great beginner package. You don't have to worry about buying hardware separate, getting the etras like a kick drum pedal or drum throne, researching snares, cymbals, and stuff like that. Ultimately we liked the value and convenience of this kit.
What We Didn't Like
Stock heads and stock cymbals. While these certainly aren't bad, there is a lot of room for improvement here. Heads are relatively cheap and easy to replace. Cymbals are a bit more expensive, but as you progress as a drummer quality cymbals begin to matter a lot more.
Pearl Company Background
Where it started
Pearl was founded in Tokyo in 1946 and recently celebrated their 75th anniversary. As one of the oldest drum manufacturers around, it's no surprise that Pearl's advantage comes from years of innovation and manufacturing expertise.
Why choose Pearl
Pearl has always been one of the leaders of drum innovation, constantly creating new manufacturing methods and techniques to push the limits of drum kits. They've especially excelled when it comes to hardware, joint & lug systems. As a result, they have created some of the best sounding drum kits of their time. They're super durable, reliable, and versatile. Pearl makes great kits for anyone gigging frequently looking to get a lot of mileage out of their drum kit.
Conclusion
The Pearl Roadshow is a phenomenal entry level all inclusive drum kit. It has a nice warm, balanced sound and a few different options if you're looking for more of a rock or jazz sound. All in all, a great kit to start your drumming journey off with. If this didn't quite do it for you, check out this list of some more advanced kits.