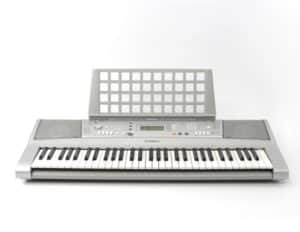 Beginner keyboards are probably among the most difficult categories of keyboards to figure out.
This is essentially the segment of the market where every manufacturer is trying to outperform the competition purely because these keyboards tend to sell a lot more.
Most brands are looking to deliver a good product, but if there is any category of keyboards where you should stick with the big name brands, is this one. One more important part about beginner keyboards is that they should come with some type of learning suite. This a recent thing, but one that is becoming more and more popular.
Yamaha has been involved in creating great beginner keyboards for a while now. Their line of entry level boards is quite extensive, and their learning suites are among the best there are.
Yamaha YPT300 is one of the better entry level models on the market at the moment. It brings the perfect combinations of practical features and quality of sound that will allow the beginner crowd to use this board even when they develop a taste for finer sound.
Practical features and quality of sound
We have reviewed a number of entry level keyboards during previous months, and one thing that sticks out to our readers who aren't familiar with keyboards is the color of these models.
For some reasons, almost every entry level keyboard is going to be gray. We don't know why that is the case, but we do know that Yamaha YPT300 is another one that belongs to this strange club. However, we can forgive it the poor aesthetics based on the performance we have seen from it.

  Features
The core of Yamaha YPT300 are its keyboard that has 61 keys, its library of voices, and the its polyphony which is set at 32 notes maximum. Everything else is pretty much built around these features. In terms of voices, you are looking at some 482 in total, each offering a varying level of quality.
Some voices are great, others are just awful. However, having the choice is nice in this price range. There are also 12 drum kits and 100 preset songs to work with. Effects consist of various reverbs and chorus modes.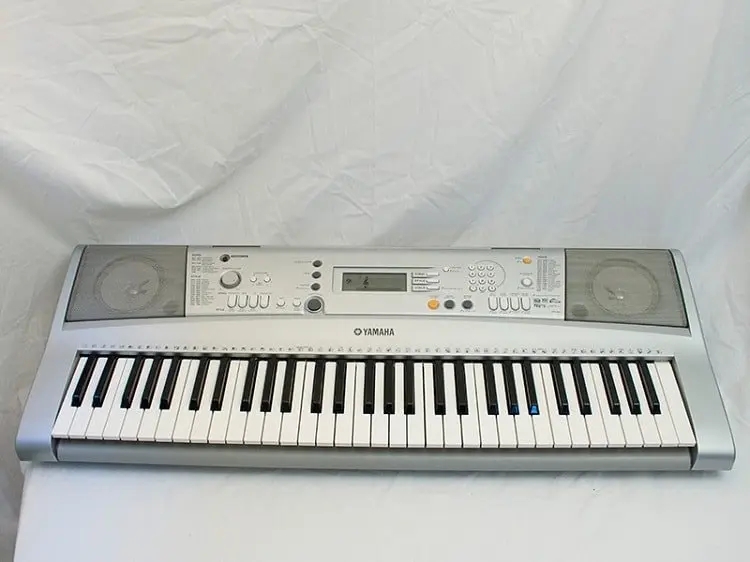 Yamaha's learning features are what their entry level keyboards are famous for. This particular one comes with Yamaha's Education Suite 5, which boasts timing training, chord dictionary, listen and learn features and so much more.
You can basically learn the basics of playing keyboard just by using these tools which are provided with the board. There is even a grading system in place to track and encourage your skill development.

  Performance
In terms of performance, you are looking at a somewhat average experience. The keyboard is great and the keys offer a decent type of feedback. Naturally, they won't be anything close to a weighted action of a digital piano, let alone a real one, but they get the job done which matters the most.
The preset library is easy to navigate, and so is the voice library. The layout of controls is quite intuitive, and the LCD screen in the middle of the board helps a lot.
One more thing that is worth mentioning is that the speakers on Yamaha YPT300 are decent enough to be used at home or even during practice. Since it comes with MIDI I/O, you can always connect this keyboard to another piece of equipment.

  What we like
Overall simplicity, very reasonable price even for the affordable range, and the well rounded performance make this Yamaha YPT300 one of the better entry level guitars to have come out of Yamaha's factories.

  What we don't like
If you look at this keyboard with manufacturer's intentions in mind, you can't really criticize it that much, or at all. It is a decent little entry level board that gets the job done, and comes packing a number of great features.
To summarize
If you are looking for a great entry level board that also has a developed learning suite, Yamaha YPT300 is one of the boards you will want to put on your short list.
It's not the best, but it offers a very decent balance of performance and price. Suitable for anyone from adults to children, Yamaha YPT300 is a true entry level performer.