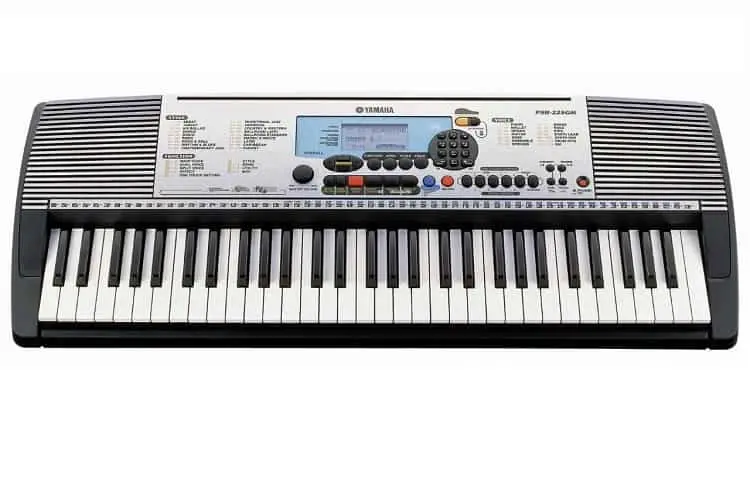 Similar to Casio, Yamaha also has a very developed line of affordable keyboards. Which company offers the best keyboards in this category depends on the personal taste of the one making that call.
Some like Casio's approach more, while other think that Yamaha is actually doing things the correct way. What ever the case may be, Yamaha PSR 225 GM is one of those keyboards which are both affordable and attractive to beginners.
How much of a use will more advanced players have from this specific model is hard to tell. It mostly depends on what kind of money you are working with, and which features you value the most on a keyboard.
>> Check Out Current Price On Amazon <<
Overall, Yamaha PSR 225 GM comes across as a very well designed model that strives to deliver the best balance of affordable prices and acceptable performance. It's definitely not the only notable model in this segment of the market, however it's worth mentioning. Yamaha PSR 225 GM has been discontinued for a while now, so finding these will be limited to the used market.
Overview
Aesthetically speaking, Yamaha PSR 225 GM has that generic appearance which makes it look like a toy in some aspects. However, there might be a very good reason for this. Since being a great learning tool is a huge part of the purpose Yamaha has chosen for this model, having a lot of graphical stimulus can be helpful.
Knowing this doesn't change the fact that Yamaha PSR 225 GM simply doesn't inspire confidence in terms of appearances.

Features
We might have given this Yamaha a bit more criticism that we usually do solely based on the looks, however it's not the way a keyboard looks that matters. It's all about the type of performance it offers to its users. With Yamaha PSR 225 GM you are looking at 61 keys with 200 different presets available.
This also includes 10 drum sets, and 100 voice styles. Yamaha was also kind enough to include a reverb and chorus effects into the mix. Polyphony isn't great, but it's no worse than the competition.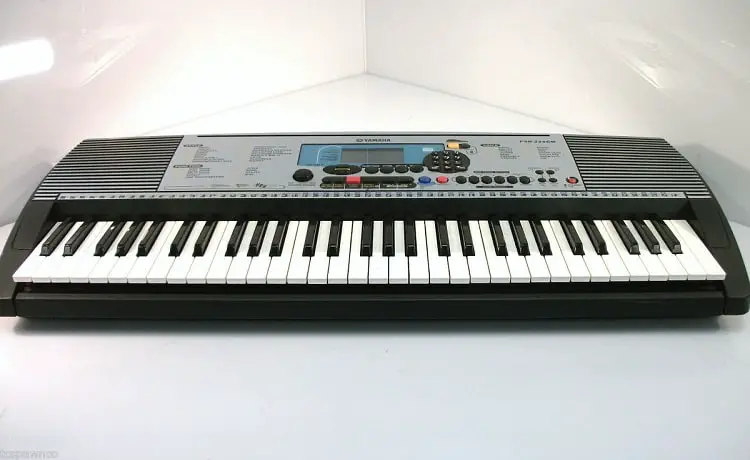 The sound engine comes across as unnatural. Even with all the voicing presets available, the sound is not best in most cases. One aspect where this keyboard definitely excels is being a great learning tool for beginners. Yamaha PSR 225 GM comes packed with all kinds of learning tools.
There's the Yamaha Education Suite, a very complex chord guide, as well as other features dedicated to you boosting your skill with ease.

Performance
Overall the type of performance you can expect from the Yamaha PSR 225 GM is largely within limits of its market category. The sound engine is nothing to write home about, but it has some range.
The keyboard is very playable, and comes with a set of speakers which are more than enough for home use. If you're thinking of this model as a choice for live performance of any kind, we suggest you look elsewhere.
As a keyboard a beginner might find helpful, Yamaha PSR 225 GM is definitely something you'd want to consider. It's great for kids as well since it's pretty easy to use.

What we like
This a simple entry level keyboard with all the features a beginner keyboard player would need and want to have. It offers decent performance for the most part, and you definitely won't be disappointed as long as you keep in mind what this thing was designed for.

What we don't like
Although we already talked about this, Yamaha could have done a bit more in the aesthetic stage of designing the Yamaha PSR 225 GM. It's one of the less attractive keyboards on the market that's for sure.
Conclusion
Yamaha PSR 225 GM comes across as a great learning platform optimized for the beginners. It's a great keyboard for kids who are just starting out. The only problem with this Yamaha is that it's no longer in production. This means that the only ones you will be able to find are going to come from the used market.
>> Check Out Current Price On Amazon <<
Honestly, this can actually be a good thing as long as the condition of the keyboard is decent. This way you can get a great learning tool for not a lot of money.