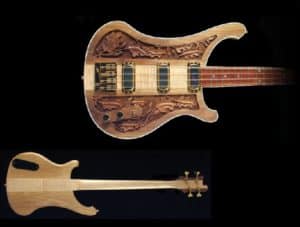 This year we lost a very talented musician who contributed so much to rock and roll music. We are of course talking about Lemmy Kilmister of Motorhead.
That man alone has given us some of the most notorious riffs and hit songs of the past several decades. He was a unique guy, with a unique style and voice.
Lemmy showed the world that a bass guitar is far more than just an instrument that fills the void between drums and guitars. He showed us that you can turn a bass guitar into a lead instrument and create some of the sickest riffs known to man. Just think of 'Ace of Spades' or 'Voices From the War' and you will know exactly what we mean.
Unfortunately Lemmy left us too early, so we all we can do now is enjoy his legacy. Among said legacy is one peculiar bass guitar. Back in 1990s, Rickenbacker decided to create a signature bass guitar that would be worthy enough to carry Lemmy's name. And boy did they deliver. The Lemmy Kilmister 4004LK is out of this world in all aspects you can think of.
Last update on 2023-10-17 / Affiliate links / Images from Amazon Product Advertising API
Out of this world Bass
If you're wondering what's so special about this particular bass guitar, one look at it will answer most of your questions. The Lemmy Kilmister 4004LK is not just a bass guitar, it is a piece of art that transcends music and elevates the whole design to a completely different level. We are talking 'frame-it-and-hang-it-on-the-wall' type art.
They only made 60 versions of this bass. The initial price was around $2000, and they sold out pretty quickly. Such a limited production guaranteed that the guitar will explode in value. Honestly, it's a hand made piece that works and sounds like nothing out there.
If you wanted to buy one today, first of all you would probably spend years waiting for someone to sell theirs. When that moment comes, if it comes at all, be prepared to drop some serious money for one of these. We are talking five figure sums of money.

  Design
The most interesting part of this particular Rickenbacker creation is the design of the guitar itself. Each one of the 60 guitars sports a very delicate and intriguing relief. The body is made of a solid piece of walnut wood, and the relief covers the area on both sides of the pickup cluster. Relief depicts a series of leaves that are spread out over a dotted surface.
Whoever was tasked with creating these reliefs really showed great skill. There are other guitars and bass guitars on the market that feature a similar theme, but none come even close this Rickenbacker.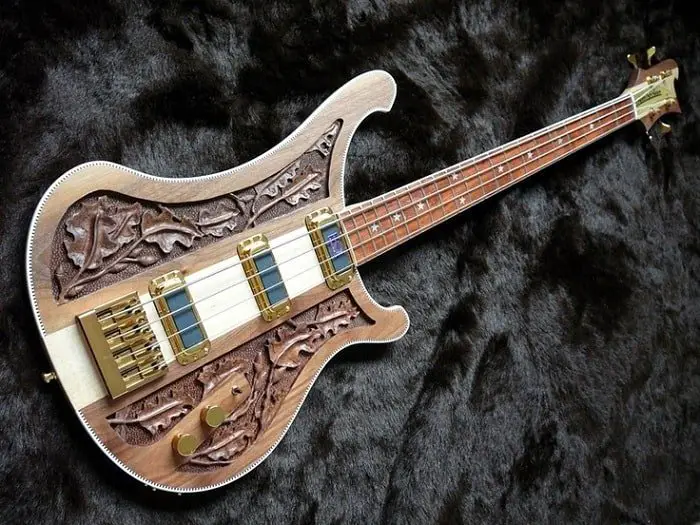 Each guitar is slightly different. This is due to the fact that someone hand carved the relief for every single one out of 60 guitars. That means that each one of these has a unique appearance of their own. The the whole design of the body is topped off with a nice dotted binding that forms a beautiful contrast to the dark walnut finish.
The body houses three gold plated Rickenbacker humbuckers. Speaking of which, the rest of the hardware is gold plated as well. There are two control knobs and a switch that allows you to select which humbuckers you want to use. Since these guitars feature neck-through-body design, the maple neck creates a two tone effect that is a nice touch to the whole appearance of the guitar.
The fretboard is rosewood with star inlays, but is a bit brighter than what you usually expect rosewood to look like. The neck is very fast and easy to play. The whole guitar is perfectly balanced and performs just incredibly on all fronts.

  Performance
In terms of sound, this unique instrument comes packing a heavy punch. Three Rickenbacker humbuckers can deliver a thunderous tone that you will hardly recreate.
Since Lemmy used overdrive for his sound, you know this guitar is just made to be plugged into a overdrive channel or an overdrive pedal. Once you crank the OD, you will be greeted with a very defined tone that doesn't lose the quality in any part of the frequency range. You can expect sonic accuracy and overall warm tones from this guitar.
With that said, 4004LK is very versatile. You can muddy up the tone to a certain extent although these humbuckers just excel when you cut the bass down. Sure there are more flexible bass guitars out there that are easily accessible and more affordable, but this one has a unique character that you just cant replace.
This bass guitar sounds so good that Lemmy himself loved it. He was one of the 60 people to own this beautiful instrument. While it's not unheard of for artists to occasionally use their signature model guitars, they usually do it for promotional purpose. Not Lemmy though. He really loved the way this bass guitar sounds, and enjoyed playing it when ever he could.
Where to get one?
Finding this guitar on the market is borderline impossible these days. The original 60 owners are closely guarding their specimen, and will probably not be selling them anytime soon.
Honestly, this is the type of instrument that you hold on to. Who ever bought one of these definitely didn't do it for the sound alone. These bass guitars are a unique piece of art, and a good portion of their value comes from that fact alone.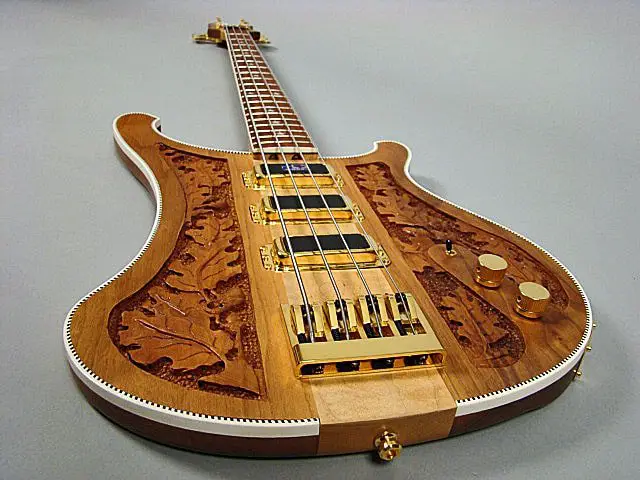 What you can get is a copy of this bass guitar. These are usually made in China, and have no where near the same sound or appearance as the original. However, they are the closest think to a Rickenbacker Lemmy Kilmister 4004LK you can find at the moment.
These knockoffs cost around $600-$700, and feature a much less delicate relief that doesn't have the same level of detail as the originals. If you really, really need to have one of these guitars, the Chinese copies are your only real option right now. If you do decide to go for one, know that you are buying these guitars for their appearance and not their sound.
On the other hand, maybe you will be lucky and catch one of the original 60 on an auction somewhere, or maybe Rickenbacker will do another production run now that Lemmy is no longer with us. However these are all hypothetical situations.
To sum up
Lemmy was and always will be one of the most influential and iconic rock stars to walk the earth. His music was on a whole different level, and his style was unique. Aside from being a celebrity rock star, Lemmy was also a down to earth guy who didn't let his status influence his life. He was always willing to help others and never used his popularity in a bad way.
Rickenbacker Lemmy Kilmister 4004LK is a real tribute to this great artist. Not only does it sound great, but it's every bit as beautiful as the man it's meant to be a tribute for.
It's one of the most unique instruments in general, and definitely the most unique bass guitar in existence. Maybe we'll see another Lemmy signature bass, but who ever decides to make it will have a hard time beating Rickenbacker's creation.