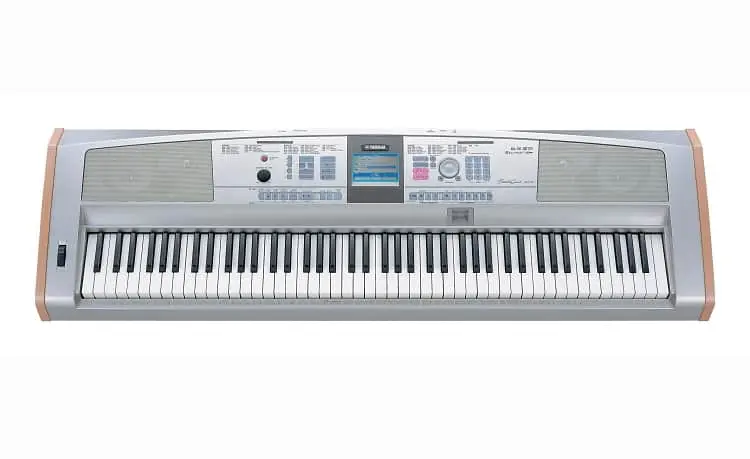 Yamaha's entry level keyboards are known far and wide as awesome beginner instruments. This type of reputation comes from years of producing quality products which included features many found helpful in their struggle to learn to play the keyboard.
Just about every big keyboard manufacturer offers some sort of learning suite in this segment of the market. Each of these has some benefits and drawbacks. With that said, Yamaha has maintained a decent lead, and is only comparable to a handful of other brands in this aspect.
However, their more advanced models are even more interesting. The price is still within the affordable range, but we start seeing some more advanced features being included. A lot of players who need a decent home setup choose models from this segment of the market purely because of this favorable cost-benefit ratio. One model that comes to mind is Yamaha DGX 505.
>> Check Out Price & Customer Reviews On Amazon <<
Similar Products
Last update on 2023-12-08 / Affiliate links / Images from Amazon Product Advertising API
We are talking about a keyboard that is suitable both for those who want to learn how to play a piano, as well as your regular keyboard players.
Yamaha recognized that they can attract a much larger crowd if they make this model attractive to both of these groups, which is exactly what they did. Read on for our Yamaha dgx 505 review.
Overview
Digital pianos and keyboards may seem to be similar, but are actually vastly different. Serious piano players can't get the kind of performance from keyboards simply because they lack some of the most vital features that define a piano in general. With that said, digital pianos tend to cost a lot. If you are on a budget, but you need something to practice on, you have a tough choice to make.
Either you keep saving your money until you have enough to buy a legitimate digital piano, or you make a compromise and buy the next best thing. Most people will take the latter option because any kind of practice is still better than none. That is where Yamaha DGX 505 steps in.

Features
In order to make this keyboard truly appealing to the piano crowd, Yamaha built it around an 88 key design. This is what most piano players are looking for. DGX 505 comes in a pretty standard gray body which is a telltale sign of an entry to mid level model.
The top panel is dominated by a set of two large speaker clusters which sandwich the main control panel. The control panel features a very intuitive layout with an LCD in the middle, and an array of buttons surrounding it.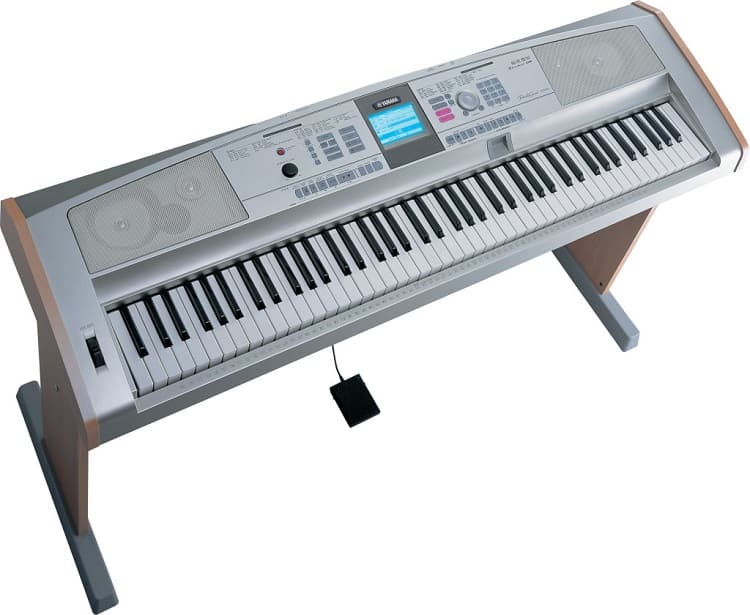 The core of this keyboard is the sound engine which delivers some 494 different voices including a high definition samples of Yamaha's grand piano. DGX 505 is offers 32 note polyphony, which is not ideal if you're a piano player, but then again you don't have weighted keys either. This is the part of that compromise we mentioned earlier in the article.
Since it's still an entry level keyboard in many ways, DGX 505 comes with Yamaha's Education Suite IV. The features this package contains include variable tempo learning mode, programs which will help you develop skills for each hand individually, a chord dictionary as well as lesson grading.
If learning features are something you find important, this Yamaha will definitely offer more choices than the average model from the competition. There are also a number of backing tracks you can use to jam along to, which is always great when you want to work on your technique and music theory at the same time.
The speakers they have installed on this keyboard offer a pretty good quality of sound. The volume is not something you would want to work with during a performance of any kind, but it's more than enough for home use. DGX 505 also supports USB and MIDI with I/O ports at the back. You can easily connect this keyboard to your computer and transfer various files to and from the keyboard.

Performance
From a pianist's stand point, this is as cheap as you can go and still have something that can be used to practice your playing skills. The 88 keys are not weighted as we have mentioned earlier, but they can still be used to practice different scales and chords. Piano samples that come with DGX 505 are decent to say the least.
From a beginners point of view, this is the holy grail of entry level models. It comes with a lot of presets and voices, while also sporting Yamaha's Education Suite IV. The amount of knowledge you can gain using this aid is immense. More advanced players who have a good enough skill to play more complex pieces, might feel limited by the rather weak polyphony potential of Yamaha DGX 505.
However, if you are on a budget, your choices are not that numerous to begin with.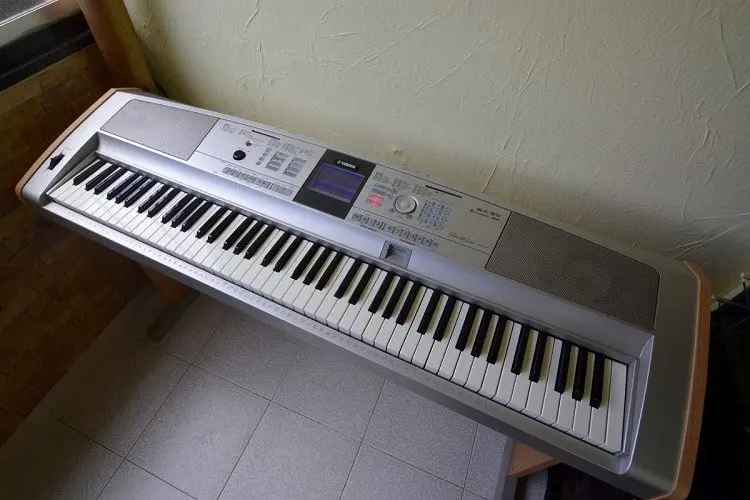 At the end of the day you need to make a decision by putting pros and cons against each other. If money is tight, you will have to make some compromises. For what its worth, this Yamaha is actually pretty generous when it comes to features and capabilities.
It wasn't really meant to replace a legitimate digital piano, but it can serve as a substitute until you find something better.

What we like
There is a lot of things we appreciate about this Yamaha. The amount of features is great considering the price. The same can be said about the quality of samples and the number of voices you get.
Yamaha's Education Suite is always a big plus since it's one of the best in its class. There are definitely many reasons to get this keyboard, despite what your intended application may be.

What we don't like
The whole deal with keyboards in this price range is that compromises will have to be made. One way or another, something is going to be lacking. In our opinion, the only thing we would like to see done better is increased maximum polyphony. This would really give this keyboard a bit more range. Everything else is perfectly good when you consider the price of this model.
>> Check Out Price & Customer Reviews On Amazon <<
Conclusion
Yamaha DGX 505 belongs somewhere between the entry level and mid level keyboards. It's in that gray area which is very hard to define.
Yamaha definitely hit the nail on the head when they decided to make the DGX 505 attractive to piano players, as getting a decent practice setup usually costs a lot of money. This way, they can enjoy the 88 keys configuration as well as Yamaha's learning software. For home use, this is as good as it gets on a tighter budget.
Strictly as a keyboard, Yamaha DGX 505 is pretty competitive. It's not something you would want to use for live performance or use in a professional setting, but it definitely has a wide range use. It's not a small unit so finding a place in your home for it might be a bit tricky.
However, it is all well worth the effort. If you decide to go for this model, you will have a more than decent tool at your disposal. Beginner or not, this Yamaha has a lot to offer.