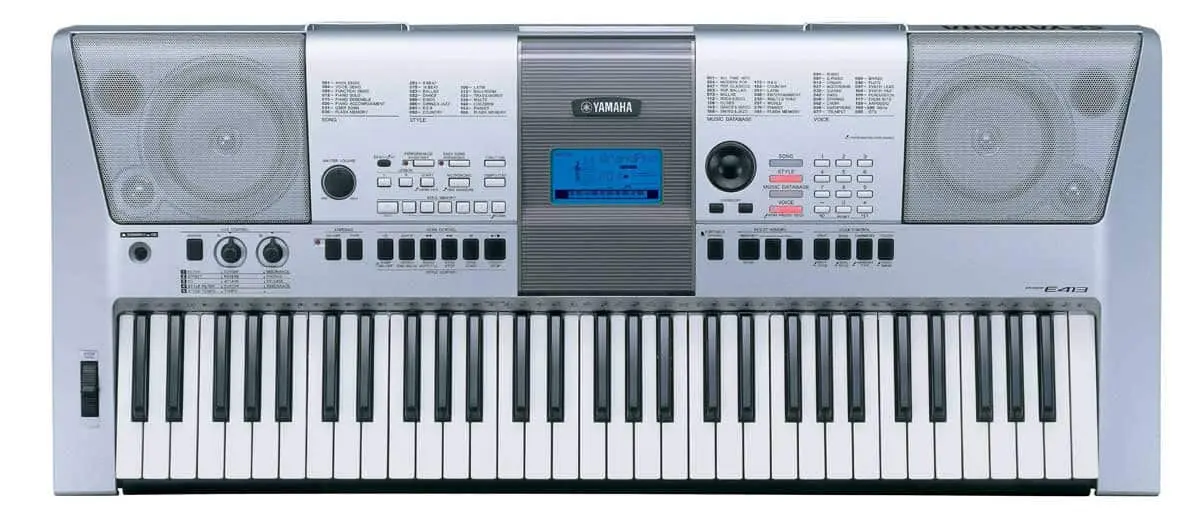 A lot of beginners often want to get mid range models for their first keyboard. Not only is this a surefire way to spend an unnecessary amount of money, but you can seriously miss out on some pretty important features for novice players.
Yamaha PSR E413 belongs to what is often called the entry level category. It's a keyboard that has some range, but the it's definitely not something you would want to use on stage. With that said, its true value comes from its ability to enhance your playing skill.
>> Yamaha PSR-E413 Portable Keyboard on amazon <<
The thing about entry level keyboards is that manufacturers recognizes the level of skill their target user group has. Since we are talking about novice players, a lot of brands decided to turn these entry level keyboards in to actual learning tools. The complexity and rang of the learning features depends on which model you get, but most have a pretty decent selection.
Yamaha PSR E413 stands out in this regard, and today we're going to find out why.
Overview
This model comes packed with all the options a new keyboard player could need. We defined it as a great learning tool just a moment ago, but it is far more than that. When you first look at this keyboard, you might think it's just another gray board. However, that is definitely not the case.
[su_youtube url="https://www.youtube.com/watch?v=JMP8RGiqWSM"]

Features
Starting from the most important elements, PSR E413 comes with 61 keys and features two large speakers located on the top face of the keyboard. Right in the middle, above the keys, there is a small LCD screen which you can use to navigate the preset library, and activate the numerous built in features.
On either side you will find a number of buttons. This keyboard actually comes with a pitch bend wheel, which is not something you see very often. There are 100 different presets available, along with multiple backing tracks and beats.
What makes this Yamaha a great learning tool are the integrated features Yamaha specifically developed for this purpose. We are talking about Yamaha Education Suite.
This feature allows you to practice your timing, chords, chord progressions and so much more. It's designed in a way so that even someone who has never touched a keyboard in their life can easily follow the instructions.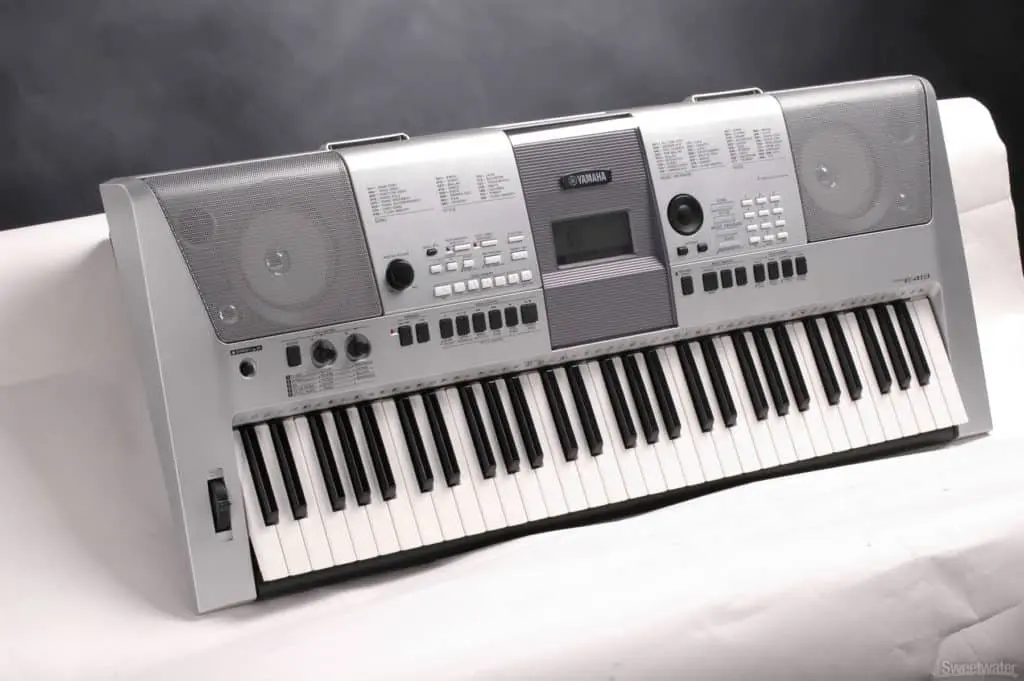 Yamaha PSR E413 comes with USB support, meaning that you can connect the keyboard to your computer and import different songs or other files. There is an on board sequencer as well, and it comes with a 6-track capacity. Overall, this keyboard is very light, comes with great features and is just a great deal for the money.

Performance
In terms of performance, you are looking at a decent sounding keyboard. You can't expect a high end digital piano type of tone, but the sound engine Yamaha used for this model is definitely great considering both the price and the purpose of this keyboard.
The way Yamaha designed the controls makes it very easy to access different features. Everything is more or less intuitive. On top of that, there's a list of various presets next to each of the speakers.
With that said, PSR E413 is obviously an entry level keyboard. It lacks the type of performance necessary for any serious work. Even though this is obvious, we are talking about it because there are advanced keyboard players who can't afford high or mid range instruments. This is definitely not the keyboard that would solve that problem.

What we like
Advanced learning features are always a plus on an entry level keyboard, especially when they are well integrated. This Yamaha has a lot to offer, and it's mostly reliable.

What we don't like
There's not much we can criticize about this keyboard, especially considering its purpose.
Conclusion
Yamaha PSR E413 has been discontinued for a while now. Even though there are better models on the market, you could still benefit from getting one of these used.
>> Yamaha PSR-E413 Portable Keyboard on amazon <<
Given that it comes in a decent condition, PSR E413 can be a great learning tool both for beginners and kids. Considering it was one of the more popular models at the time, you should find it difficult to find one.