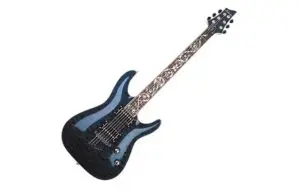 Whenever someone starts talking about what makes a good metal guitar, one name inevitably pops up.
Schecter guitars have become somewhat of a synonym for a heavy sound that services all genres of metal music. Some years ago Schecter released their C1 model. It became an instant hit among guitar players world wide.
The reason for this was the choice of pickups, overall quality of the guitar, and a very good price point. Schecter C1 was a rather affordable way to get a solid tone back then.
Unfortunately, this model was discontinued not so long ago. What came as a replacement is a whole spectrum of guitar which all carry the C1 designation. One of the most neutral ones is the Schecter C1 Classic. Some would argue that C1 Classic the closes thing we have to the old C1. However, that is arguable.
>> [su_highlight background="#fcfa8a"]Check out Prices & Reviews on Amazon[/su_highlight] <<
In any case, we are going to take a closer look at this guitar today, and see what it has to offer.
An Overview
When people say that C1 Classic is the closest thing to the original C1, they mean it in terms of tone. This guitar looks nothing like the original aside from sharing a similar body shape. Everything else is a completely different story.
In some ways it's an over the top guitar, and it feels like Schecter used the aesthetics to justify the price tag. The question is, does the Schecter C1 Classic only look like a $1000 guitar, or does it play like one as well?

  Features
First thing you will notice about this guitar is that it is a neck through body design. The heel is virtually non existent thanks to Schecter's own Ultra Access transition. Neck itself is a five-piece Maple/Walnut that features a standard 'C' shape.
The body is made of mahogany, and comes in form of a modified Super Strat shape. Finish on this thing is impressive to say the least. On top you will find quilted Maple which is breathtakingly beautiful. The fretboard is bound Rosewood piece with complex Abalone 'Vine of Life' inlays. If aesthetics were the only measurement, C1 Classic would score all 10s.
However, there is much more to a good guitar than the way it looks.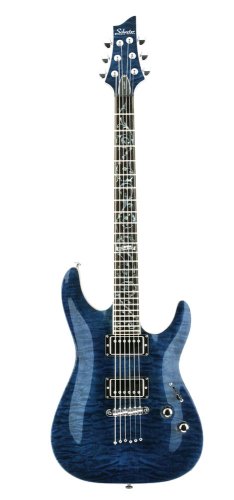 Moving on the electronics, we find a set of Seymour Duncan humbuckers. To be specific, you have a Jazz SH-2N at the neck position and a JB SH-4B at the bridge. These are controlled by a volume knob, a tone knob and a 5-way switch. Hardware is reliable and inspires confidence.
This guitar features a TonePros T3BT TOM bridge with string through body design. Tuners are a locking set from Grover, one of the best you can get at the moment. Generally speaking, pretty much everything hardware related is on point. Now let's take a look at what kind of sound you can expect to get from this Schecter.

  Performance
One of the best things about Schecter C1 were the active Seymour Duncan pickups which offered an abundance of range. C1 Classic offers a completely different experience. The tone you get can be described as dry at times, and lacking substance. For whatever reason Schecter chose these specific Seymour Duncan pickups, they seem to have completely missed the point of this guitar. You have to dial in your amp just right if you want to get anything meaningful out of this guitar.
Can you use the C1 Classic for metal? Absolutely. As a matter of fact, that is one of the rare genres where this guitar will perform well. But that's about it.
There is no versatility, at least none comparable to the original C1. Thankfully, there are other C1 models which sport completely different pickups.
At the end of the day it feels like Schecter decided to water down a perfectly good guitar by creating a number of versions which all offered a certain portion of the original C1's sound. Some would call that a cheap money grab move. However this is up for debate. Would we recommend this guitar to prospective metal guitar players? Maybe.
There are other Schecer models in this price range, which offer a better overall experience. If none of them are what you're looking for, then maybe the C1 Classic can fill in the void.

  What we like
Every guitar player has a soft spot for a good looking guitar, and so do we. This thing is just beautiful. Build quality is great, and every single detail seems to be made with care. Schecter C1 Classic is a very playable guitar. It's fast, and the profile of the neck lends itself well to shredding if that's your thing.

  What we don't like
Tone is by far the biggest issue we have with this guitar. Once you put it through paces, you get a feeling that a different set of humbuckers would completely transform this Schecter. A nice set of more aggressive Seymour Duncans sounds like a great match for the rest of this guitar. However, that's the type of performance you will have to look for elsewhere in the C1 lineup.
Considering the amount of money you're expected to pay, this puts a huge question mark on the C1 Classic.
Conclusion
Schecter C1 Classic is the type of guitar that has some hidden flaws which are not apparent straight away. It will take some time before you fully explore the range of tone this guitar is capable of giving you. We went pretty hard at it in this review, but that's only because we are still more or less in love with the original Schecter C1.
>> [su_highlight background="#fcfa8a"]Check out Prices & Reviews on Amazon[/su_highlight] <<
C1 Classic is by no means a bad guitar, but the general consensus is that Schecter should have put a bit more effort into the sound department, rather than the aesthetics.
In all honesty, Schecter C1 Classic could be everything you ever wanted from a mid range electric guitar. It all comes down to personal preference. We strongly suggest you do more research on this model and try to play one if you can. That is the best way to decide whether or not this model is for you.