The Yamaha PSR EW300 is a decent entry level digital piano and a cheaper alternative to some of the more well known Yamaha P series (P 125 for example) instruments. The PSR EW300 was launched by Yamaha (along with it's less expensive brother, the EW310) following the discontinuation of the YPG-235, and features increased polyphony, more voices and styles, and dual mode.
The main advantage of the PSR EW300 over many similarly priced pianos is the number of tones/voices, arpeggios types, and reverb/chorus effects that you can apply, as well as the included lessons. Because of all the included sounds you can put together some really interesting tracks and pieces, and the included lessons are perfect for anyone looking to build a basic foundation in playing the piano. That being said, there are better alternatives in terms of price, size/feel, and overall quality. You can get full size options, options with weighted keys, and options with better performance (tonal response, key action) at similar or even cheaper prices. Our recommendation for the cheapest and best value beginner digital piano's respectively are the Alesis Recital 88 and Donner DEP-20 (check out this list if you'd like to learn more about them). 
Yamaha is one of the most established musical instrument manufacturers in the world, and it's no surprise that they continue to make high quality pianos considering they've been doing it for over 120 years. If you're a beginner level pianist looking for a fun piano at a great price the Yamaha PSR EW300 might be for you. We'll take a look at the sound quality, design, features, pros and cons, and hopefully paint a picture of exactly who the PSR EW300 is perfect for.
Decent quality to price ratio

Versatile sounds (574 voices, 154 voices)

Tons of additional features (lessons, duo mode, dual mode)
Specs & What's Included
Dimensions: 45.35 x 14.53 x 4.65 inches
Weight: 13.7 pounds
76 key (touch responsive, non-weighted) portable keyboard
574 voices, 165 styles, 154 preset songs (see page 62 for full list)
Yamaha Education Suite (Y.E.S)
USB MIDI connections
48 note polyphony
SK B2 Kit (includes power supply, cheap headphones and a foot pedal)
Dual mode
Split mode
Duo mode
Design
The PSR EW300 features a relatively lightweight (compared to typical digital piano's) and compact design, perfect for a beginner home studio/practice space and for anyone who travels frequently and needs to transport the instrument around. It's well made and surprisingly durable for it's price point, and should last a good while provided you take decent care of it.
Currently it's only sold in black and there aren't options to purchase with a dedicated piano stand or other accessories, so you're only getting the keyboard. If you like to customize the accessories than this is great, but if you're more of a convenience shopper looking for an all in one bundle there might be some better packages out there if the piano stand is important to you.
Keyboard
Touch Sensitivity

The Yamaha PSR EW300 comes with touch sensitive keys, meaning striking the keys harder or softer will result in louder or quieter volume output. This is a step in the right direction in modeling the real dynamic response of an acoustic piano.
Mid Size
The PSR EW300 has 76 keys (as opposed to full 7 octave 88 key pianos). This doesn't matter at all when you are just starting out, but if you have more serious musical aspirations you will eventually have to graduate to a full size 88 key piano. Many complex pieces require a full size piano to be played correctly. Additionally, most music exams will require a full size piano. If you're just beginning to develop your piano skills or are just looking for a cheaper keyboard to play at home then these considerations shouldn't matter.
Non-Weighted Keys
Another consideration that really only matters if you have serious musical aspirations. The Yamaha PSR EW300 has non-weighted keys, meaning there is much less resistance to strike them vs a typical acoustic piano. This can make it more challenging to switch to playing an acoustic piano since you aren't used to the weight and resistance of the keys.
Features
48 Note Polyphony

Polyphony is the amount of notes a piano can layer on at one point. It's tough to imagine playing 48 notes at one time, you will really only come close to the limit when you're using the sustain pedal and layering sounds over backing tracks. Once you do reach the limit, the piano will have to cut some of the earlier notes to free up memory for the later ones which can make the overall sound less full. For a beginner level player, 48 is more than enough. Once you reach the intermediate level it might make sense to increase up to 64 or 128.
Dual, Split, and Duo Mode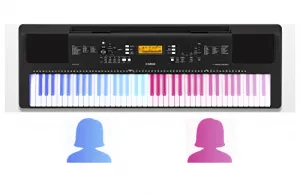 The Yamaha PSR EW300 comes with a few modes that allow you to do some interesting things with the piano's voices. Dual mode allows you to layer different voices on top of each other. Split mode allows you to play different voices with each hand. Duo mode is great for playing duets with other people.
Controls & Effects

The PSR EW300 comes with a bunch of useful controls and effects (see page 74 for full effects list in the PSR EW300 manual)
Controls:
Transpose (-12 to 0, 0 to +12) useful to adjust the pitch of the piano relative to the keys being played
Tuning (427-440-453 Hz) useful to slightly adjust and fine tune the pitch of the entire instrument
Metronome click track useful for practicing timing
Tempo Range (11 – 280) sets the BPM of the metronome
Effects:
Reverb (12 types) adds different types of ambience to the overall sound
Chorus (5 types) adds layers to make the piano voice sound richer, warmer, and more spacious
Master eq (6 types) adjusts the frequency eq settings to boost different frequencies
Harmony (26 types) adds harmony notes to the piano voice
Arpeggio (150 types) automatically plays arpeggios based on the keys being used
Panel Sustain lets you add a fixed sustain to the piano voice
Lessons
The PSR EW300 comes with built in lessons including timing, chord progressions, touch tutor, phrasing, and more!
Amps & Speakers
the EW300 digital piano two 2.5 W amplifiers and two 12cm speakers
Sound Quality
Overall the sound quality that you get from the PSR EW300 is above average considering the relatively low price. The instrument sounds and different voices are perfect for anything from practicing to jamming with friends. I wouldn't gig with this piano and you probably won't be able to make professional sounding recordings, but the PSR EW300 should be able to handle just about everything else. If you're willing to play around with the EQ and other effects you can get a very nice sound.
What We Liked
The amount of features and introductory educational content you get with this piano for a relatively low price is staggering. It's a perfect beginner level entry digital piano to help any new players begin their musical journey. The sound quality is decent and overall the instrument is compact yet durable.
What We Didn't Like
The non-weighted keys don't feel quite as nice as a typical acoustic grand piano. This is why we recommend moving to a higher end model with weighted keys once you progress to the intermediate/advanced level.
Conclusion
Thanks for reading! Hopefully this article helped you determine if the Yamaha PSR EW300 is the right fit for you.