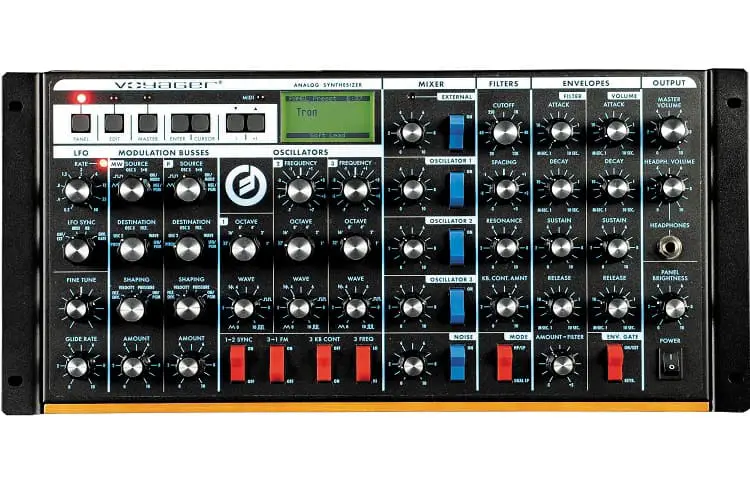 When it comes to synths, one name is almost always mentioned in some capacity.
Moog Music has been around for quite a while now, and has given us some of the best synthesizers in use today. When Moog releases something, the whole industry drops what they are doing, and pays attention. It's simple as that. That is what happened when Minimoog Voyager line got released not so long ago.
This family of products began with a keyboard that has seen several variations, but that was not nearly as impressive as what Moog had in store for us next.
Voyager RME or Rackmount Edition, packed the performance of the Voyager line into a portable rack that you could use with just about any other device.
In essence, we got a chance to experience the somewhat expensive performance of Minimoog Voyager keyboard from a compact rack that could be carried anywhere you need it. Not only did this decision allow a larger number of people to have access to this awesome synth, but it introduced a whole new layer of versatility to this line of Moog products.
Overview
If you had a chance to play around with Minimoog Voyager keyboard, you probably already know what to expect from the Voyager RME. Moog pretty much took the whole module and created a standalone package that could be used with a variety of different equipment. Not only that, but you could link numerous RMEs together, and create a killer synth that can do just about anything there is.
The best part about this whole thing is the fact that Voyager line is analog. Having that quality of sound combined with impressive versatility puts the Voyager RME near the top of any synth list there is.

  Features
The core of the Voyager RME hasn't changed much compared to the keyboard it came from. You still have the same architecture and synthesis capabilities, but there are some interesting new features that deserve a mention.
Namely, you now have three voltage controlled oscillators which come with a number of wave shapes you can work with. The mixer section is where you will find your external audio inputs and control which portions of the synth are in use at any time.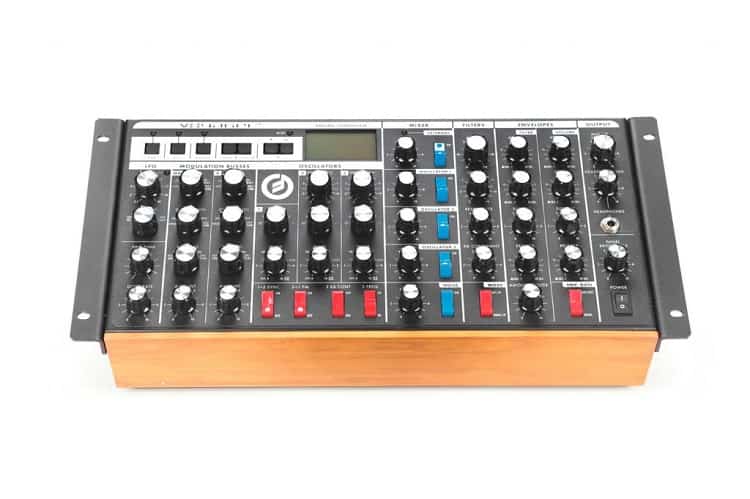 The entire filter section is rather impressive. You have a choice of either using dual low pass or low pass – high pass filters. LFO section is pretty rich as well, along with the four stage envelope generators.
In short, Voyager RME comes with all of the stuff you would expect from a high end analog synth, with the addition of it being mobile.

  Performance
If you have a taste for analog sound, you will love this synth. The level of creative freedom you have with the available voltage controlled oscillators is impressive to say the least. If you don't feel like creating new sounds, you can use any of the 128 modifiable presets.
It's worth mentioning that the oscillators are pretty stable, giving you a consistent performance. Moog style low pass filters need no introduction, and are just a dream to work with. Having the ability to control this synth with a USB controller feels wrong at first. However, once you realize just how practical it can be, you will ask yourself how you ever lived without such a setup.

  What we like
Incredible analog synth quality in a portable package is always a success. No matter what your needs are, Voyager RME will give you all the sound you need combined with incredible versatility.

  What we don't like
There is literally nothing flawed about this synth. It's Moog after all, and you know exactly what you get with this company. Price is not cheap, but then again we are talking about a top tier analog synth. Doing things the old school way costs money.
Final thoughts
Portable digital synths in a rack form are nothing new. As a matter of fact, they have been used for decades. However, having similar kind of versatility in an analog synth completely changes the game.
Voyager RME is not as small as some digital racks, nor will it ever be. It is small enough to be transported where ever you need it to go, with little to no effort. If money is not an issue, this is one synth you really need to check out.