In this day and age, we are used to the concept of having affordable tech at our disposal no matter what we're looking for. Same is required from synthesizers, but the situation is somewhat different.
Analog seems to be all the rage these days, but can you really find a cheap analog synth? The answer is yes. There are several really good analog synth models on the market, which should fit the bill you are looking for.
We've selected three analog synths that offer a well rounded performance and arrive packed with features while still being considered affordable. Let's dive in and see what we have in store for you today!
Music Skanner's Selection
EDITOR'S CHOICE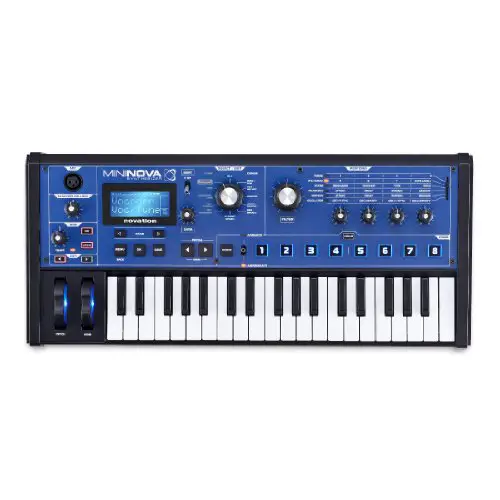 Mobility, great layout and ease of use are just some of the attributes which define Novation MiniNova. It's one of the best bang for the buck options on the market at this moment, and it comes teaming with features.
In terms of versatility, Novation MiniNova is definitely going places. You can use this synth to complement your existing setup, or as a standalone device if you're on the road.

  Features
Novation MiniNova sports a 32 key controller keyboard which makes it great for working in DAWs. It comes packed with 256 different sounds, and additional 128 slots for your own creations. Build quality is pretty good for a mobile and affordable unit, and every knob or button inspires confidence.
It comes with MIDI I/O, a USB connection which allows you to run this synth through a separate USB device, and a mic input on top. The LCD display which comes with this synth is big enough for easy use. Pitch and mod wheels are responsive enough, and feel good in your hand.
  Sound
Novation MiniNova comes with a very capable synth engine which is rarely found in products of this price range. You get a large number of different waveforms to play with, along with three oscillators per voice. Speaking of which, you can layer up to five effects per each voice. MiniNova comes with a few vocal effects. You get a vocoder and a VocalTule, allowing you to manipulate your voice with almost no limit.

Overall this synth sounds great, no matter which preset you choose. Every sound you create will respond good to EQ adjustments, you can expect to find a decent amount of modern and classic presets on this thing.
MicroBrute delivers that great analog sound in a more modern fashion. It's somewhat basic, but the ease of use makes it the perfect match both for beginners and more experienced musicians. It's not as packed with features as the MiniNova, however it is also priced in a way that makes it the best value for the money at the moment.
If you're just entering the world of analog synths, MicroBrute is the one synth you can easily learn the basics on, and move on to more serious work. The size of this thing makes it perfect for use on the go.

  Features
For an affordable synth, Arturia MicroBrute offers a completely analog signal path. It comes with multiple waveforms and a decent Steiner-Parker filter. The keyboard is somewhat small, but that is to be expected for such a compact synth, and may prove difficult to use. However, just the fact that you get one in this price range is amazing.
Compared to other synths on the market, you get only one oscillator
. Yes, it's way below industry average, but Artuira incorporated a solution that solves this issue quite well. With that one voltage controlled oscillator, you get a number of sub oscillators which work great.

Arturia MicroBrute comes with MIDI out, and USB MIDI I/O which allows you to use this synth with an external controller, or run it straight to your computer. CV gate is also included, along with a 1/4″ in and 1/8″ out.
  Sound
This little synth brings the thunder you would expect to see only from far larger and more complex units. For a device that is so tiny, it packs a lot of heat. No matter how high your expectations are for this synth, you will still end up being pleasantly surprised.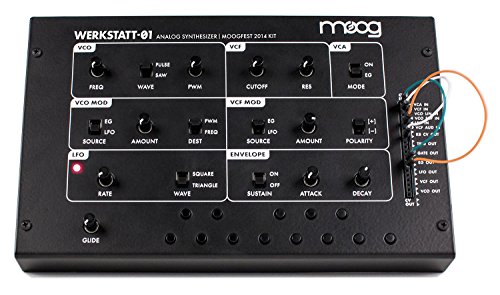 Moog first released the Werkstatt-01 to participants of their synth building workshop back in 2014. It didn't take long for the word to spread around, and everyone wanted to have one of these. Moog obliged, and today we have the Moog Werkstatt-01 as a standalone product.
It's a DIY synth, but don't be scared by this. Werkstatt-01 is incredibly easy to assemble. It's a versatile little box that delivers a high quality analog sound for a very affordable price. It is by far the cheapest synth on our list.

  Features
Werkstatt 01 offer the most basic Moog synthesizer features. You get only one oscillator is with a decent frequency range and several waveshapes available. There is one 4-pole filter and a pretty decent LFO and a number of other features. For what it is, Werkstatt 01 offers a lot, that's for sure.
On the right hand side, you will find an extensive patch bay with a whole lot of In/Out options.
The fact that you connect these with a piece of wire gives the Werkstatt 01 that rugged appearance
.
The only limiting factor of this synth is that you only get a power in and 1/4-inch jack out. Connecting this thing to a computer may prove to be a bit tricky, so keep that in mind.
  Sound
Even in such a small package, Moog managed to deliver that quality sound we are used to from them. It's a powerful little analog synth, with a killer performance for a very affordable price. It's just complex enough not to over extend its intended use, which makes it perfect as an addition to an already established setup.
Conclusion
Cheap analog synth is definitely available. These three we chose offer a great price to performance ratio, with a varying level of features. No matter if you're an experienced musician, or just someone looking to get into analog synths, these three will do a great job.