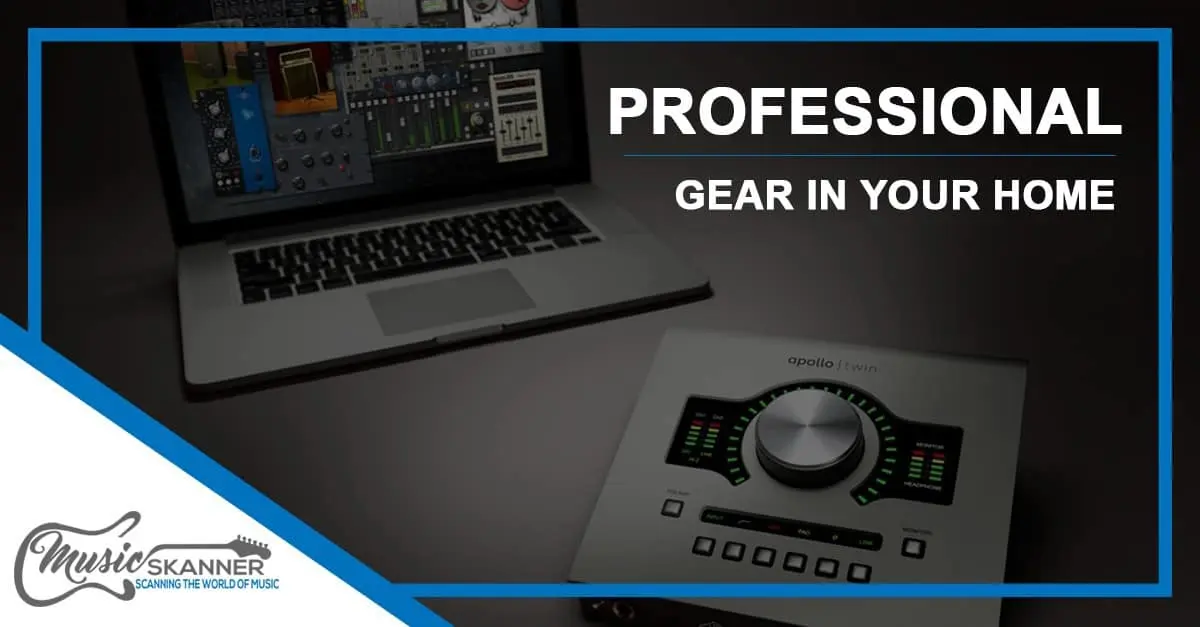 Recording and mixing music at home was made possible by the rapid evolution of technology which we witnessed in the past decade. The type of equipment that is now available for a reasonable amount of money is something that only professional studios had access to not so long ago.
If you want to set up a proper home recording studio, chances are you will need a way to record voice and instruments such as guitars or bass guitars. In that case you will need an audio interface that will bridge the gap between the mic/instrument and your computer.
There are many brands and models of these devices on the market, but over time several have become the go-to choice for many professionals and enthusiasts alike.
We have selected three such models that we think are best audio interface for home studio use.
Check out our selection below !
EDITOR'S CHOICE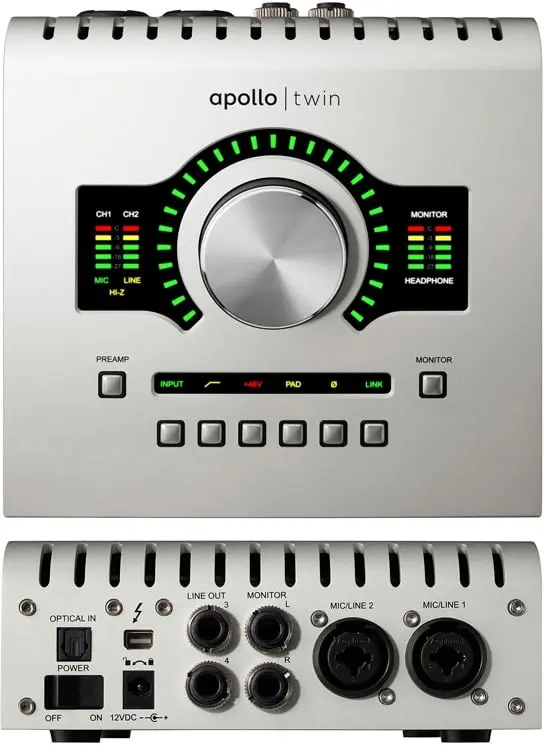 It's no secret that most music producer choose Apple computers over Windows based machines for their main recording setup. Although more expensive, Macs have all the necessary hardware and an operating system that is not only more stable, but also hosts certain software that is simply not available for Windows.
Universal Audio recognized this and made an audio interface that is designed with Macs in mind. The Apollo Twin is currently one of the best models in its category on the market

  Features
The main thing that sets Apollo Twin from its competition is the fact that it uses Thunderbolt instead of standard USB connection. In terms of features there's a lot that comes with this audio interface. For example, you have a two mic/line inputs on the back panel but there's also a single high impedance TRS input on the front, and a TRS headphone jack as well.

Universal Audio's UAD processing chip that allows you to exploit a large number of UAD plugins and UA's console software.
Both the plug ins and the software they deliver with this unit is a real performance multiplier to say the least. Looking back at the Apollo Twin, you can find all of your controls on the top panel.
There's a line of buttons that allow you to choose inputs, turn on preamp, and more. A large knob dominates the control panel, and it allows you to control master volume and other parameters that you select. It is surrounded by an LED interface that shows channel and monitor levels.
This interface comes with incredible mic preamp and software that allows you to shape and model the impedance, gain staging and other parameters. The back I/O is packed to the bring with all kinds of features. There are two XLR/TLR inputs, followed by four four balanced TRS line outs. There's also an S/PDIF digital input and the Thunderbolt port.

  Performance
Universal Audio Apollo Twin is just a joy to use. The A/D conversion is incredible, with impressive bitrate and latency free operation. The UA software and plug ins that come with the interface allow you to shape the sound of your instruments and mics almost endlessly. It's easy to set up, and even easier to use.
The only downside to this unit is its price, however this is one of those cases where you really get what you pay for.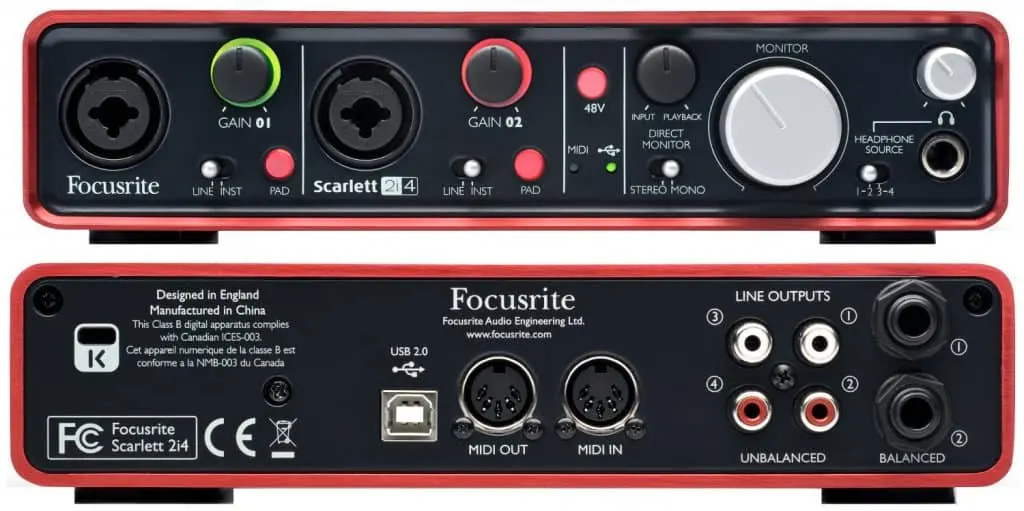 Focusrite is a household name when it comes to audio interface devices. They make some of the best universal audio interfaces on the market. Their Scarlett 2i4 is particularly popular among the home studio enthusiasts because it brings great performance at a reasonable price.

  Features
The second generation of Scarlett 2i4 brings two analog inputs and four dedicated outputs for ultimate versatility. The front panel is pretty much what you can see accross the range.
There are two mic/line inputs with dedicated gain controls and a switch that allows you to select what kind of input you want.
The gain knob is surrounded by an LED ring that tells you when your gain levels are hitting the ceiling.
On the right side of the front panel you will find that 48v phantom power button, a monitor knob, headphone level knob. Back panel reveals the two balanced XLR outs, two unbalanced RCA line outs, a MIDI in and a MIDI out, followed by a the USB jack.

  Performance
Focusrite Scarllet 2i4 is known for its smooth performance, great quality of signal conversion, and impressive mic preamps. Whether you are using this interface for a microphone or an instrument, you will achieve great results.
The 48v phantom power allows you to use any kind of condenser microphone with ease. Focusrite Scarllet 2i4 is pretty affordable which makes it a great choice for those who are building a home studio on a budget.
– Presonus AudioBox 22VSL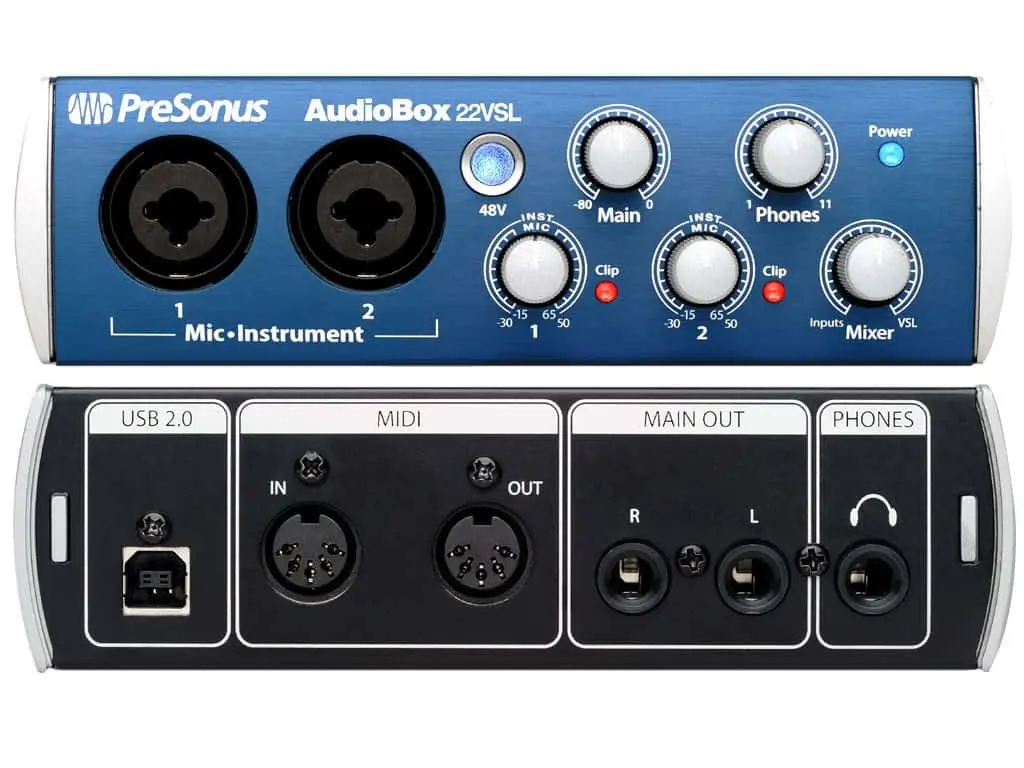 Presonus is the brand many turn to when it comes to audio interface devices. They have a great range of models that include the more basic and affordable variants, as well as some pretty advanced units. The 22VSL we chose for this article is a great middle of the road solution for home recording studios.

  Features
What Presonus AudioBox 22VSL offers is a pretty basic layout. You have two XLR/TRS inputs on the front panel, followed by two gain knobs for each channel, a main level knob, headphones level knob and a mixer knob. The mixer knob allows you to blend in the output from the audio interface with the playback stream from the computer for latency-free monitoring.
The back panel features a USB port, MIDI in and out, followed by L/R 1/4-inch main output lines and a headphones out. As you have probably noticed already, it's a fairly basic layout.

  Performance
Presonus AudioBox 22VSL is very easy to set up and start using right away. The quality of signal you get is pretty great and the Visual StudioLive control software enables you to shape the output in all kinds of ways.
Presonus AudioBox 22VSL is a no thrills audio interface that delivers great core experience to those who are on a budget.
Finally, it may be concluded
Choosing the best audio interface for home studio use largely depends on the budget you are working with.
We showed you several great models that offer solutions within different price brackets, so you can choose the one which fits your need the most.