JBL is one of those companies which have already secured their place on the market for years to come. They delivered some of the best speakers in the last several decades, causing your average audiophile to take their products as quality without any explanation necessary.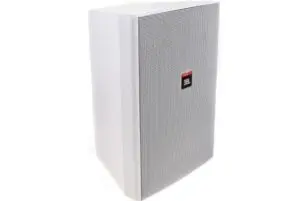 While their hi-fi products is the stuff of legends at this point, it's worth remembering that JBL also has a very good line of loud speakers for stage use. When a company is capable of delivering refined audio experience, they are certainly capable of up scaling to high output loudspeakers with little to no effort.
One of their most recent models that fits this description is the JBL Control 28T-60. This loudspeaker brings loads of high fidelity volume that is perfect for both outdoor and indoor applications.
** Check Out Current Price On Amazon **
What we want to know, and what is going to be the subject of this article, is how well do these loudspeakers perform in practice? Let's find out.
Overview
Building a good outdoor speaker is a lot more complicated than it sounds. Not only do you have to figure out how to properly direct the sound output for the speaker to make any sense, but you also have to deal with the fact that the speaker in question will be exposed to weather conditions.
Solving all these issues on top of delivering a good sonic experience is a true art form. However, JBL Control 28T-60 is the proof that JBL is not only capable of overcoming these obstacles, but that they also deliver quality on demand.

  Features
Let's start from the basics. The cabinet of this loudspeaker is made of something called HIPS, or High Impact Polystyrene. This material is resilient enough while preserving all the necessary acoustic properties. As a matter of fact these speakers are Mil.Spec 810 compliant, meaning that they can handle certain levels of humidity, temperature, UV radiation and salt spray. This is about as good as it gets.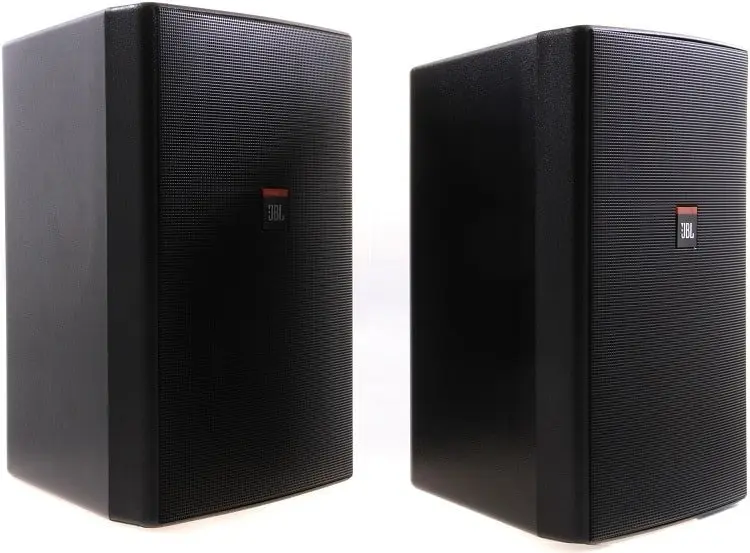 The core of this loudspeaker is two transducers. We have an 8 inch polypropylene coated woofer and a single Titanium coated tweeter. The latter is supported by a well designed horn. In terms of some specs, let's go over the most important ones. Frequency range JBL Control 28T-60 offers goes from 55Hz to 15kHz.
The power capacity is limited to 175 Watts with the nominal maximum output set at 102 dB at Tap1. The speaker housing is designed in a way that provides 90 degree angle of coverage in all directions.

  Performance
The type of performance you can expect from the JBL Control 28T-60 is very balanced sound color with a variable sweet spot. These loudspeakers are incredibly well built when it comes to sound direction, and those two transducers do a great job at offering a well rounded sound in terms of frequencies they push out.
These are loud enough to cover a medium sized outdoor event, while their use indoors really works well for large venues. With that said, these might be a slight overkill for small spaces, especially since they are a bit mid heavy.

  What we like
This thing is built like a tank. It can really take a lot of environmental abuse before it gives in and starts experiencing issues. The sound quality is great, and works well for a distributed line setup.

  What we don't like
The only issue you might have with a set of these loudspeakers is their tendency to be a bit strong in the mid section of the frequency range. This translates to a slightly muddy sound if you're not careful with leveling out the signal.
While it's definitely not a deal breaker, this trait is something you should be aware of.
All things considered
JBL has proven once again that they are more than capable of delivering a solid loudspeaker. While no one really doubted their expertise when it comes to sound, some people were skeptical about them building a tough enough cabinet for outdoor use.
** Check Out Current Price On Amazon **
JBL answered by delivering an overkill solution called JBL Control 28T-60. Needless to say, you can use these outside without having to worry about them breaking at the slightest sign of rain or other environmental effects.