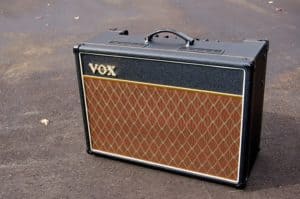 Small tube amps of limited power are quickly becoming more and more popular. Every manufacturer that can, has already launched a model of this kind of tube amplifier.
This has only introduced a whole new group of users to tubes, which would otherwise still be running a solid state amp. Vox, one of the most popular manufacturers of guitar amps, saw this new situation as a great moment to revamp some of their old legends. One of the more notable amps they offer is the AC15CC1.
Older generations of guitar players will probably know right away just how good this amp is. It was first released in the late '50s and was the more affordable option compared to their flagship AC30.
The revamped series we enjoy today share a lot of similarities with the original, and generally bring a legendary sound in a new package. Today we are going to take a closer look at the AC15CC1, and talk about what it brings to the table.
An Overview
The appearance of the AC15CC1 is pretty much the same as that of the original AC15. Vox made a good decision by not changing anything, and offering a product that many are already familiar with. The amp has that vintage vibe going, and it definitely adds to its charm. As you are about to see, it's not only the outside that has retained its quality, but the inside as well.

  Features
Once you take a peek into the cab of this amp, you will see two EL84s and two 12AX7 tubes. These are capable of delivering some 15 Watts of power, hence the name AC15.
The sound comes out of a single 12 inch Greenback speaker, although Vox did deliver a number of these amps with a Wharfdale. On a similar note, they also offer an option of installing a Celestion Blue Alnico if you're really want to go the old school way.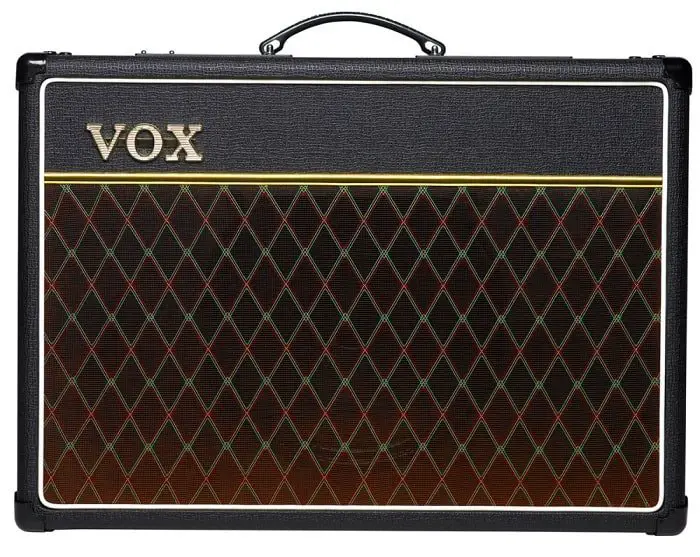 In terms of controls there are two main clusters on top of the amp. You have your Tremolo/Reverb controls which include depth, speed and mix knobs. The reverb is a spring reverb, just what you would expect to find on a revamp of a vintage tube amp.
The other cluster features bass, treble and volume knob. Lastly, there is a master volume knob and a standby switch. Vox AC15CC1 has only one channel, and comes with a foot switch that allows you to use the reverb and tremolo.
  Sound
The performance of this amp was known long before it hit the market. Those who heard the original AC15 knew exactly what they could expect from the revamp, and they weren't wrong. Like we said earlier the amp has only a clean channel, however that is also what its most known for.
The sound is crisp, clean, and warm across the range. It gives you that authentic tube amp experience. When you include a distortion or overdrive in your signal chain, this amp becomes one mean box.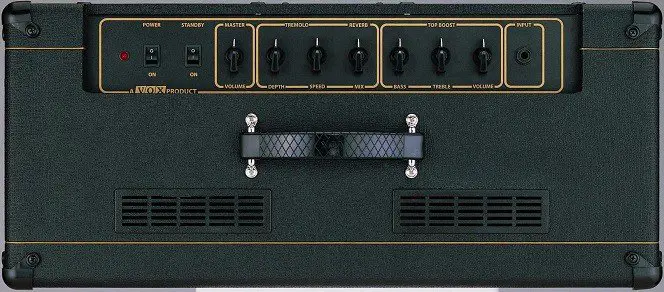 It works best with a decent overdrive, however it can take a hi gain dist stompbox as well. Spring reverb that comes with the amp is gentle, but doesn't really react well if you crank it up too much. In general Vox brought back a legend along with all of its qualities and quirks.

  What we like
Vintage looks, vintage sound that never disappoints and a reasonable price tag is what makes the AC15CC1 one of the best compact tube amps on the market.

  What we don't like
Vox discontinued this amp in 2010, leaving us to scavenge the used adds in order to find one. They are still out there, but your chances of finding one in mint condition are getting lower by the day.
Conclusion
Vox AC15CC1 is exactly what we wanted it to be, and what Vox promised. A compact amp with a decent amount of power and tone which teleports you back through time when Vox was all the rage.
It's really a shame it was discontinued. Especially considering how unique of a tone it offered. If you ever come across one on, we definitely suggest you buy it. It is an awesome little amp that deserves all the praise it gets.