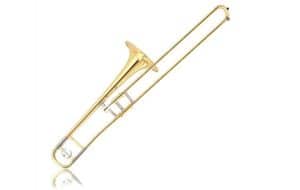 Brass instruments are pretty diverse and generally come in a lot of different flavors. Finding one that is affordable but decent is harder than one might imagine. This also applies to trombones.
You can expect to pay a decent amount of money for a mediocre one which will get you only so far in terms of performance. Seeing how almost every single high school has an orchestra, the demand for good trombones is only going to keep growing. One company which recognized what the market needs is Yamaha.
The Yamaha YSL 354 is currently among the best entry level models you can get. The quality of build and overall performance are superior to just about any other model within the same segment of the market. On the other hand, the price is reasonable. Not affordable by any means, but reasonable.
Yamaha YSL-354 Series Student Trombone on Amazon
An Overview
What Yamaha did with the YSL 354 shows their dedication to their customers. They essentially took the standard tenor trombone and packed with some features you can find in their professional series. All that while retaining a very reasonable price. Sure, there are cheaper models out there, but the performance is not comparable.
That saying 'you get what you pay for' applies to the Yamaha YSL 354 with 100% accuracy.

Features
The core of this trombone is the chrome plated inner slide that features drawn yellow brass. The outer slide is a single piece drawn yellow brass as well. The diameter of this piece is clinically precise, which ensures perfect air tight chamber. You also have nickel-silver tubular braces along with a balancer and pressure formed tubing.
The bore is 500″, so the tone generation comes pretty easy. In short, this isn't your mediocre trombone, this is the real deal in all ways that matter.
Overall build quality is excellent. There are no sloppy manufacturing marks, or anything that would affect both the performance or the appearance of this trombone. After all, that is expected considering the price tag on one of these.
Yamaha's selection of features makes the 354 Trombone a very versatile instrument for those on a tight budget. You can squeeze a lot of performance from what is categorized as an entry level instrument.

Performance
The type of performance you can expect from this Yamaha is definitely its biggest selling point. The quick and sensitive response combined with smooth action and increased resonance are the dream of every intermediate player. Yamaha YSL 354 Trombone is extremely playable.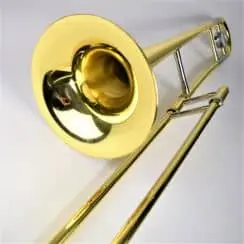 The mouth pipe allows for more precision and overall blowing control. YSL 354 is pretty light weight, so arm fatigue shouldn't be an issue with most players.
The sound is great from the generation stage to resonance. You are looking at a high fidelity trombone with a very long predicted life span. In all honesty, it's probably the best sounding trombone in the entry level portion of the market.

What we like
Great build quality combined with even better performance should be enough to categorize this trombone as one of the best in its class. It's very well balanced on top of being light weight by nature. Playability is great with smooth action and lots of room for precision.
On top of all that, it's capable of withstanding whatever abuse you can dish out during normal use. All in all, Yamaha YSL 354 is one of the best choices on the market at the moment.

What we don't like
Good instruments cost money, that is a fact. However, even though it is reasonably priced compared to the type of performance it offers, this Yamaha is still one of the most expensive trombones in the entry level category.
Conclusion
Yamaha YSL 354 Trombone is the type of instrument you will want to get if you need advanced features, but can't afford the price of a professional trombone. The sound is there, and so is great playability.
The only thing that is causing people to second guess this particular model is its price. If it was just a bit cheaper, we would probably see a lot more of these in use all around the world. The way things are, it's still not as affordable as Yamaha wants it to appear.