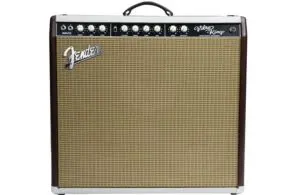 Fender's amps are known all over the world despite the fact that this company is primarily popular because of their guitars.
Even though they don't have too large of an offer, Fender's impact on guitar amplification is significant. Best proof of this statement comes from the fact that Mesa Boogie probably wouldn't even exist today if it wasn't for a Fender amp.
On a grand scale of things, Fender has the reputation of delivering incredible tube designs with some quite interesting qualities. Their solid state models didn't resonate nearly as well.
>> Fender Vibro King 20th Anniversary on Amazon <<
Fender Vibro King is a perfect example of their valve knowledge and ability to create an incredible sound. As you are soon going to find out, Fender Vibro King packs a big punch. It's not a cheap amp, and will actually put a dent in just about anyone's wallet.
However, the type of performance it offers makes this large investment completely worth it. We are dedicating this article to finding out just what kind of tone you can expect to get from the Valve King, and why it is among the hottest amps available on the market at the moment.
An Overview
Vibro King series started with the Twin Vibro King that was developed by Fender's Custom Shop. It was more or less an experiment which was supposed to determine what can be done with the components Fender had available at the moment.It's fair to say that the results caught everyone by surprise, even Fender as a company.
Ever since then the Vibro King has been improved with each iteration. The final form we have today is called Fender Vibro King 20th Anniversary, and it represents the pinnacle of Fender's tube sound.

Features
Fender Vibro King is a combo amp by design. It comes in a cabinet that reflects a very vintage vibe, which somewhat matches the tone. Color scheme Fender went with is that classic brown with a light brown mesh and black details. When it comes to aesthetics, Vibro King scores the best marks across the board. In terms of build quality, we are looking at a very rugged and durable amp.
The electronics are hand wired, ensuring reliable performance under any conditions, and a more superior sound. Under the hood of this classic you will see five 12AX7 preamp tubes paired with two 6L6 power tubes.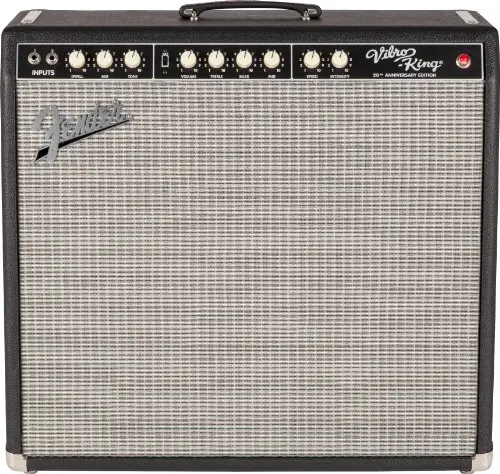 Earlier models of this amp used to come with EL-84s, but the decision to switch to 6L6 definitely introduces some variety. Combined, the tubes are capable of pushing out some 60 Watts of power. Even though it's not that large, Fender Vibro King comes with three speakers.
The model Fender chose for this purpose is the 10-inch, 25 Watt Jensen P-10R-F alnico unit. In combination with a very solid cabinet, these three speakers make Fender Vibro King one pretty heavy amp.
In terms of controls you have a Fender reverb cluster that includes Dwell, Mix and Tone knobs. Next comes your standard three-band EQ, and finally there's the vibrato section with Speed and Intensity controls. Clean channel comes with the Fat switch. This feature pushes the tubes into natural overdrive.

Performance
There are several things you need to know right away about this Fender. It's a cumbersome amp to move around, and you definitely won't want to do this often. It's loud and extremely sensitive.
The master volume knob is easy to push a bit too far, so you definitely need to apply some finesse when dialing in the volume. Finally, the tone is pure bliss. Clean channel is as crispy as it gets and has a lot of range. If you are looking for that distinctive vintage tone, this is exactly what this amp will deliver, plus so much more.
Once you press the fat switch, things get a lot more interesting. Not only does it push the tubes into overdrive, but it shapes the output of your pickups in a way that makes them a lot more attractive. As soon as you roll off the volume knob on your guitar, you can literally hear the range expanding. Needless to day, a good Strat will sound impressive with this feature on, although a decent set of humbuckers is what you want to have if growling overdrive is more your thing.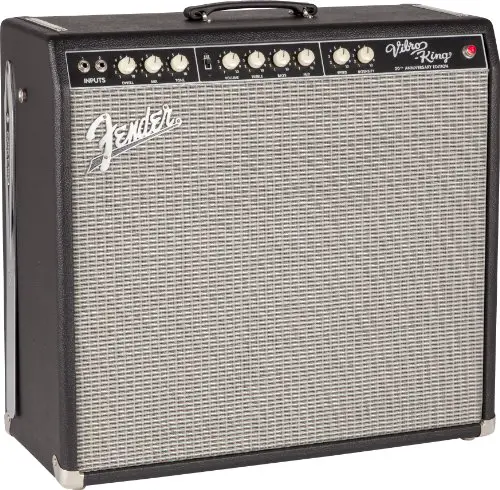 Reverb is modeled after Fender's famous '63 style effect. It's organic and feels very natural to the ears. Vibrato section is pretty flexible, and doesn't impact the tone in a negative way as some of these can. The range of music genres you can play on Fender Vibro King is limitless.
Sure, you will need a good distortion pedal if you want to go aggressive, but the sound it offers on its own is good enough for both jazz and blues.

What we like
There is something about high end Fender amps that is really hard to describe. Build quality aside, the tone simply has a very unique nature. That is what you can expect to hear from Fender Vibro King. It's an impressive amp that keeps on giving no matter what you try to achieve. The sound is there, and the possibilities are pretty much endless.

What we don't like
There are only two things we can criticize about this amp without looking silly. It's heavy, as in people will properly hate you type of heavy. If you have to lug this thing around, it's going to be a pain. It's not small either, so transporting it is as uncomfortable aside from the weight issue.
The sensitivity of the volume knob is also irritating at times. It's so easy to go overboard, that it's not even funny. The other thing is the price. We are talking about a hand wired tube amp from Fender's Custom Shop, but the price tag just puts it in a whole new level of exclusivity. This is nothing new considering it's Fender we are talking about. Would we love ti see the price go down? Sure, but only if it doesn't impact the performance or the quality. Otherwise there's no point.
Conclusion
Fender Vibro King belongs to a very rare breed of tube amps. It's a combo that packs a mean performance, but also offers a very classy tone. The type of quality you get from this thing is impressive in all aspect that matter.
>> Fender Vibro King 20th Anniversary on Amazon <<
It is definitely not the cheapest thing on the market, but if don't want to compromise on sound, Vibro King is definitely something you want to put on your list. The size and volume of this amp is more than good enough for serious use. You can take it with to rather large venues, and be heard just fine.
It's a real performance amp, there is no doubt about that. Whether or not this is something you should consider buying depends on what kind of budget you are working with, and what kind of tone you require. For the latter, Fender Vibro King will cover the majority of the range. The former is something you have to figure out on your own.
We feel that owning one of these is a great investment, but in the end it's completely up to you.