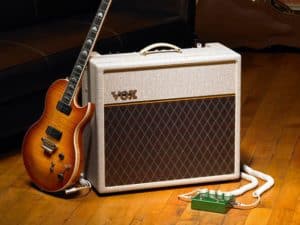 Vox amps have pretty much had one of the largest impacts on guitar amplification, and the industry that was later formed.
This one company single-handedly created a type of sound that many would later aspire to recreate. As fate would have it, only a small handful would go on to succeed in this endeavor.
The amp which started it all is the now legendary Vox AC30. Not only was it one of the best at the time it was first released, but it was also the preferred choice of many popular guitar players who would later enter the rock and roll hall of fame.
>> Check Out Current Price On Amazon <<
For a brief period of time, when solid state technology was slowly gaining momentum, Vox discontinued this awesome amp. However, that pause in production didn't last long. When tubes were back in style, they were very quick to bring back the AC30, but they also introduced some new solutions.
Vox AC15 Handwired is a version of the AC15 standard model with hand soldered electronics. Vox wanted to take their winning formula and give it a whole new dimension of excellence.
This somewhat small amp has become nearly as famous is the original it was based on.
Today we are going to do a brief review, and see just how good this thing is.
Small And Famous
Modern production technologies pretty much excluded the need for manual labor, no matter which industry you take as an example. Robots are generally faster and make fewer mistakes when you need to produce something by the thousands. It's a numbers game.
[su_youtube url="https://www.youtube.com/watch?v=jWxs5L4AXOo" width="440″ height="260″][/su_youtube]
However, when you are making limited series of any given product, a human hand is still the preferred way of production if you want to make sure that everything is of best possible quality.
When someone says that an amp is handwired, what they mean is that a person who is holds decades of experience, sat down and assembled the electronics by hand. One of the major benefits of doing things this way is making sure that all the soldering is perfect, and capable of withstanding the loads of the circuit.

  Features
Vox AC15 Handwired comes in a very attractive beige cabinet that is made of birch ply, and strengthened by solid bracing. The design is pretty much the same compared to the original AC15, which borrowed the cabinet design from the AC30. So in a sense, this is a scaled down AC30 cabinet with some reinforcements and a different color theme applied.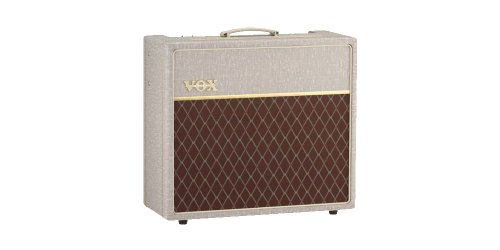 The core of this mighty little amp are two EL84 power tubes and three 12AX7 preamp tubes. Combined with a EZ81 rectifier, they deliver 15 Watts of power to a single 12 inch Celestion G12M Greenback speaker. In terms of components, everything is more or less standard at this point.
This amp comes with channels. You have a clean channel, and Top Boost. The latter is what contains and delivers that authentic AC30 tone which everyone is in love with even today. There is a hot/cool switch. The purpose of this feature is to allow you two types of overdrive.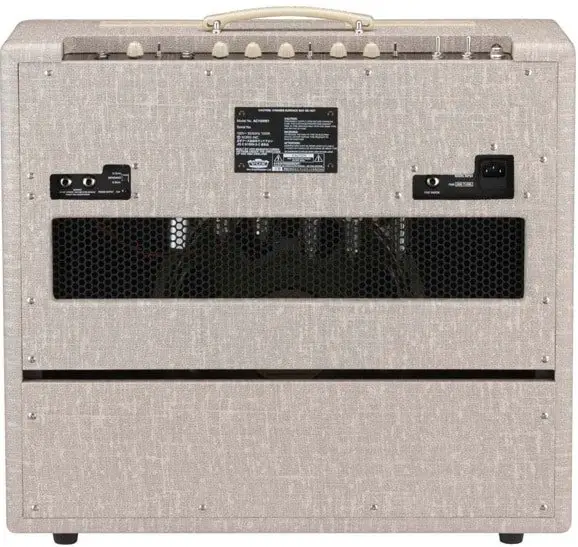 Cool is your standard Top Boost flavor, while Hot is a more gain rich distortion. Vox apparently wanted to give this AC15 a somewhat modern tone along with the classic one. One of the more interesting controls which are available on this amp is the master volume bypass switch. Once engaged, you effectively bypass the volume controls and push the tubes pretty hard. This is how it was done in the old days, and this is a very neat yet nostalgic feature.

  Performance
There is not much that is left to be said about the performance of this amp. The sound has been known for numerous decades now, and it's the same exact thing. If you are a fan of original AC30, that is exactly the type of performance you can expect to get from Vox AC15 Handwired model.
The addition of Hot/Cold switch is an interesting one. It is impressive what kind of tone good old tubes can create when boosted with additional gain.

The difference between this sound and the one Top Boost delivers is pretty obvious. Whether or not you will like it depends on your taste, but it's nice to have options. In terms of use, everything on this amp is intuitive and exactly where you would expect it to be. The controls are anything but complicated, so dialing in a great tone shouldn't be an issue.

  What we like
Everything about this amp is impressive. Tone we are all familiar with has seen an upgrade that added several more flavors to the mix. Not only do you get that classic AC30 vibe, but now you have a lot more options to play with.

Handwired construction pretty much ensures that all of the solder points can withstand the brunt of heavier use. You can push the tubes pretty hard without having to worry if anything will give in.

  What we don't like
If there was any flaw in the design of this amp, it would have been corrected several decades ago. Vox didn't make any drastic changes, they rather took their winning formula and just added some pretty benevolent features.
The result is still more or less in line with the AC30 tone.
>> Check Out Current Price & Customer Reviews On Amazon <<
Final thoughts
Vox AC15 Handwired is one of those amps you either have to own, or at least try out at one point in your life. It's an experience of its own that is hard to replicate. What makes this thing pretty exclusive is the price.
Tube amps in general are not cheap, but this one especially isn't for those on a budget. With that said, the investment you are asked to make is well worth the effort.
You aren't just buying a tube amp, you are buying a piece of rock history, a time capsule of sorts.
That is definitely worth going the extra mile for, and spending a bit more money.