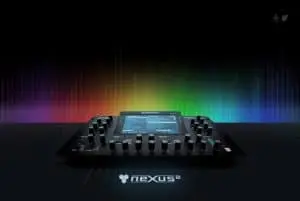 Nexus music software made by ReFX is currently one of the most popular VST/AU plug-ins on the market, especially for those who create modern electronic music.
You get a whole bunch of sounds, gates, filter sweeps and more. The versatility this single plug-in offers really makes it worth the price, and the fact that you don't have to install numerous plug-ins to achieve the same effect.
Most current version of this plug-in is the Nexus 2 VST/AU. Compared to the previous version, this "new" release offers a larger library with more refined features and options. It's super compatible, meaning that you'll be able to achieve the same experience across a wide spectrum of DAWs both on Windows and Mac machines.
Let's dig into it
Some producers like to describe the Nexus 2 as a preset bank which offers a lot of different voices, but not much else. This isn't entirely true. Sure, Nexus 2 is not the most flexible synth out there, but there's a good reason for it.
[su_youtube url="https://www.youtube.com/watch?v=E68NbYTlZ8g"]
When it was designed, the intention was to give the user a substantial library of sounds and effects to chose from without having to install multiple plug-ins. The problem with this method is the sheer complexity that results from having so many different plug-ins with their own settings and features.
With Nexus 2 all of those potentially mind melting plug-ins are compressed into one synth. This puts way less strain on your CPU and uses less RAM as a result. And you do get a certain amount of control over your sound. You just have no access to the core of the voices.
However, this didn't stop artists such as David Guetta, Jean-Michel Jarre and Armin van Buuren among others, to include Nexus 2 in their setup.
It's the speed with which you can work this plug-in that appeals to artists who often perform live on stage. In such conditions there's no time to tweak something into perfection. You need great results right away, and that is exactly what Nexus 2 offers.

  Design
Nexus 2 panel sports a somewhat retro design. In the middle of the panel you will find a display which you can use to access different sounds and presets. Your filter controls are on the left while the right side contains amplitude controls.
On the bottom you will find a reverb, stereo delay and master filter. Filter controls are somewhat extensive, and include resonance, cutoff, envelope amount and ADSR controls for the envelope. It's all rather simplified but efficient as well.
Master filter comes with low pass, high pass, and band pass adjustments, as well as notch modes. Unfortunately these filter controls are as far as you're going to get to doing filter sweeps since the core voices aren't programmable.
The features and controls that you can adjust offer enough flexibility for the presets to be molded into your requirements, as long as you don't need to alter the core parameters of each preset.
  Sounds
Nexus 2 sound library is so extensive that it may prove to be problematic. Uncompressed, it takes around 6GBs of storage space. That's a lot of options to choose from.
However that's not the full extent of the Nexus 2's potential. You can expand the main library with additional sound packs which contain a lot of new presets that are constantly being made.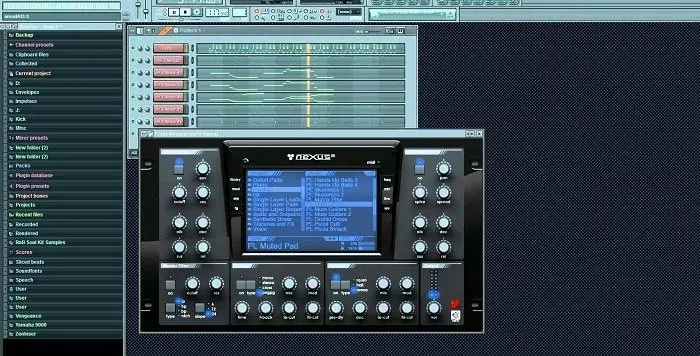 If you had the fully stocked Nexus 2, you'd probably need months to figure out what's what. The presets, over a thousand of them on a vanilla version of this plug-in, are grouped in categories.
You have Bass, Dance Leads, Gated Pads, Epic Pads, and so on. The browsing system is highly intuitive and there are no hoops to jump through. Once you select a preset, you can alter it the way you like and save it as a completely new preset.

  What we like
The sheer abundance of presets and sounds makes Nexus 2 worth the money on their own. You can spend days just messing with factory presets without even editing them before you run out of interesting options. Sure, it's not the most flexible synth out there, but it's definitely one of the most extensive ones.
The price is not cheap, but it is fully justified in this case. You get a lot of value for the money, especially if you're creating more modern electronic music. In that case Nexus 2 is almost invaluable.

  What we don't like
There isn't really much to dislike about this plug-in. It works smoothly, has a bunch of options and presets to choose from, and is reasonably priced. But, there's always a but. We would like to see a bit more control.
Yes, it would beat the purpose of this plug-in, but ReFX could have allowed for a tiny bit more flexibility. We say this because there is so much potential in this plug-in that it's just a shame that you can't tweak the presets and voices a bit more thoroughly.
In summary
All in all Nexus music software is a great addition to any producer's toolbox. If nothing else, the sound library alone makes it worth the money. It's no secret that Nexus 2 is more inclined to modern electronic music, but we've seen its features being used successfully in many other genres of music. You could say that hip hop producers like to add Nexus to their mix for some songs. This is especially true for trap beats.
The fact that you have limited flexibility is an issue which is up for discussion. On one hand more control would be nice, but on the other hand you have some of the world's best DJs using this software and praising the speed with which you can use this plug-in.
That ability to access the presets and set everything up on the fly is also why Nexus 2 is not only limited to professionals. Those who are just entering the world of electronic music can actually benefit a lot from this plug-in. It is super easy to use, and comes with a mild learning curve – everything a newcomer needs in order to get around with limited knowledge.