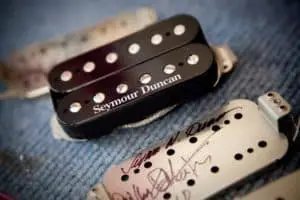 Back in the day when Seymour Duncan was just starting out in the industry, the competition was fierce. Back then you didn't have too many people building electric guitar pickups, especially considering how new the humbuckers still were.
However, Seymour Duncan went on and designed one of the most legendary pickups in music history – the low output Alnico II PAF humbucker. This thing was an instant success, and it offered a very potent tone that was perfect for a variety of music genres.
This great pickups was developed in 1978, but these days it came back from retirement in a completely new format. The new humbucker was promptly called the Seymour Duncan 78 and it absolutely rocks.
Today we are going to talk about this beautiful humbucker and try to figure out how it stands compared to the original one.
How it stands compared to the original one.
Seymour Duncan has discontinued the original series of PAF humbuckers a long time ago. This new model is built as a replica of that old legend, and it brings a lot of that very same sound.
Seymour Duncan '78 are made to order, which increases the price a little, but is worth the extra cost and effort in the end. The question on everyone's mind is how good these are compared to the originals? Let's find out.

  Features
As we have mentioned just now, Seymour Duncan '78 is made to order. This means you have a lot of options to choose from. However the main design features don't change.
The core of this pickup is Alnico II magnets combined with a unique coil wind that uses 42 gauge plain enamel wire. These are hand wound and tested to oblivion in order to achieve the same performance as the original magnet they are trying to emulate.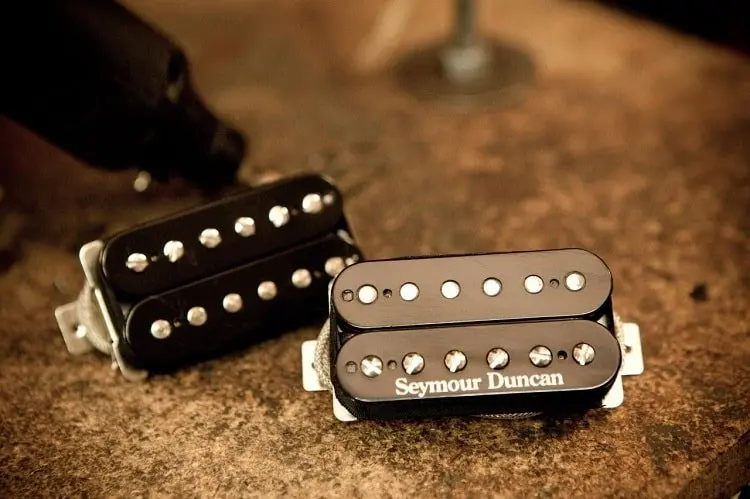 When it comes to things you can choose, Seymour Duncan gives out the choice of selecting the pickup's position in terms of neck and bridge. Once you figure that out, you can choose the string spacing.
Great thing about the Seymour Duncan 78 is that it can come in humbucker form or trembucker. You can also choose things like mounting legs, hookup cable configuration, and whether or not you want the logo, wax potting, and so much more. You can even choose the finish of the screws.
Since original Seymour Duncan PAFs were low output units, these 78s are brought to the resistance value of 9k. That way, every and each one of these leaves the factory the same.

  Performance
If you have ever heard the original Seymour Duncan humbuckers in action, you will know what kind of tone to expect from the Seymour Duncan 78. It's the 'Brown' sound of the '70s.
The original pickups were developed for Eddie Van Halen, so if you are a fan of his tone, that is about what you can expect to hear from these. Lots of warmth, definition and overall balance across the range.

  What we like
Seymour Duncan 78 offers a very unique type of sound that is hardly found these days. It's a near perfect emulation of the legendary PAFs we all fell in love with, along with Eddie Van Halen. If that is something you find interesting, these Seymour Duncan pickups are worth checking out for you.

  What we don't like
There is nothing we can say is bad about the Seymour Duncan '78. The pickups work, and they bring the tone they claim they can.
To conclude
At the end of the day, some will question the authenticity of Seymour Duncan 78s since nothing beats the originals. However, this isn't completely correct. These pickups have more that same character and warmth the originals were known for.
Especially if you are chasing the 'brown' sound of Eddie Van Halen. These are low output pups so their use with more aggressive genres of music might turn out to be an issue, however that is the price you have to pay for excellence.
If you want to install these on your guitar, just be sure to check out if the your type of tonewood can work well with these. At least if you want to get the most out of them.