Ever since they first appeared, everyone knew that digital keyboards will become a staple instrument in modern music.
These days you will see some type of keyboard just about everywhere. By design, this instrument is meant to be played while sitting down or while standing.
However, keyboards rarely come with a stand that gives you enough elevation for comfortable playing. Often times you have to get one on your own.
There are many different types of keyboard stands, but some have proven to be more practical than others.
One that is probably the most popular choice today, is a double X keyboard stand. There are several reasons why this is the case, and we will go into that a bit later. As an example, we will take the World Tour model just so we could walk you through some things we think are important.
With that said, it's time to get into details, and explain why this type of stand became so popular.
A Really Popular Stand
There are several requirements any good keyboard stand needs to meet. First and foremost, it need s to be built well. Modern keyboards are often heavy, and having a flimsy stand is a recipe for disaster.
The ability to securely and safely support the weight of a keyboard is the primary task of any stand that can be considered efficient. Second, you want good adjustment flexibility. All of us are different, and being able to adjust the level of the keyboard to your own liking is key to comfortable and successful performance.
Our World Tour stand meets and exceeds all of these requirements.

  Features
Duble X keyboard stand design is popular among keyboard players mostly because of its simplicity and cost effective nature. Word Tour model we are showing you here is a great example of a stand done right.
This particular model is capable of supporting up to 250 lbs of weight without failing. This is due to its rugged construction and high quality materials that were used.
The height adjustment mechanism is located in the center of the X, and is built solid. Once you adjust the height and lock everything down, you can rest assured it will stay that way.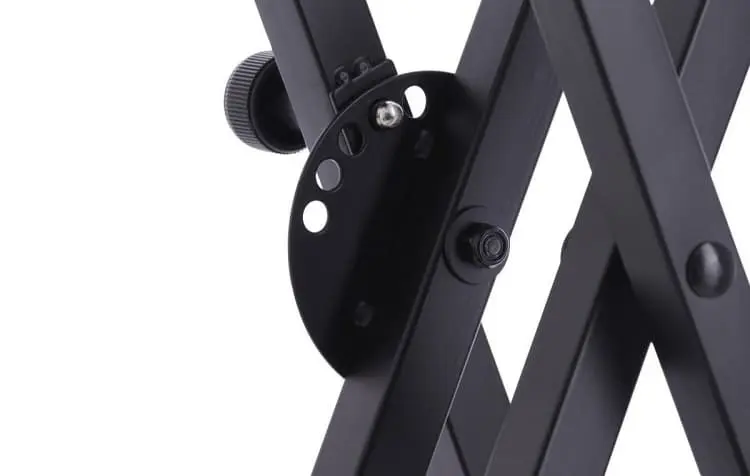 In most cases, double X keyboard stands will have specified height options. Having a sliding design is unsafe since there is nothing to prevent it from giving in, so fixed heights are a thing. World Tour double X keyboard stand allows you to go from 25″ to some 38″, which is more than enough for a variety of standing and sitting positions.

  Performance
Just like it's the case with most double X keyboard stands, World Tour is pretty easy to set up and fold. You can do it quickly with little to no effort. The locking height adjustment mechanism is reliable and you can see that they've made sure everything is well made. This stand is pretty light and is a perfect choice for those who gig often. Once packed, you won't really feel it all that much during transport.
The upper portion of the stand which comes into contact with the keyboard, does a great job at holding you instrument safely in place. Most importantly, it doesn't inflict any damage while doing so. All in all, this is a pretty simple and affordable type of keyboard stand, which is exactly why a lot of people love them.

  What we like
Simple design combined with great build quality ensures years of safe use. World Tour double X keyboard stand is a great choice that won't cost you much, but will get you all the support you need.

  What we don't like
There isn't much we can criticize about this stand. It's simple and it works.
Conclusion
An average double X keyboard stand is going to be more than enough for every keyboard player except those who have a more complex setup. The latter will need a bit more serious stands which are designed to support heavier loads, and offer support to more than just a keyboard.
For the rest of us, something like this World Tour works just fine. If you need a simple and reliable keyboard stand, this is probably one of the best ones you can get at the moment.