In the grand scheme of things, mixers are probably one of the most crucial pieces of any DJ's setup.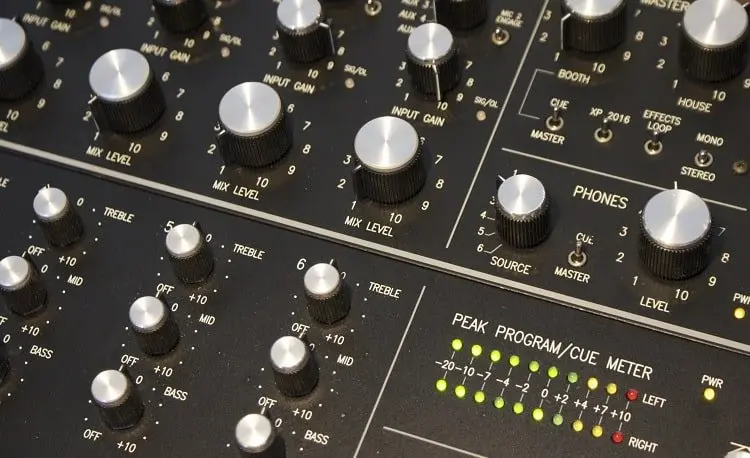 Everything you do goes through a mixer, and the quality of the one you have will decide what kind of sound you will end up releasing over the loudspeakers.
A good mixer can make all the difference in the world, while a bad one can ruin what is otherwise a stellar performance. There are many types of mixers on the market, but the flat type with vertical faders is the most prolific one. Although they bring a lot of benefits, these mixers aren't really scape efficient. This is especially true if you need more than four channels.
For those occasions, something like this Rane MP 2016 rotary mixer will be a lot better solution. The whole deal with rotary mixers is the fact that they use knobs instead of faders, and offer some features that you won't find elsewhere.
Today we are going to take a closer look at the Rane MP 2016, and show you why it is one of the most legendary mixers of this kind on the market.
A legendary mixer
Rotary mixers are rarely seen these days. That wasn't the case back in 1999, especially in the house music community. Back then brands like Urei and Bozak were dominating the market with their versions of this type of mixers.
[su_youtube url="https://www.youtube.com/watch?v=HpPV1w5sjUA"][su_youtube][/su_youtube]
Suddenly, there was a point in time where no new models were appearing despite the clear demand for such units. Rane took the chance and introduced the Rane MP 2016 in order to give the masses what they wanted. Needless to say, this move turned out to be complete success, and Rane MP 2016 became the staple of house music stage performance.

  Features
Rane MP 2016 comes in a very simple looking enclosure made of quality metal that inspires confidence. It has some weight to it, but in case of mixers that is a good thing up to a certain point.
The control panel layout is very intuitive. You have your six channels with dedicated controls, all of which come in form of knobs. Speaking of which, the quality of the knobs is great to say the least. Tactile feedback is accurate and comfortable.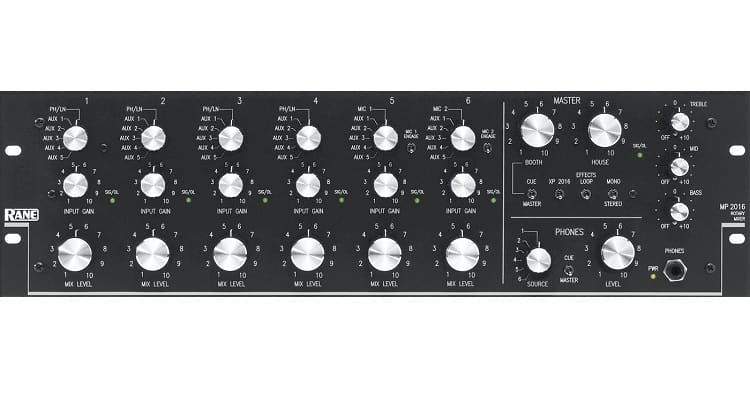 The core of the Rane MP 2016 is its analog nature, and the fact that it comes with six stereo inputs. There are four phono preamps in there, along with two microphone/line preamps to help out. This type of design was nothing new, but it was highly respected due to its performance.
On top of this, you also had switchable effects loop, master headphone amplifier and pre/post effects tape output. In terms of connectivity, the story is pretty much standard. RCA inputs with XLR and 1/4 inch TRS ports for the effects loop, and XLR/RCA outputs are all located on the back panel.

  Performance
The best way to describe the performance of the Rane MP 2016 would be to say it is stable and consistent. This mixer might be a bit outdated by today's standards, but this type of analog sound is something you will hardly find anywhere else. The nature and quality of the knobs made it extremely easy to make adjustments on the fly with great accuracy and feedback. In all ways that matter, this mixer was the GOAT at on point.

  What we like
Rotary mixer done right is an impressive piece of tech. When it is also analog on top of that, you are looking at a very special class of audio equipment. Rane MP 2016 is pure quality no matter how you look at it.

  What we don't like
When judged against its contemporaries, Rane MP 2016 was up there in the top 5. These days the story is a bit different, but this mixer still offers a great value. There are no flaws worth mentioning here.
To conclude
Rane MP 2016 is somewhat outdated at this point in time. However, that is perfectly fine since Rane went on to produce a variety of models based on this very design.
In all essence, this mixer and the ones that came after it, are impressive pieces of audio gear that are not seen that often these days.