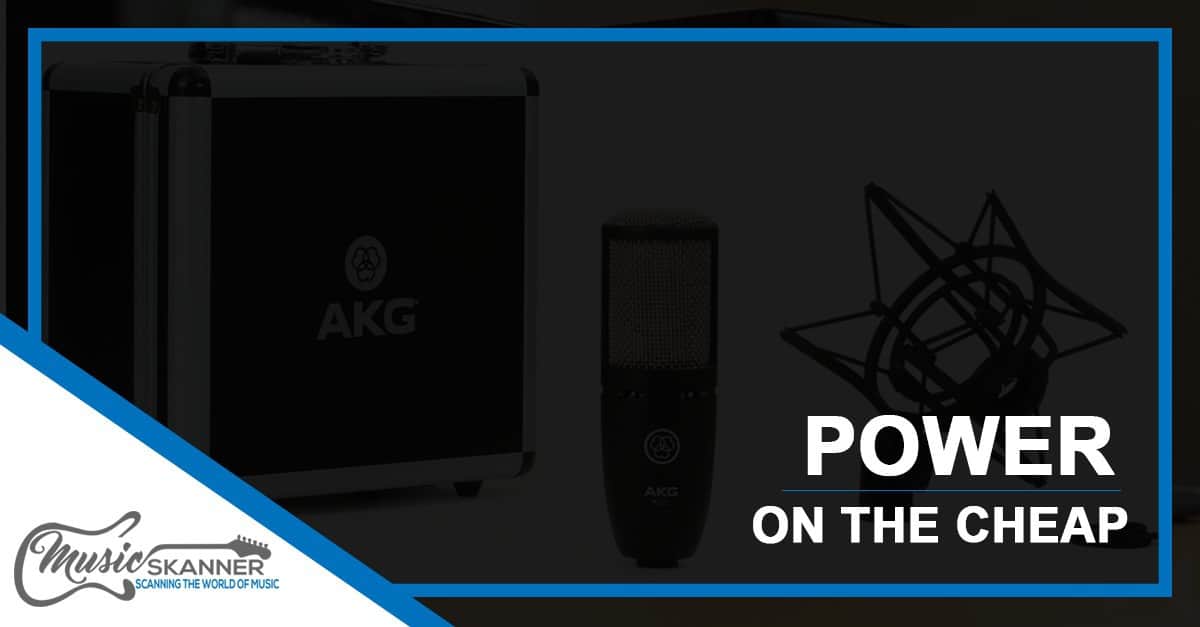 Recording on a budget – something many think is borderline impossible. Even so, most are actively looking for the answer to this problem.
Not only is recording on a budget possible, but there is a fairly decent variety of condenser mics that fit the requirements. To prove it, we've selected three best cheap condenser mics for you to check out.

Let's take a closer look and see what we got.
Maybe one of these models will fit your needs and more importantly, your budget.
EDITOR'S CHOICE
AKG P220 has been around for a while one, and has proven to be the best bang for the buck in its price range. It offers everything you would want from an affordable condenser microphone. It's trying to charm you with some novelty features that either don't work that well, or are included just to spice up the offer.
On the contrary, this is a no nonsense condenser microphone which comes with several features that not only work well, but they also give this microphone a whole new dimension. This is a piece of equipment that you can easily use in a studio, not to mention at home.

Features
AKG P220 is your standard cardioid-pattern condenser mic with a fairly large diaphragm. The case is made of metal, and the whole thing is on the heavy side which definitely inspires confidence. This microphone also arrives with a shockmount and a replacement band for the said mount. Once installed, the whole setup is solid.
One great option that comes with the AKG P220 is the -20dB pad which allows you to record guitar amps and similar without risking distortion. It also features a bass roll-off filter which does wonders when it comes to cutting out distant noises in the room. Frequency range is set between 20Hz and 20kHz, which is approximately the standard in this price range.
Sound
For its price, AKG P220 brings a very flat and warm sound. No part of the frequency range pops out, nor does it add color to your voice. It's defined, clear and sharp. You can easily use this microphone to record vocals for a variety of music genres, and you won't be disappointed.

When it comes to value for the money, AKG P220 is the go-to option
at the moment. You wanted the best cheap condenser mics? Here one of from the very top.
Audio-Technica stepped into the focus worldwide thanks to their affordable, yet incredible headphones. Their less know line of products that is also in line with this policy of quality at a reasonable price, are their condenser microphones.
AT2035 is very capable large diaphragm condenser microphone which offers great performance and flexibility. It is a good choice for podcasting and studio use, while it also does a fine job with voice recording.

Features
Audio-Technica AT2035 features a hard-strength plastic body and a fixed cardioid pattern. The diaphragm found in this microphone is the largest one Audio-Technica offers.
It comes with a shockmount also made of high-strength plastic, and uses simple friction to keep the mic in place. It's no professional mount, but it does a great job at reducing the amount of vibrations that reach the microphone.
Some of the notable features include the 80Hz high-pass filter and a 10dB pad switch. This microphone can run on phantom power within the 11-52V range. Speaking of its capabilities, it brings a decent 20Hz to 20kHz frequency range which is more than great for the price.
Sound
The sound you get with this microphone is rather flat and natural. For voice recording, it delivers a very good reproduction especially of the deeper male voices.
Overall the there is no real emphasis on any particular part of the frequency range. Recording amps with AT2035 may prove to be problematic although you can achieve decent results if you dedicate some time to find the right position.
When you start reaching the low price category of condenser microphones, somewhere along the way you'll encounter the MXL 990. It's a solid microphone with a short profile, and simple construction.
While MXR is belongs to Marshall, many have a certain amount of prejudice toward their microphones since they are mostly manufactured in China. Those people are definitely missing out on a well priced product that can get the job done.

Features
Build quality of the MXR990 is decent to say the least. The case is made of nicely finished metal alloy with a champagne color tone. It's clear that they went for a more vintage look when they designed this microphone.
Diaphragm found in the MXR990 is smaller than what you can find in the previous two mics we've mentioned, and it comes at roughly .7-inches in diameter. We'd love it to be at least a full inch, but it works fine.
Frequency range is spans from 30Hz to 20kH with a slight peak at around 8kHz or so, which you will rarely notice. There is no 10dB pad or any kind of roll-off switch on the MXL990 but considering the price, we can forgive those features. MXL990 comes with a solid shockmount which reduces a fair bit of vibrations.
Sound
For a such an affordable condenser mic, MXL990 delivers a neutral and well balanced sound. Depending on the kind of voice you have, it may suit you better than some more expensive microphones.
It's no secret that MXL990 was created with vocals in mind, and it doesn't really handle amps too well. However, acoustic instruments are completely fine, and come out sounding accurate on the other end.
Conclusion
As you can see, there is some leeway when it comes to finding best cheap condenser mics, making it absolutely possible to build an affordable setup.
From all three microphones we've mentioned today, we feel that AKG P220 is the way to go purely based on its versatility and that -20 pad.
Ultimately the choice is yours, but at least now you know that you don't have to spend a small fortune in order to find a decent condenser microphone.