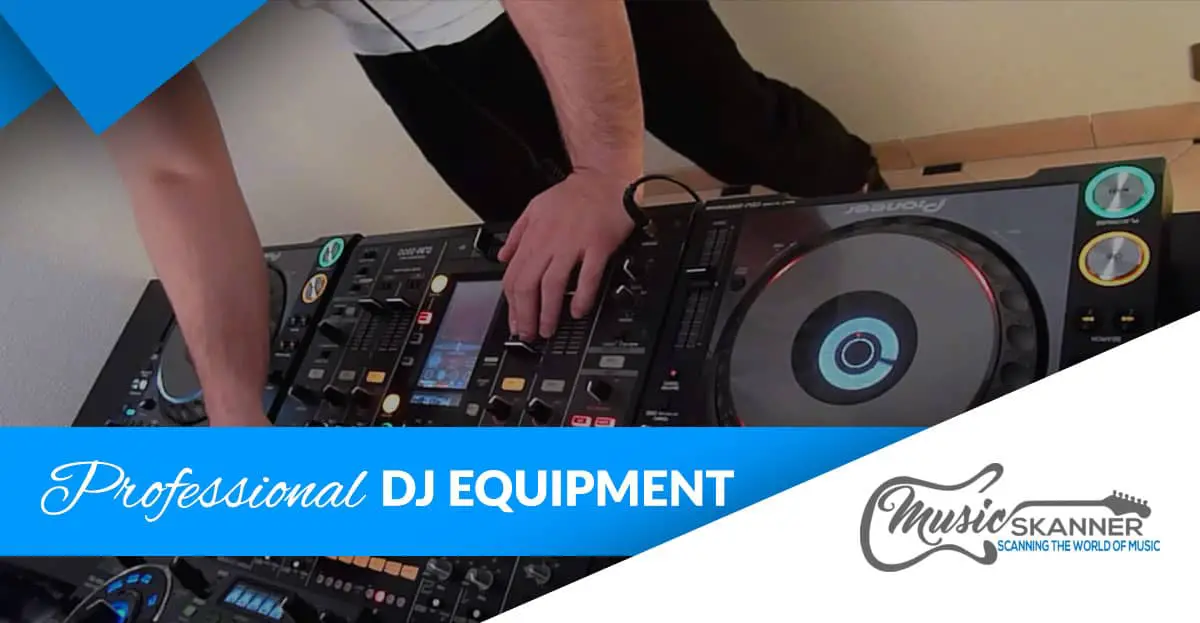 DJ equipment and devices have really gone from good to great in these past several years. There is a bunch of incredible controllers on the market right now, which make live performance a lot easier and more dynamic experience.
At the heart of every DJ rig is always going to be a good mixer. Without it, the whole setup is just not complete. The consensus is that four channels are the norm, even though there are some pretty good two channel mixers on the market.
If you are looking for the best 4 channel mixer you can buy, we have done some digging and came with a set of mixers that should help you make your choice.
We have included what we consider to be the best one at the moment, followed by another top tier mixer that is trying to dethrone our pick, and finally a great model for those who are on a tighter budget. Let's check out our picks.
Music Skanner List – Helping you make your choice
EDITOR'S CHOICE
When it comes to flagship models, Pioneer has really delivered a masterpiece of design and utility. Their Pioneer DJM-2000 Nexus is currently among the best mixers on the market.
This thing was designed and produced for professionals who need a capable workhorse mixer with a lot of controls and features. Chances are that every huge club you visit will have this exact unit sitting on the DJ desk.

  Features
What you see here is a fully packed four channel mixer that comes with all the connectivity options you need and some you don't. You can connect this Pioneer to two PC and a bunch of other equipment all at the same time.
The controls are numerous, and include a lot aside from your standard ones for each channel. You could go for hours messing with different things and not repeat a single action even once.
That's how extensive this mixer is. Build quality is incredible. Everything is well made from the smallest button to the metal housing.

  Performance
In terms of performance, this Pioneer is the best there is currently if we exclude 6 channel, and analog mixers. They gave the user so much more control compared to the previous flagship model.
Pioneer used a more practical approach when they created DJM 2000 Nexus, which makes using it a lot more intuitive especially for those who are just getting familiar with mixers of this type.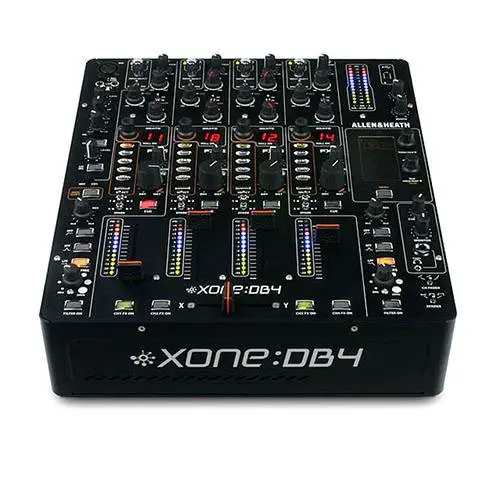 Allen & Heath is a company that dominates the DJ gear arena with a number of incredible products and devices. Their Xone series has been around for a while, and is the choice of so many professionals in the business.
Xone DB4 is going neck and neck with the DJM 2000 Nexus, and depending who you ask, some will tell you that Xone DB4 is actually the best DJ club mixer at the moment. In the end it all comes down to personal preference, although it is definitely up there.

  Features
There are several reasons why so many DJs out there just love Xone DB4. One of the more prevalent ones is the fact that Allen & Heath went with an unorthodox control panel layout. For example, this is one of the few mixers out there which has a beat counter for each channel.
The other reason we can think of is the quality of Xone's effects which are just out of this world compared to even the closest competition. This mixer is built like a beast. It has that vintage vibe from the times when they used heavy duty steel to house the electronics of similar equipment.

  Performance
It might need some getting used to, but Allen & Heath Xone DB4 is one of the easiest mixers to use. This is largely thanks to a different but simple layout, and lack of gimmicky features that no one ever uses.
Xone DB4 was designed for those who know what they need, and those who want a real 4 channel workhorse mixer. It performs accordingly. That's all we are going to say on that matter.
We showed you what the top tier equipment looks like at the moment. Now it's time to come down to earth and see what is offered in a more affordable range. Denon is a company that is known for their great balance of value and price.
Their DJ DN-X1600 is a great example of that company policy. It offers a decent set of features, quality, and you don't need to put a mortgage on your house to buy it.

  Features
Before we go on, it's worth mentioning that this mixer was designed with Traktor in mind. It comes with standard four channels, and pretty much gives you a very decent core experience.
It's somewhat limited in terms of what you can do. For example you can only assign one effect at a time. So you can't use four different effects on each channel simultaneously.

  Performance
Like we mentioned before, this mixer is somewhat limited but definitely delivers great core experience. All four channels and their respective controls work great, you just can't go as far in terms of effects and sound shaping as you can with more expensive rigs.
So if you are just starting out, and you're looking for a great mixer to get you on your way, this Denon won't let you down. These mixers are well built, and offer a great value for the money.
To conclude..
Okay, so these are what we and many others consider to be the best 4 channel mixer on the market. The struggle between Pioneer and Xone is a tough one, they are both great mixers.
It is our personal opinion that Pioneer has the edge over Xone, however a good portion of you probably won't agree.
If you're wondering what is that Denton doing on the list, the answer is that we wanted to include at least one model for those who are just getting into the game, and need a solid affordable option.