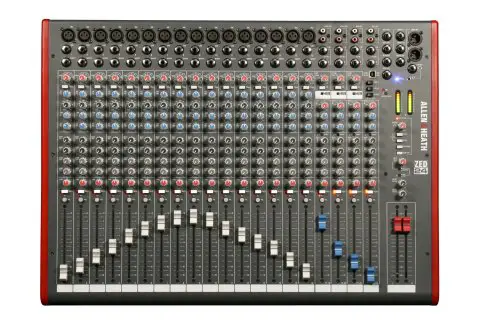 When it comes to music recording, mixers are probably among the most important pieces of equipment used during this process.
Everything goes through a mixer, no matter what type of instrument you are recording, or how how many instruments you use. Since it's a choke point of sorts, which handles the brunt of the signal, you will definitely want to have a quality mixer at your side.
Allen and Heath is a company which is known for quality mixers that often come at rather reasonable prices. Today we are going to do a brief review of Allen and Heath 24 channel mixer that goes by the name of ZED-24.

>> Look ZED-24 price on Amazon <<

As you are about to find out, ZED-24 bring a great balance of price and performance to users who need a versatile platform to work with.
Overview
Allen and Heath ZED-24 is a well built board. You don't usually get to find great build quality, especially with affordable mixers. However, that's not the case with the ZED-24. Here you are given a board that is as solid as they come. Since it's a 24 channel unit, you are looking at a beefy mixer.
Compared to other models with this many channel, some would go as far as to say that ZED-24 is a compact board.

Features
The main selling points of the ZED-24 are its 16 mono channels and 100MM professional faders. Since working the mixer is mostly about having good feedback, and the ability to be very precise, these faders already put the ZED-24 ahead of the competition.
With ZED-24, you can feed 23 separate sources to the mixer, and have 10 outputs. Out of these 23 channels, four are analog. That's something you don't see every day on a budget board like this. There are four aux sends and a fully configurable USB stereo audio in/out.
When we get to the EQ options, you find out why this unit is affordable. ZED-24 features a three band EQ with sweep mids. It's not a parametric EQ as you would find on more advanced models. Is this a bad thing? Well, it depends on how important this feature is to you. We are dealing with a mid range mixer here, so some compromises will need to be made.
The mixer is connected to the computer using a USB cable. The quality of signal received this way is great.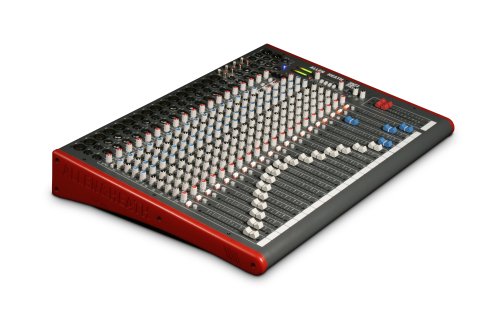 ZED-24 comes with DuoPre preamps, which utilize a two stage design. Amounts of gain you're working with are very balanced. You can go up to 69 dB on the XLR input. That's a lot of room to work with.

Performance
One thing about any Allen and Heath 24 channel mixer is that they are easy to work with. Everything is laid out naturally, and the controls are in places where you expect them to be. The faders on ZED-24 are great. The feed back is very organic, allowing you to be pretty accurate with your adjustments.
Only thing that is somewhat limiting about this mixer is the EQ. You can still get a lot of sound shaping done with this type of equalizer, but a parametric one would definitely be a better choice. At the end of the day, we can't really complain much considering the price of this model.

What we like
Great value for the money. that is the number one selling point of the ZED-24. It's an awesome budget mixer, probably one of the best on the market. The type of performance you get punches way above its price range, even with the sub par EQ.

What we don't like
Honestly, the only thing that we can criticize at this point is the EQ. We've already talked about what the issue is. On the grand scale of things, this is a minor setback.
Conclusion
This Allen and Heath 24 channel mixer is definitely one of the better ones you can get at the moment. ZED-24 is a great affordable board that delivers where it matters the most.
>> Look ZED-24 price on Amazon <<
Whether you would want to use this model in a more professional settings depends largely on your skills, and your ability to get the job done with basic controls. If you can, this will be a great model for you.