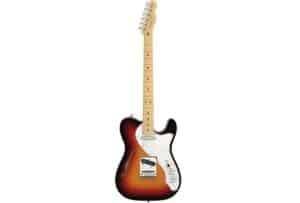 Fender Telecaster said to be the most significant guitar ever made. Partially because it was the first solid body electric guitar, and one which propagated this style of guitars in general.
Not only did this launch Fender into popularity, it also allowed them to work on other models, most of which achieved a similar status as the Telecaster. With that said, this guitar hasn't changed a lot over the years.
Fender introduced a lot of different versions of Telecaster, each of them being unique in one way or another.
On the scale from cheapest to most expensive Telecasters available, Fender American Deluxe Telecaster Thinline ranks right around the top. Deluxe line of Teles is definitely the most prestigious, but this particular model is special in a completely different way. Fender American Deluxe Telecaster Thinline is actually a semi hollow version of this legendary guitar. That is something you won't see every day, that is for sure.
Today we're going to take a closer look and see just how impressive this guitar is.
An Overview
Generally speaking, Fender has two major divisions within the company, if we exclude foreign production in Mexico and Japan. There is the Fender shop in Corona, and Fender Custom shop at the same location. Former makes high quality production models while the custom shop is tasked with producing limited edition guitars which require a lot more one on one time.
[su_youtube url="https://www.youtube.com/watch?v=H1hfzxG4t_s"]
This Telecaster is the highest tier of guitar that regular division of Fender is tasked with manufacturing.

  Features
The body is the standard Telecaster style with the exception of it being a semi hollow. There is a pretty obvious f-hole above the pick guard which gives you an easy way to recognize this guitar. Tonewood of choice is standard Alder Fender has used on all of their guitars in recent history. In terms of finishes, you have two options. Either a three tone sunburst, or a candy apple red.
Neck is made of Maple and comes with a Rosewood fretboard on the sunburst version, or a lacquered Maple fretboard on the candy apple red one.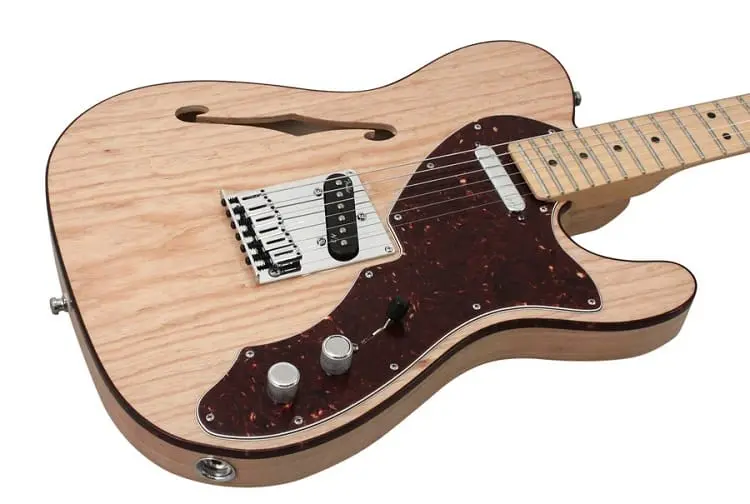 Pickups of choice for this model are a pair of Vintage Noiseless Single Coil Telecaster pickups. These are controlled by a single master volume and one master tone knobs. Of course there is a pickup select switch with four positions, just like we are used to seeing on a Telecaster.
Hardware is relatively standard. The bridge is a hardtail string through body unit with block saddles. On the other side of the guitar, we got Deluxe cast locking tuners. Nothing too out of the ordinary.

  Performance
This being one of the rare semi hollow guitars Fender ever made, the sound is something that piques the interest of many. Telecaster purists won't hide their disdain for this particular guitar, but the change is actually quite interesting.
Being a semi hollow takes off some of that edge Telecasters are known for, but it compensates with a more mellow sound that just comes to light when you go for crisp cleans on a tube amp, or even slight overdrive type of tone.
It's just perfect for blues, and we would even go so far and say that it's a great guitar for modern jazz. Of course, that largely depends on the person playing it, but all of the predispositions are there. What you won't get from this guitar is the ability to handle high gain distortion.
However, using it in such an environment would be somewhat of a sacrilegious thing to do. With this Tele, it's all about finesse and rolled back volume. It's a perfect guitar for getting those subtle details to the foreground. It's hard to describe the way this thing sounds. You just have to take it for a ride and see for yourself.


In terms of playability, everything is standard high end Fender. Some people like the lacquered Maple fretboard (author of this text included), while others prefer the Rosewood one. Either way the neck is a pretty standard C shape, which makes it smooth and equally comfortable to play.

  What we like
What we like the most about this Telecaster is its deviant nature. Making a semi hollow guitar out of this legendary model was somewhat of a gamble, but it paid off.
Fender American Deluxe Telecaster Thinline brings a very distinct tone that is niche, but definitely has its place. If you want to have a high end Telecaster but the standard one is not cutting it, this model is definitely worth looking into. It might just be what you are looking for.

  What we don't like
There is really nothing we can find wrong about this guitar. High end Fenders are among the most ironed out guitars on the market. And they should be, considering the price you are asked to pay for one. In general, this is the type of instrument where you don't have to worry about component failure or quality control.
Conclusion
The story of Fender American Deluxe Telecaster Thinline is a funny one. Fender created the original Telecaster with a goal to achieve a much harder tone than semi hollow guitars of that era could deliver.
All these years after that deciding moment, Fender is producing semi hollow Telecasters. Funny how that turned out. With that said, this guitar is something completely different compared to the rest of Telecasters in Fender's offer. Actually, it's on a different level when you compare it everything Fender produces at the moment.
The type of guitar player who will benefit the most out of this guitar is a seasoned individual with an abundance of experience and an already developed taste. If you are looking to buy your first high end guitar, you might want to go for something that is oriented more towards general purpose application.
However, if you are someone who already knows what genre of music will be your main gig, then by all means enjoy this spectacular guitar.