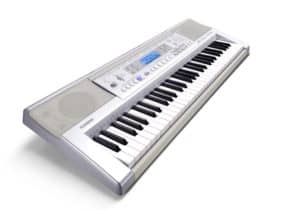 Casio's affordable keyboard line has become almost as popular as their high end stuff. The way this company treats the instruments from this category has struck a note with users all over the world.
It's a misplaced opinion which many people share that lower end Casio stuff is meant exclusively for beginners. While that is true for the most part, the fact is that keyboards such as the Casio CTK 810 we are reviewing today, is the perfect alternative for musicians on a super tight budget.

At the end of the day, it all comes down to what type of performance you want, what kind of application you have in mind for the keyboard in question, and most importantly, what kind of money are you willing to spend to meet all of these requirements?
Models like Casio CTK 810 work great for those who want versatility, but are not in a position to spend a lot of money on a keyboard at the moment. Let's take a closer look at this model.
Perfect alternative on tight budget
One easy way to spot Casio's entry level keyboards is their specific silver color. This has been a recurring theme for the past decade or so. Another dead giveaway are two large speakers push to the sides of the keyboard.
In the look department, Casio CTK 810 won't win any beauty awards. However, that was never its purpose. If you want a great looking keyboard, you will need to set aside more money than what is necessary to purchase the Casio CTK 810.

  Features
What Casio has been doing for a while now, is integrating numerous learning tools into their keyboards. Casio CTK 810 isn't necessary a learning tool by itself, but it's definitely one of the better keyboards on the market if you're looking for features which will help you develop your skills.
There is a piece of software which Casio calls the 3-step learning system. Essentially, it's a crash course in finger positioning, holding the tempo, and finally getting up to speed. All things considered, it has proven to be very successful.

The great thing about Casio CTK 810 is the fact that you get 500 different sounds in a rather complex preset library, in addition to 120 rhythms and 50 different backing songs.
In terms of what this keyboard is capable of, you are looking at 61 full sized touch sensitive keys and a comfortable 32-note polyphony. That is more than enough for a keyboard of this type. Casio CTK 810 also comes with several digital effects, foot pedal support, and real time recording.

  Performance
The best way to describe the performance of this keyboard is balance across the range. The sound engine is decent, neither great nor bad. It works decently enough even for casual live performing, although if you're a serious musician you might want to look at something better performance wise.
[su_youtube url="https://www.youtube.com/watch?v=962xY4mDm8A"][/su_youtube]
Key sensitivity is decent, and is pretty much the standard Casio stuff. The feedback from the keys is organic for a non weighted keyboard, however don't expect loads of expression ability and velocity experimentation.
One of the absolute coolest features which really set this Casio apart are their learning tools. The price of Casio CTK 810 and these features make it one of the best budget keyboards to keep at home for practice. A lot of companies out there claim to have the best learning method, but Casio's actually works.

  What we like
Casio CTK 810's value for the money ratio is great to say the least. You get a well rounded keyboard with all the core features at a very decent price. It's a great model for home use and practice.

  What we don't like
Although we understand that Casio was trying to increase the appeal of the Casio CTK 810 by adding the extensive preset library, maybe it would've been better to improve the sound engine a little instead.
Everything considered
There are all kinds of budget keyboards on the market at the moment. Some will deliver great performance while others will leave you feeling tricked.
Casio belongs to the former group. It's a well rounded model with a number of great features which make it a perfect learning tool for beginners.