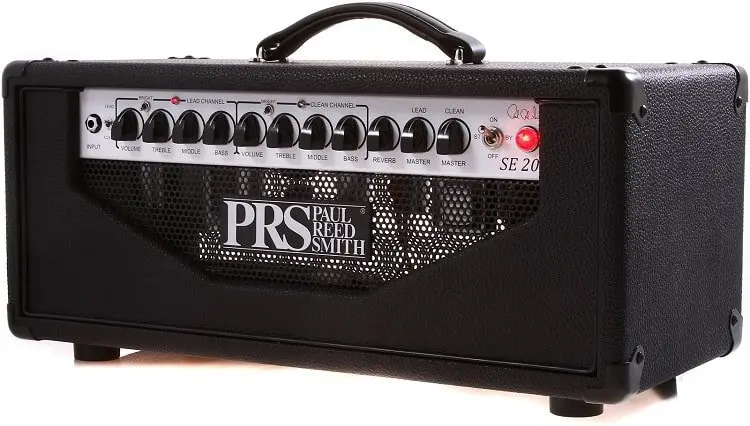 Paul Reed Smith is definitely not the first name that comes to mind when you think about guitar amps.
However, this popular brand definitely has several amp models to offer.
Since compact tube amps became a thing not so long ago, every self respecting amp manufacturer jumped on the hype train and began producing various models of such amplifiers. PRS is no different. They took a shot at the newly popular design, and came up with a line of amps which include the PRS SE 20.
This particular model is a head that can deliver a bit of a rough sound. Majority of brands are trying to either recreate the vintage tube sound with these small amps, or a plexi type sound. Not PRS, they took a completely different path, which partially backfired.
Today we are going to take a closer look at this amp and see whether or not it's something that could benefit you.
Overview
Paul Reed Smith guitars are widely popular. Every experienced guitar player who has been around the block a few times, knows the sound they are capable of providing.
You would think that PRS would try to build an amp that perfectly embodies that unique sound, and maybe even builds on it. Surprisingly, that is not the case. PRS SE 20 packs a completely different kind of ride.

  Features
In terms of design, PRS SE 20 is a very minimalist tube head which sports a simple yet beautiful design. The all black case with a gray control panel gives it that classic vibe. Build quality is great.
Everything is well made and inspires confidence. You don't have to worry about easily damaging this little box. Like its name says, PRS SE 20 is a 20 Watt unit. On the inside you will see two 6V6 power tubes, 12AX7 and 12AT7 preamp tubes. This is definitely not your standard configuration, but it works rather well.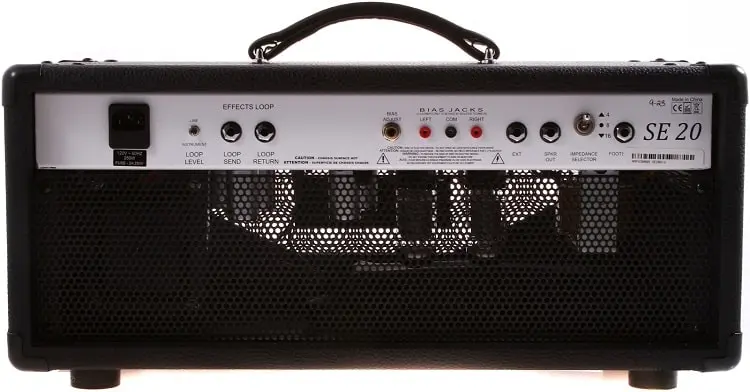 There are two channels, clean and lead, with separate EQ controls. This makes the control panel look rather busy. Speaking of which, the knob variety begins with the lead channel. In this section you will find a volume knob along with treble, middle and bass knobs. Same goes for the clean channel.
The last cluster consists of a reverb knob, lead master volume and clean master volume. On the back side is where you find your 4, 8, 16 Ohm options and two outputs for cabinets.

  Performance
The sound you can expect to get from this amp is odd to say the least. From the moment you turn PRS SE 20 on, you will know immediately that you are dealing with a rock amp at the least. The clean channel is very hard to wrangle. No matter how much you try to dial in a decent tone, you will hear a bit of fuzzy distortion.
This is especially true if your guitar has humbuckers. It just can't handle the cleans tone. Things are a bit better with a single coil setup like a Strat. Lower output does wonders, and when you roll down on the volume knob on your guitar, you can get some relatively decent clean tones.
Lead channel is pure distortion heaven. The tubes get into a really sweet spot and you are just overwhelmed with a quality overdrive tone. In a way, the lead channel goes in line with the nature of most PRS guitars. A lot of headroom and the ability to dial in just about anything you want.

  What we like
Great lead channel, decent selection of tubes and a reasonable price make this amp a great choice for fans of hard sound.

  What we don't like
The clean channel is just refusing to cooperate, no matter what you do with it. That is unfortunate since those tubes absolutely sing in any other amp.
In sum
PRS SE 20 is definitely not your usual modern tube amp. It comes with a fairly unique tone that is hard to classify. This amp is definitely rough around the edges, but it can be a great tool for those who need a great distortion.
If you need something that is capable of delivering great subtle cleans, this is not the amp for you.