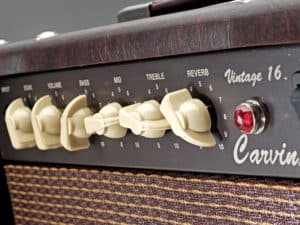 In the last several years we've seen an influx of small and compact tube amps hit the market. For the most part, people have noticed the models released by the big name brands. That is completely natural, especially considering that most of those amps are geared toward your average user.
However, smaller amp manufacturers also came out with their take on this type of amp. More often than not, these amps have specific tonal qualities. In other words, they are designed for the niche group of guitarists.
One such amp that we really think deserves more attention is the Carvin Vintage 16. This compact tube amp brings is the flash from the past. Carvin has managed to pack in a great vintage sound into a rather low power amp. On a grand scale of things, Carvin Vintage 16 is a boutique amp.
>> Check Out Current Price & Customer Reviews On Amazon <<
Let's take a closer look and see what makes it one of the best models in its class at the moment.
An Overview
The first thing you will notice when you take a closer look at the Carvin Vintage 16 is the stylish design of the amp. Carvin was obviously aiming for that vintage look, and they've hit the nail on the head. The thick tweed vinyl really gives it a nice touch, and makes it look like something that was pulled out of a 1960s recording studio.

The amp itself is not large, and is actually rather compact.
However, this form factor is to be expected in this category of amps.

Features
Like we have mentioned before, this is an all tube amp. Once you look inside, you will find two 12AX7 preamp tubes and two EL84 power tubes. The amp is rated at 16 Watts RMS, but since it has a pentode/triode system, you can reduce the power down to 5 Watts. Naturally, this is great when you want to make those tubes growl in the comfort of your home. The speaker responsible for delivering the sound is a 12-inch, 16 ohm GT12 unit.
On the front panel you will find your controls. Aside from the volume knob, you also have soak, bass, mid, treble and reverb to work with. We need to pause here and mention the quality of these knobs. We're talking about quality ivory knobs placed on sturdy metal shafts. There's no creep, and the controls inspire a lot of confidence when you need to use them.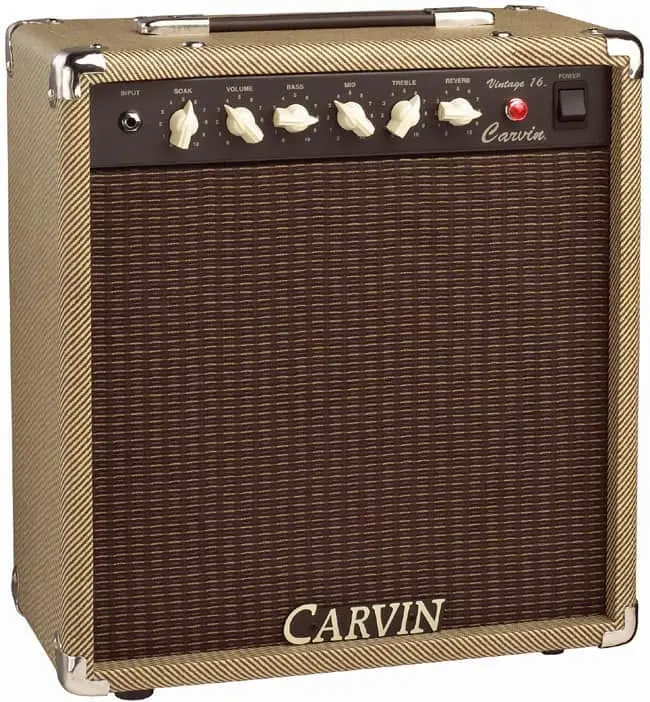 What's really interesting about this amp is that you can choose the materials for the exterior. Carvin offers a whole range of different vinyl colors and textures. This is not often seen in the business, and it really allows you to customize the amp, making it unique.

Performance
What makes this amp so great, and why it's so popular among the aficionados of tube sound, is its ability to deliver the kind of vintage tone you'd have to pay a lot of money for. Its main specialty is vintage Brit sound. Imagine Brian Adams, or The Shadows. That's the kind of sound this amp is perfectly capable of producing.
Cleans are just exploding with crisp tones across the whole range. There is clarity, definition, but also that slight nervousness when you strike a chord. A nice older Strat turns into a time machine when plugged into Carvin Vintage 16. The soak knob is actually your gain knob. As you start driving up the scale, the amp starts to growl.
You won't get anything near what is today considered a distortion, but what you will get is a warm overdrive. The kind of overdrive inspired by AC30 and similar legendary amps.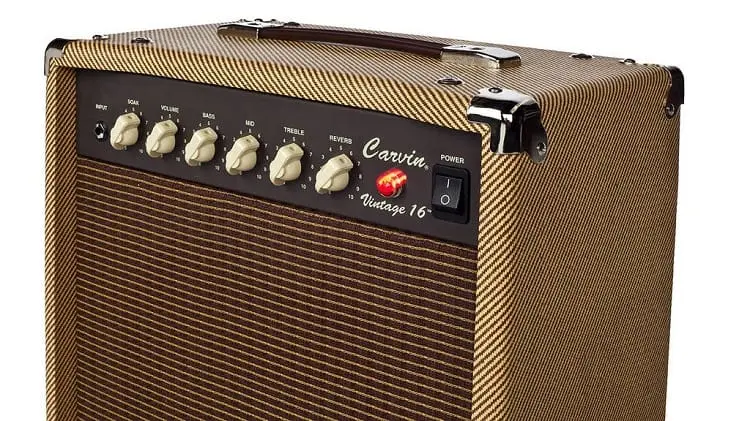 Reverb follows the nature of this amp perfectly. It's as close as you can get to a vintage spring reverb. Once you turn it on, you will be welcomed by its rich sound and very organic resonance.
You're probably wondering just how far these 16 Watts will get you. The answer is, quite far. Carvin Vintage 16 is loud, much louder than you would expect. Even when you attenuate it to 5 Watts, you will get plenty of volume to work with in home conditions.
Would you use this amp for a gig in a mid sized venue? Probably not, but put a mic in there and you are ready to go.
Now consider this. The type of tone this amp provides, and all of the other qualities it offers are usually reserved for high end models. In this case, you are getting the same benefits at a fraction of the cost. It's by no means an affordable amp, however it's dirt cheap when you put it in the right context.

What we like
There are many amps out there which are dubbed 'boutique' and claim to give you the vintage tube sound. However, not many of them actually do. Carvin Vintage 16 is one of the rare amps which have successfully captured the spirit of old tubes in a way that is accessible to most.
The type of sound you get from this little thing is impressive to say the least, especially considering the price. Not only that, but you actually get to choose the aesthetic properties of the amp. Carvin Vintage 16 is just awesome, no matter how you look at it.

What we don't like
Only possible fault we could find is the 16 Watts of power this amp is rated at. If Carvin had increased that number even slightly, we would have an amp ready for gigs. This way, the quality is there but the volume is lacking for any serious use.
>> Check Out Current Price & Customer Reviews On Amazon <<
Conclusion
Carvin Vintage 16 is one of those somewhat overlooked gems at the moment. The type of performance you get for the money is impressive to say the least. If you are in the market for a vintage tube amp that captures the sound of the '60s, Carvin Vintage 16 is by far the way to go.
It's even beats some of the models which cost twice as much, if not more.