Paul Reed Smith is one of those guitar manufacturers who has chosen a niche market and decided to stick to it.
They are not known for their affordable models, but for guitars which bring quality materials, good craftsmanship, and most importantly, mighty sound.
One of their flagship models is the Custom 24. Ever since it was first released decades ago, PRS Custom 24 has been the bread and butter of this company. It was by no means an easy guitar to manufacture, but a lot of people fell in love with it, including some of the greatest artists we know today.
The latest iteration of the Custom 24 comes in form of PRS S2 Custom 24. The reason behind this new model, and the fact that it has a slightly different name, is related to PRS and their change of policy. One thing that kept the original Custom 24 down was its price.
 >> PRS S2 Custom 24 – Check it on Amazon <<
The guitar was pure quality in any aspect that mattered, but it was up there in terms of cost. So PRS decided to alter some things and bring out a more affordable version.
An Overview
When a manufacturer does what we've just talked about above, the first thing that comes to mind is reduction of quality. We've been burned so many times by companies trying to make a quick buck. This is not the case, at least not when it comes to PRS S2 Custom 24.
Paul Reed Smith recognized that certain elements of the guitar were taking up too much time and money, without really adding to the tonal quality of the instrument. So they decided to get rid of those, and keep the core of Custom 24 intact. This way we got the same quality performance at a more affordable price. Win – win situation.

  Features
The body of the PRS S2 Custom 24 is made of Mahogany. It's the same body style as the previous Custom 24, only now it comes with beveled edges. The finish is classy as always, and really retains the aesthetics of the original Custom 24. Neck on the S2 is a Mahogany design with a Rosewood fretboard. It's a 25-inch scale unit, and it sports the popular Bird inlays.
In terms of hardware, you are looking at a tremolo bridge with a set of quality saddles. This is a breath of fresh air considering that most of the S2 line comes with tune-o-matic bridges. On the opposite end of the strings you will find a set of PRS locking tuners, which are definitely high quality stuff.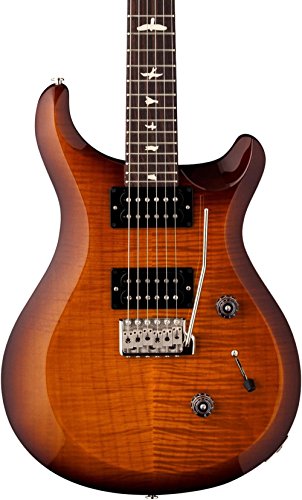 The pickups this guitar comes from is a set of PRS S2 humbuckers. Namely, we're talking PRS S2 HFS treble pickup and PRS S2 Vintage Bass. Now, these are not made by PRS, but are actually manufactured off-site by another company.
PRS claims they are made up to their spec, and seeing how consistent these are, we can definitely believe that. Pickups are controlled by a single volume knob, and a push/pull tone knob. Additionally, there's a three-way pickup select switch.

  Performance
For an instrument that was built to be affordable, PRS S2 Custom 24 sounds like a million bucks. Honestly, the output you get from these pickups is very close to that of original PRS HFS humbuckers.
Cleans are smooth and clear, giving you the crisp sound only a well built guitar can. There is definition across the range, however if we'd have to nitpick, we would say that original HFS have more midrange substance. Turn on some overdrive and you're in business.
The bridge pickup handles most of the high gain distortions well, but it really shines when you work with more conservative overdrives. When you roll down the volume, the tone clears up nice. It's not muddy, but rather gritty as it should be. If you're on a tight budget but you want that PRS sound, this is the way to get it.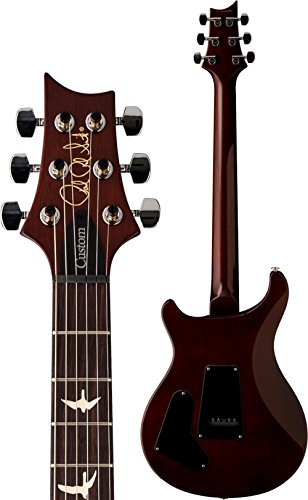 In terms of playability, PRS S2 Custom 24 is every bit as refined as the flagship model it was inspired by. The craftsmanship on this thing is impressive. PRS built a whole new factory just so they could build these guitars, and that was a big investment even for them.
Since they are built in USA, you know that any corner cutting would be disastrous for the company. What this means for us is that these guitars are the reflection of PRS and everything they stand for, no matter how affordable they are.

  What we like
PRS is by far one of the rare companies out there who have managed to design and build a good affordable guitar. They didn't outsource this work overseas, they didn't cut corners on important elements. No, they have designed a guitar that is every bit PRS as the original Custom 24. The tone 90% there, the looks, everything.

  What we don't like
In all honesty, there is nothing we can say is bad about the PRS S2 Custom 24. Any 'flaw' we might mention would be pure nitpicking. It's an inferior guitar if you compare it to PRS flagship models, but not by much.
However, when you compare it to guitars within its price range, you will find it near the very top of any list.
Conclusion
What PRS did with the S2 is what we wish all big brand names would do. PRS S2 Custom 24 is a well built guitar that preserved the core of the Custom 24 family, and brought it over to the affordable segment of the market.
>> PRS S2 Custom 24 – Check it on Amazon <<
Seeing how good it sounds really makes it a perfect choice for those looking to get a quality instrument on a tight budget.
Whatever you might think about PRS guitars, the S2 is and the story of how it came to existence are both worth the praise. If you were on the fence about this guitar, don't be. It's one of the best value for the money models on the market at the moment.