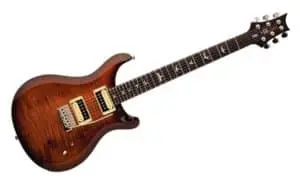 Owning a Paul Reed Smith guitar is often characterized as a completely different experience compared to owning any other big brand guitar.
Every legendary model has its signature sound, feel and overall appearance. Same goes for PRS Custom 24 line family.
These guitars are anything but affordable, at least from a budget user's point of view. Thankfully, PRS has its entry level line of models.
What is interesting about these instruments, is their quality. Usually when a guitar manufacturer builds an affordable guitar, it's going to look like their flagship model, but it's going to be a far cry in terms of sound and performance.
>> Check Out Current Price & Customer Reviews On Amazon<<
That is not what PRS had in mind. They have decided to design a guitar and squeeze the best performance possible out of it. The result? PRS SE Custom 24 Tobacco Sunburst. Costing less than half of the flagship Custom 24, this specific guitar is no toy.
The amount of detail and the performance you get makes it one of the best choices on the market within this price range.
Today we are going to take a closer look at it, and see what it has to offer.
What it has to offer
PRS Custom 24 has been around in one form or another, for decades. Those who wanted something different from Fender 's and Gibson's tone, flocked to PRS for answers. Needless to say, they got it. Ever since Custom 24 hit the market, people recognized its quality.
[su_youtube url="https://www.youtube.com/watch?v=FthdnJSDOsc"][su_youtube][/su_youtube]
These days a lot of professional guitar players and popular musicians use this guitar. With all that said, the fact that PRS SE Custom 24 Tobacco Sunburst brings a good portion of that experience at an affordable price is mind blowing.

  Features
The body of PRS SE Custom 24 sports that standard PRS shape. Choice of tonewood they went with was a combination of mahogany back and maple top. Finish on this particular one comes in form of beautiful tobacco sunbrust, which gives the guitar that vintage appearance many of us love.
The neck is a set piece made of maple, and it comes with a nice rosewood fretboard. Just like it's more popular cousin, PRS SE Custom 24 comes with those legendary bird inlays.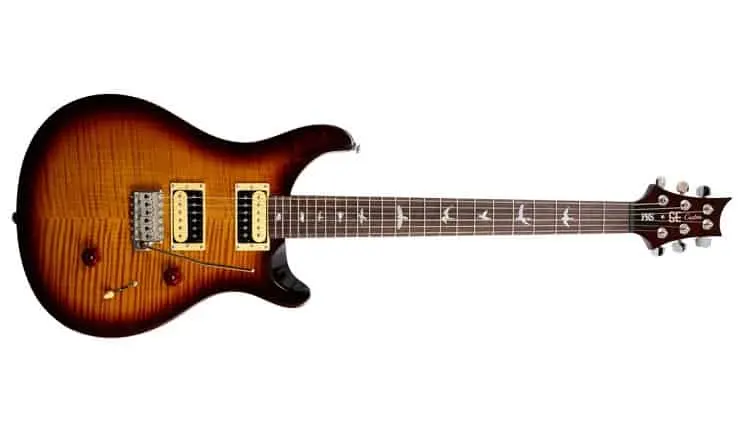 Hardware is great for the guitar in this price range.
We are talking PRS designed tremolo bridge and a tuners, which perform rather well for an in-house product. All of the hardware comes with a nickel finish, and blends into the general theme of the guitar rather well.
Electronics are interesting to say the least. We have two humbuckers, both PRS designed and produced, controlled by a volume and tone knobs. There is also a three way pickup selector switch. What's great about these humbuckers is that you can push them into single coil mode thanks to the push pull knobs.

  Performance
The tone, the feel and just overall experience PRS SE Custom 24 Tobacco Sunburst has to offer is very authentic. Those PRS humbuckers have tons of range, especially when you split them.
They handle distortion well, but also produce very defined and crisp cleans. None of that would be impressive if this wasn't a 'budget' guitar made overseas. The level of performance you get exceeds the price by a lot. PRS really went above and beyond when they made this thing.

  What we like
Incredible sound, great performance and overall impressive build quality are just some of the things that put this PRS ahead of the competition. Guitar we are talking about here can easily be used in professional settings without you suffering any lack of performance.

  What we don't like
There is really nothing to complain about when it comes to PRS SE Custom 24 Tobacco Sunburst. It exceeded all expectations.
All in all
PRS SE Custom 24 Tobacco Sunburst is a perfect example of why PRS is considered among the top five guitar brands in the world.
>> Check Out Current Price & Customer Reviews On Amazon<<
Their attention to detail, ability to deliver impressive performance, and connection to their users makes them a respected name in the community.
If you need a well built guitar that can handle any kind of tone, you should definitely give this PRS some of your attention.