If you have never heard about acoustic simulator pedals, you are missing out on a pretty great guitar effect that can give your tone a new layer of versatility. Trying to emulate acoustic guitars on your electric may sound counter intuitive, but it's definitely something people generally do.
What we have for you today is our pick for the best acoustic simulator pedal. There aren't too many good ones on the market, so our choices were kind of limited. However, we feel that the models we are going to present you with are currently the best on the market.
Top Sound Level
EDITOR'S CHOICE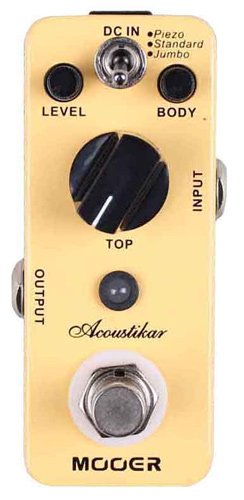 Mooer is one of the few companies who have been producing pedals of this type for a while now. Mooer MAC1 Acoustikar is considered by many to be the best choice at this moment. We tend to agree.
Unlike its main competition which we will talk about later, this pedal offers a much more refined experience in every way.

  Features
The pedal comes in a very simple and compact case. The housing is made of durable metals, which can take any kind of abuse you are capable of delivering.
There are three knobs and two switches available.
The Top, Body and Level knob allow you to shape the tone a little, while the upper switch lets you choose between three different modes of emulation. In this case those are Piezo, Standard and Jumbo.

  Performance
Mooer MAC1 Acoustikar brings a somewhat authentic acoustic guitar emulation. On the other hand, most guitar players use these pedals to clean up the clean channel, and give it more girth.
What's most important, Mooer MAC1 Acoustikar doesn't induce a lot of noise, which is a byproduct many of the acoustic simulator pedals have issues with. Overall, it's the best bang for the buck, and definitely the cleanest sound on the market.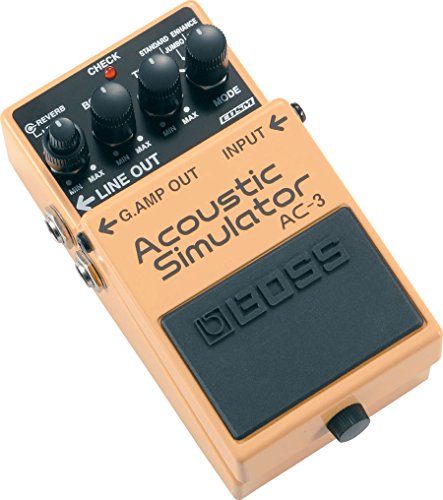 At this point Boss probably offers any type of guitar effects pedal that exists. Their AC-3 acoustic simulator pedal is right below the Mooer model we just reviewed. What people appreciate the most about this particular pedal is the fact that it's a Boss product.
That inspires confidence in those who are not sure who to turn to yet.
This pedal has some issues that are actually quite surprising considering the company who made the pedal, however the core performance is still there.

  Features
Boss AC-3 comes in a standard Boss enclosure that we are all used to by now. The number of controls on this pedal is extensive compared to other models in this class. You have a Reverb, Body, Top and Mode knobs to work with.
There are four modes available, and those include Standard, Jumbo, Enhance and Piezo.
The pedal can be battery powered or adapter powered, like most of Boss products we are familiar with.

  Performance
The type of acoustic guitar emulation you get from Boss AC-3 is somewhat crude compared to the Mooer, but it comes in a very versatile form. The included Reverb is a very nice touch, although using it just as a Reverb pedal might be impractical. The biggest issue with this pedal isn't how authentic its sound is, but rather the abnormal amount of noise it produces.
However, this is not that noticeable if you setup everything right. With that said, we still think it comes in the second place compared to the Acoustikar from Mooer.
Conclusion
Finding the best acoustic simulator pedal wasn't that hard at all. There are very few pedals of this type on the market, which might explain the lack of performance in some models. This Mooer and Boss are definitely your best choices at the moment. The type of performance they offer isn't perfect, but it is as good as acoustic emulation goes these days.
If you decide to use these pedals for their alternative application, which in this case is cleaning up the clean channel a bit, you will have a much better experience overall.
Hopefully this short guide has helped you make the right decision and choose the acoustic simulator pedal which will fit your specific needs the best.