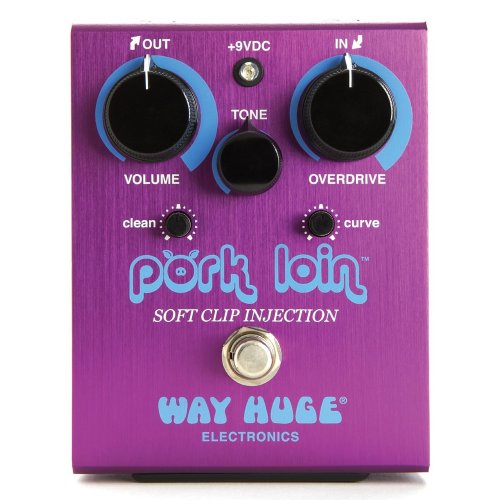 Guitar effects pedals can be divided into two superficial categories. You have big brand pedals such as Boss, Electro-Harmonix and similar, and then you have your boutique pedals. The latter are made by small shops that only build a certain number of pedals, depending on the size of the shop.
Sometimes you will see a very limited run that will leave a lot of people empty handed, while other times you can find boutique pedals being sold on Amazon. Either way, boutique effects pedals usually reflect the style of the person who designed them.
This is pretty great because you are technically owning a piece of someone's out of the box creativity. Boutique pedals are considered to be higher quality gear in most cases, and are known for delivering a much more refined sound with a distinct character.
>> Pork Loin Overdrive Pedal<<
Pork Loin pedal by Way Huge is one example of a pretty refined overdrive stompbox that has a lot to offer to its users. Now that we have mentioned its name, it's worth noticing that boutique pedals usually have the best names in the business. The one we are talking about today is exhibit number one.
An Overview
Although they are usually a bit more expensive than your run of the mill effects pedal, boutique models are often times more complex and offer a niche type of performance. You can see a whole lot of different flavors and approaches to already solved problems in the boutique segment of the market.
Pork Loin Pedal is a very interesting one. It comes with some features that you rarely see in serial production models.
The level of innovation that Way Huge incorporated is worthy of praise, especially since this pedal is made to emulate a very peculiar technique blues guitarists like to use.

Features
Pork Loin comes in a wide and somewhat bulky enclosure that is painter bright purple. There is literally nothing inconspicuous or low key about this thing, which is partially what makes it so awesome. Its principle of operation is by far the most interesting part. Pork Loin produces a very refined overdrive that has a lot substance, but isn't filled to the brim with gain.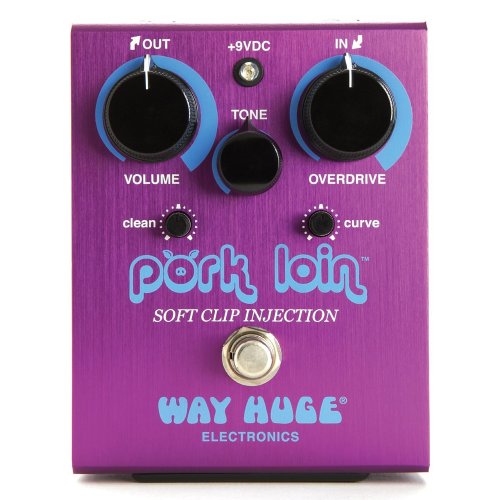 Way Huge engineers achieved this by pushing a signal through a preamp, and then layering the result of that over an overdrive signal. The whole reason for this was to emulate the practice some blues guitar players like to use, and that is to play on an overdrive amp and clean amp at the same time.
Controls come in form of five knobs and a stomp switch. The knobs control the volume, overdrive and tone along with clean and curve.

Performance
The type of overdrive you get with this thing is the subtle kind that many blues players crave for. It's that fine sound which rolls great with your volume knob. When you go to silence it a little, the sound clears up perfectly with just a little hint of a growl in the decaying signal. If you go full out, you get that vintage type of saturated overdrive that is easily controllable, but has a lot of presence.
In all fairness, this pedal works best with single coils. Especially if they are a quality set like on a more refined Stratocaster. Combined with a guitar like that, you get a very defined tone with a lot of girth to it.
Controls available definitely allow you to dial in a variety of colors. All you have to do is be a bit creative and you can achieve all kinds of blues or rock'n'roll sounds.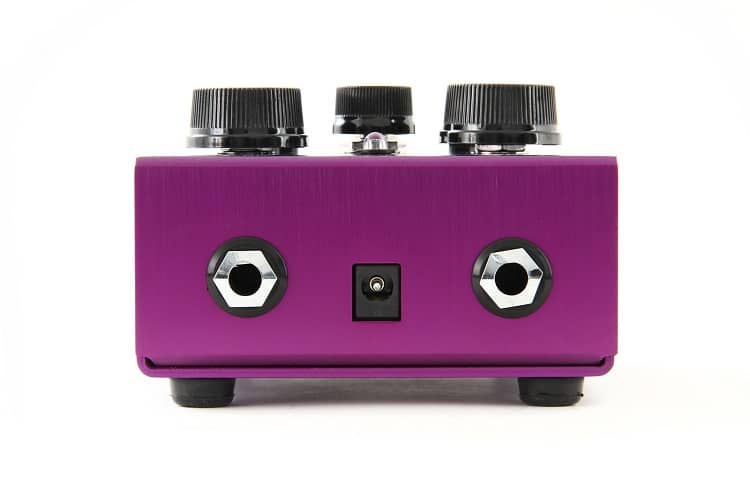 When combined with a humbucker pickup, things are a bit different. You still get the core quality of the tone, but it is a bit rough around the edges. Put the overdrive to about 60% and you can add some beef to the tone without it becoming too muddy.
There is one thing you need to know about Pork Loin Pedal. It will take some time and effort to find a setting that works best for you. This is because the pedal has a lot of range with pretty different opposite ends.

What we like
Built like a tank, and delivering that vintage clip projection is exactly what makes Pork Loin Pedal a great addition to anyone's collection. It gives you the type of blues sound you could only get with a vintage tube amp. Since not everyone can afford that, using this pedal is a great solution for many.

What we don't like
There is not much to criticize about this pedal. It delivers exactly the type of tone Way Huge intended it to, and it does a great job at it. Pork Loin Pedal might be a bit tricky to use at times, especially with something like a Les Paul, however with some effort you can definitely dial a great tone.
Conclusion
Finding a decent overdrive pedal aside from the established models has become pretty hard. The ones we know work great have become monotone. Having a chance to experience something different is exactly what the community needs.
Pork Loin Pedal offers a pretty unique take on overdrive, and can be used to achieve some impressive results. It's not the easiest pedal to work with, but everything worth doing requires some work. One thing to know about this particular pedal is its awkward size. It's not your standard Boss box which fits on every pedal that exists and those that don't yet exist.
>> Pork Loin Overdrive Pedal<<
If you are planning on mounting the Pork Loin Pedal on a pedalboard, leave some extra room just in case. The price you are asked to pay for this thing is not cheap at all. Whether or not it could have been cheaper is up for discussion, but at the end of the day, it's very much worth the investment you are asked to make.
Overall, this is one of the more unusual overdrive pedals you can get, and that fact alone makes it that much more interesting.