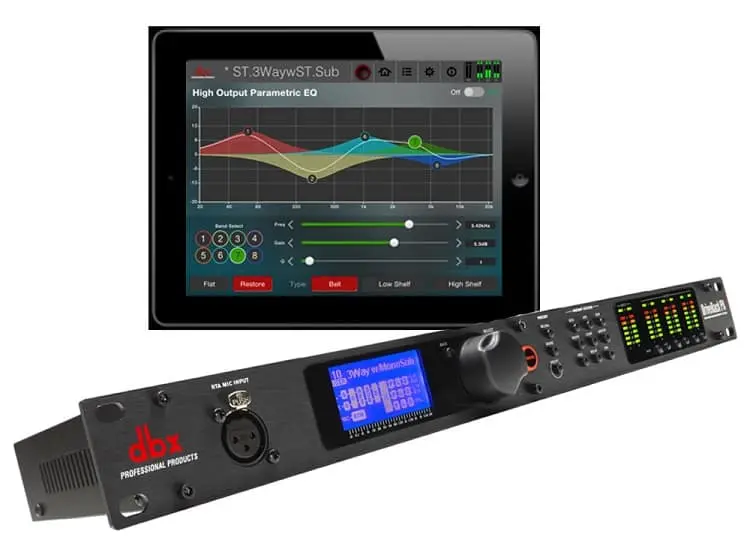 When you look at your average professional live performance, there's a lot more going on than it meets the eye.
While most are focused on the performers on stage, there's a whole system in place behind the scenes which is used to control the sound of the band. This is what sound engineers and technicians are for.
In order to successfully do their job, they will use a whole range of tools. One example of these is the DriveRack PA2 speaker management system from Dbx. This impressively cost-effective unit is a real workhorse.
What Dbx designed and delivered is a processor which is not only flexible in terms of features, but also delivers a very high quality of sound. It's a no nonsense type of device that is built for professional use under circumstances which don't tolerate failure.
>> Check Out Current Price On Amazon <<
Today our mission is to take a closer look at this unit and see whether or not it is what Dbx claims it is. What we want to know is just how good the DriveRack PA2 really is. With that said, let us dig right in.
Overview
DriveRack PA2 is the successor of the already popular DriveRack PA. The whole family of these devices is not that old really. It has been around for several years. However, within that short time frame, Dbx has proven that their solutions are extremely efficient and reliable. DriveRack PA was pretty much an instant hit.

People loved its functionality and its simple design.
DriveRack PA2 not only upgrades this already great platform, but it also brings some new solutions to the table.

Features
One of the main selling points for DriveRack PA2 is its function integration. What we mean by this is that this unit takes in the whole signal you're feeding it from the source, and not its individual elements. While this might sound counter intuitive due to the fact that everything is placed in one bag, it actually has a lot of benefits. First and foremost, it largely simplifies the whole process. And secondly, all of the features this unit offers will allow you to iron out the signal any way you need to.
When you look at the DriveRack PA2, you will see that it has two input channels and six outputs. What this means is that you can take one or two different signals, feed them to the DriveRack PA2, and then push them out through six different outputs. While the signal is being processed, you can change it in various ways. Active crossover is the first thing that comes to mind.
DriveRack PA2 allows you to adjust the crossover frequencies and apply one of two available filters to it. You can do this manually, while there is also a simple to use wizard that largely automates this process.

Aside from frequency crossover, DriveRack PA2 packs a very capable limiter. As a matter of fact, there is one limiter system for each output band, which allows you to set the thresholds for each individual power amp or speaker you are running.
Next we have the EQ. DriveRack PA2 comes with a rather complex EQ which you can use in depth, or simply set using the setup wizard. The amount of adjustments you can apply with this feature is high to say the least.

Performance
One of the best things about DriveRack PA2 is the ease of use, and the fact that the signal that leaves it is high quality. The type of performance this particular model offers is not that much different from the more expensive models in this product family. However, it comes at a significantly lower cost.
We didn't even name all of the features available, as there are so many. And that is on what some consider to be a medium range model.

What we like
Practicality, versatility and overall ease of use is exactly what makes DriveRack PA2 a great sound management system. If you need the best value for the money, this is probably one of the rare models on the market which will give you that.

What we don't like
There is really nothing we could find that is worth writing about. This thing just works.
Conclusion
At the end of the day, DriveRack PA2 is a reliable and efficient unit that covers all the important aspects of sound management. It might not be as versatile as some more expensive models, but it definitely outperforms the majority of its competition within its class.
>> Check Out Current Price On Amazon <<
If you were on a fence about the DriveRack PA2, we urge you not to be. This thing is a true workhorse.